Where can I join an LGBTQ+ choir in Metro Vancouver?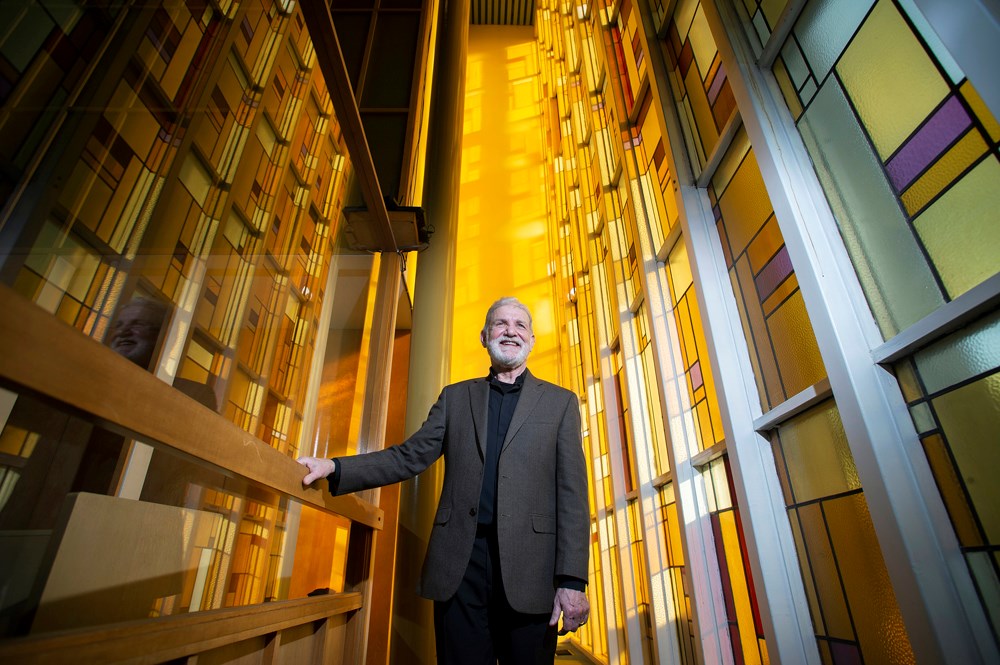 32 new singers have already signed up for the new choir, which starts rehearsing on January 31
For Reverend Blair Odney, there is a special power in choral music.
It resides in the relationships of the singers with each other and with the music. It lies in the human struggle to learn the notes as individuals and meld them into a collective musical whole that is greater than the sum of its parts.
"Music, to me, is a cue of what it means to connect with the sacred other, especially in choral music," Odney said. "When individual singers connect to something bigger, there is a time when it happens; when we touch something holy, sacred, beautiful.
He lived this experience throughout his life as a chorister, a musician, a conductor.
Now he invites people to come and share the experience with him, especially people from the LGBTQ+ community.
Odney, the pastor of the United Church of Queens Avenue, launches a new choir: the Rainbow Chorus of New Westminster. It is open to singers of all ages and backgrounds who identify as part of the queer community, as well as their allies.
"The church has done a lot of damage to the LGBTQ2S+ community for many years," Odney said, "and while The United Church of Canada has done important work in the study of human sexuality, people are still traumatized by how the big church – the small church – rejected them.
"The community is traumatized about this."
The new choir was born from this recognition. It grew out of a focus group Odney held before Christmas with members of the queer community.
The Rainbow Chorus is not a "religious" choir, and its repertoire will not be based on specifically sacred music.
"It won't be a church choir, but nothing I do, ever, is outside the realm of my faith, and I believe all music is sacred," Odney said.
"I started this choir to say, what would it be like to bring the queer community together to make music together? am I going to proselytize? No."
Odney works alongside accompanist Amy Stephen, a teacher, choirmaster and multi-instrumentalist who is gifted on the Celtic harp, piano, accordion and whistle.
Together they will lead singers in an array of choral arrangements of familiar and popular songs. For the inaugural term, Odney has chosen a selection of music that includes It's me from The greatest showman, by Leonard Cohen Alleluia, from Abba dancing queen, by Cyndi Lauper true colors, and Sting fields of gold, among others.
The choir welcomes singers of all skills and levels of experience
Already, 32 singers have signed up, all of whom have found the choir through social media and word of mouth. Their backgrounds are varied – there is a lifelong classical musician; there is a musicologist from Russia; there are a handful of singers who can't read music at all.
Most exciting for a conductor is that there is a balanced mix of sopranos, altos, tenors and basses to get the right mix in four parts.
"I'm blown away by the response," Odney said.
Odney welcomes singers of all skill and experience levels, and no audition is required.
He had originally planned to start rehearsals on January 17, but the changing COVID-19 pandemic has pushed that back two weeks to January 31, Omicron permitting. Odney plans to arrange a week before that for newcomers who are unsure of their vocal range so he can place them appropriately.
He doesn't want the choir to be onerous on the singers or put heavy demands on their time between Monday night rehearsals.
"I want people to come and have a fun two-hour experience," he said. "We learn from music; we are improving ourselves. … We're going to sing some great songs and we hope to have fun doing it.
Ultimately, Odney would like the choir to perform in public. He hopes to take a 10-piece set to the stage this year, perhaps at a Sunday concert tied to Pride celebrations.
"I just hope it will be a really rich experience. I hope this sets in motion something that will outlive me, that it becomes an absolute community enterprise, that the queer community will come together around music in a celebration of all that is beautiful and holy and good and begin to be claimed by this. You can call him God if you want," he said.
"It's a wonderful, easy and beautiful entry point to being part of something bigger than yourself."
Want to know more or register?
To learn more about the choir, check out their Facebook page.
Singers who wish to join can complete an online application form.
You can also email blair.queensavenue@gmail.com if you have any questions.
Follow Julie MacLellan on Twitter @juliemaclellan.
Email Julie, jmaclellan@newwestrecord.ca.