Walker Hayes reveals the man of one of his songs: "Craig is a real human"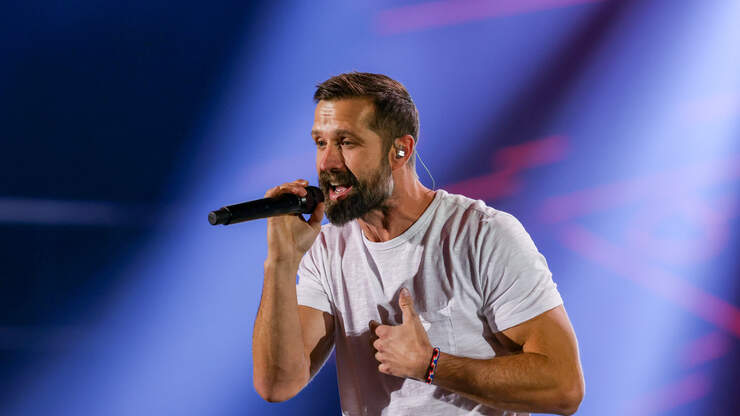 Walker Hayes took to social media to answer a burning question on many fans' minds: Is Craig a real person?
One of Hayes' songs he included on his new album, Country Stuff The Album, raised the question. "Craig", the song, recalls meeting a man in church who understood Hayes' "'I don't wanna be here'" face. But Hayes explains that Craig was a friend who never judged him and always made him feel welcome no matter what. Hayes originally released the song on his album Boom in 2017, and now he teams up with mercyme on a new version.
Now we know, "Craig is a real human," Hayes confirmed in an Instagram caption with some laughing emojis. he tagged Craig Cooper, the author who "can't walk on water, or make Napa Valley red." Hayes recorded video of a driveway that was complete with a basketball hoop, letting fans know, "My next door neighbor is Craig! We were playing 'Horse', but we're playing 'Craig'. Here on the basketball court, we don't spell 'Horse', we play 'Craig'.
"A lot of people (are) like, 'hey, is Craig, the song, a true story?' Indeed it is," Hayes continued, also noting her upcoming book co-authored with Craig, Glad you are here. "He's the real Craig! He loves being on camera, as you can see," Hayes joked as Craig laughed.
Hayes released Country Stuff The Album January 21. The 13-track collection includes his already famous "Fancy Like" and "AA", as well as "Craig" and other new collaborations (with jake owen, Lori McKenna and Carly Pearce). Hayes even debuted a new TikTok dance for "Delorean," and if you haven't learned it yet, he shared a tutorial. Watch him introduce Craig to fans here: