Ver Meer will lead a Western Christian choir | News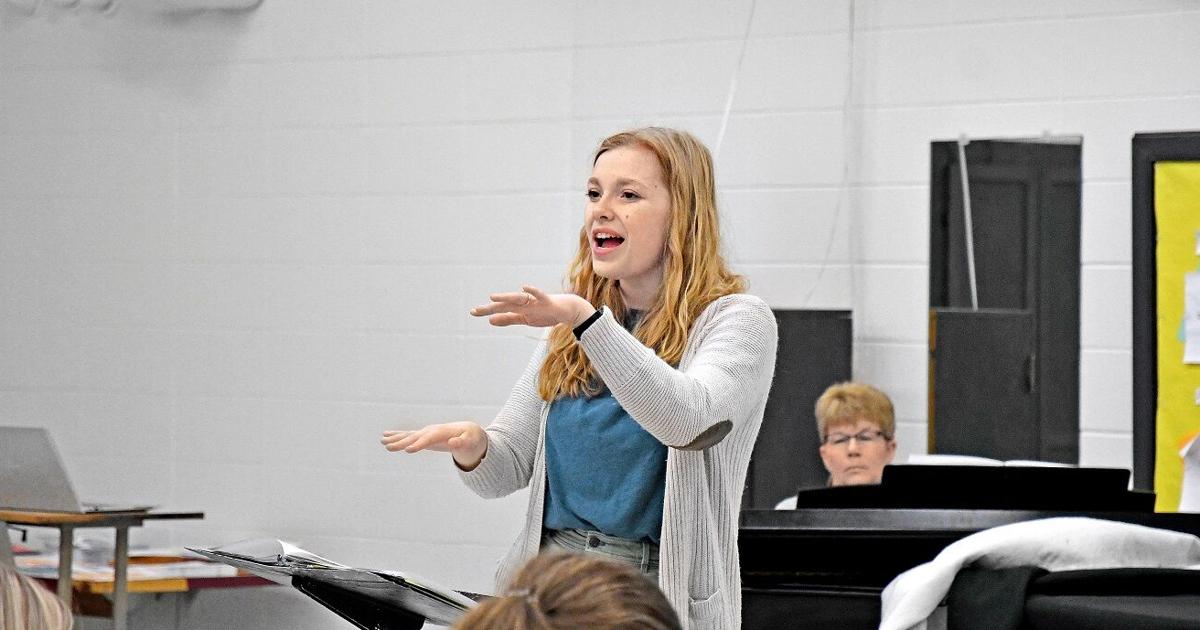 HULL—For Lindsey Ver Meer, her role as a choir teacher at Western Christian High School is about more than teaching students how to sing.
"I think a lot about how God cared about music enough to give us an instrument that is part of our own body," said the 21-year-old Hull native.
"It just shows a very big responsibility to show students how to use this gift, how to take care of their voice and how to use it now, but also as they step into the future for the rest of their lives."
Ver Meer began working as an acting choir teacher in the fall as the Christian School sought to fill the full-time opening. However, she was recently tapped to take on the role from the 2022-23 academic year after graduating from Dordt University at the Sioux Center in May.
She is also no stranger to Western Christian or its choir program. Ver Meer, formerly Zuidema, graduated from high school in 2018 and took choir lessons with former teacher, Darren Van't Hul.
"I'm really excited to continue a lot of the things he developed in the choir program, and I'm also really excited to see the ways we can grow to continue to serve our students here," she said. .
After graduating from high school, Ver Meer knew she wanted to stay in the area and pursue a career as a choir teacher. When she learned of Western Christian's opening after Van't Hul left, she contacted the school's head administrator to inquire and eventually accepted the acting role.
She split her time this school year as a student teacher at Western Christian and Rock Valley Elementary. She is in Hull in the mornings and teaches Kindergarten, Grades 1 and 5 in Rock Valley in the afternoons.
"It was really fun to be shared and to have two really different learning experiences," Ver Meer said.
She begins her mornings at Western Christian before class by giving individual voice lessons or working with small groups. She then conducts rehearsals with the older students of the Concert Choir, followed by rehearsals with the younger singers of the Cantus Choir.
"After that, every day is a little bit different, which I love," Ver Meer said.
She looks forward to becoming a full-time teacher at Western Christian, as it will give her even more time to work with students and hone their singing skills in small groups or individually.
The concert and cantus choirs each have about 50 members, which Ver Meer says is more students than in a typical classroom setting.
"There's a lot of learning you can do in a big ensemble, but there's also a lot you can't do: working with individual students and their individual voices, and what they'll use for their individual voices outside of the classroom and outside of a large ensemble context," she said.
Ver Meer also directs the school's after-school choir – the Chamber Singers – which she described as a "service-oriented, outward-looking group".
Since January, the Chamber Singers have performed at several Reformed Christian churches in N'West Iowa. The band will travel to Minneapolis in late April to perform at various venues, such as a minor league baseball game, nursing homes and a Christian Reformed church.
The Chamber Singers will wrap up their 2022 tour with a 6 p.m. performance on Sunday, May 8 at the First Christian Reformed Church in Hull.
As for his favorite aspect of teaching at Western Christian, Ver Meer said he was able to work with the students.
"The students are amazing. You can really tell from the community at Western – teachers, staff, parents – that the people here really, really care about these students and help educate them on how to be disciples and how to use their gifts and their community and serve God."