Vaccination lessons against Covid-19 applied in the childhood vaccination program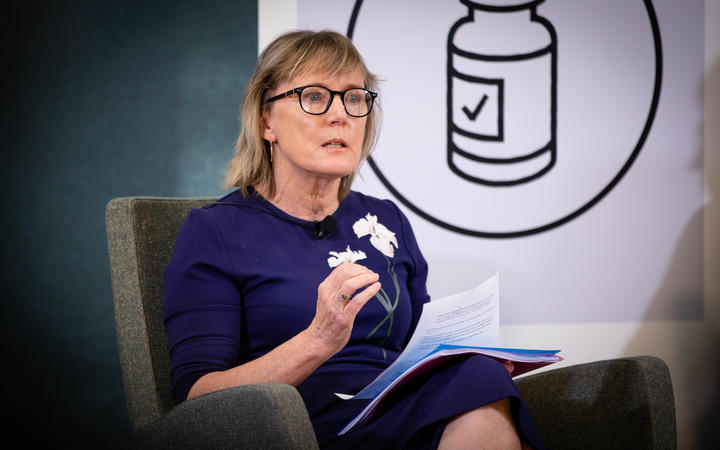 Health authorities hope to apply lessons learned during the rollout of the Covid-19 vaccination to boost the country's faltering childhood vaccination program.
Rates have been falling since 2017 and have been hit again during the pandemic.
The Ministry of Health aims for 95% of children to be fully immunized by the age of – eight months, 24 months and five years.
But since December 2019, the eight-month rate, for example, has fallen from just over 90% (90.3) to 87.1% and the 24-month rate from almost 91% (90.8)% to 85.2%.
Immunization Advisory Center director Nikki Turner said it was important that children received their vaccines on time.
"If they don't get them in time, they're at risk of getting a vaccine-preventable disease and we're particularly concerned about pertussis coming back. The second big challenge we have is measles coverage."
Dr Turner said Covid-19 had disrupted the childhood vaccination schedule, but also offered some clues on how to catch up with this ground.
"We learned a lot from Covid about engaging local services that work with local communities.
"We need to take these learnings forward and work closely with our communities and primary care services to ensure that children and pregnant women are enrolled in primary care.
"Let people know them, offer them services and contact them through our communities when they are late or get lost."
Taranaki iwi healthcare provider, Tui Ora, Chief Clinical Nurse, Robyn Taylor, works on the vaccine frontline.
"We're taking in children but it's a far cry from how it used to be so there are a lot more children running late which is concerning once the borders open and we're going to have a measles outbreak which is almost like not if but when."
Since the start of the pandemic, the full immunization rate for Taranaki Maori infants at eight months has fallen from 80% to 69%.
The rate for the general population fell by three percent to 89 percent.
Taylor said Covid-19 explained the slide.
"When we were in lockdown, the proper lockdowns, obviously people weren't going anywhere.
"I think there's been a huge focus on Covid and I think it's just people not wanting to take their kids out, especially right now when there's Omicron everywhere."
She said in response that Tui Ora now offers childhood vaccines alongside the Pfizer vaccine.
The boss of the Taranaki Covid-19 vaccine rollout, Bevan Clayton-Smith, said collaboration between agencies had been essential for the province to achieve 93% double-dose coverage and that the strategy must be adopted at all levels.
"Once you have a common goal and everyone understands what we're doing and how we're doing it together and how we're building on the way we've done so far, I think that makes the easier work rather than going back to maybe I wouldn't say a siled approach but to traditional ways of working before Covid."
Clayton-Smith said no infant should be at risk of pertussis.
"And then experience potential episodes of lifelong lung infections and upper and lower respiratory tract infections through the scarring of the lungs.
"No child deserves this start in life, so anything we can do and anything parents can do and carers can do to protect their children has got to be a good thing."
Under the new strategy, a dozen MMR vaccines – against measles, mumps and rubella – have so far been administered at Covid-19 clinics in Taranaki.
But there were no takers at a drive-in clinic in Waitara over the weekend.
The 108 jabs delivered were for Covid-19 only.
An estimated 5,000 people living in Taranaki between the ages of 15 and 30 were not able to get measles vaccinations as children.