The Warrenton Posse resumes operations for the community | New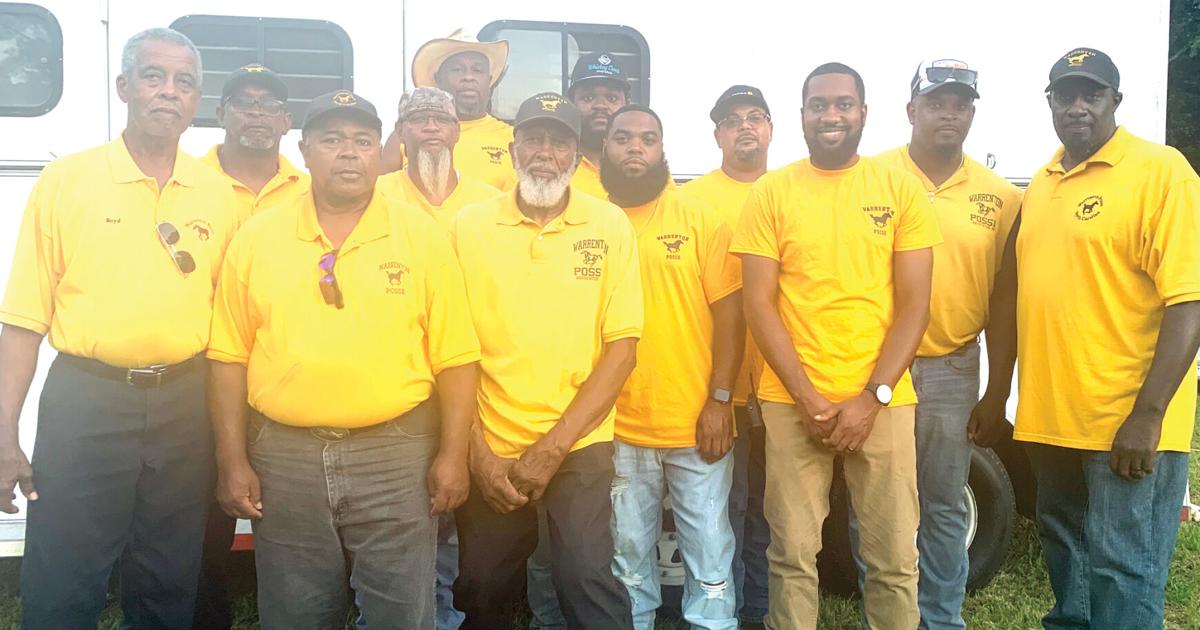 The Warrenton Posse held its annual hike on Saturday August 13, for the first time since COVID-19 halted regular operations. Founded in 1989 by a group of approximately 25 local African American men, The Posse, as the group is known by many, is recognized in the local community for providing hiking and other recreational activities for youth and adults.
Newly present and thriving at the Ridgeway Cantaloupe Festival, members of the Warrenton Posse are excited to get back on track with the activities they love and are known to provide within the community.
I've known The Posse since their early days, greet them happily at local parades, attended several of their events, and even invited them on several occasions to provide horseback rides for children at Bible School in holidays of our church.
However, lately, they are causing a much-needed stir and excitement among the younger generations. After reading several social media posts and hearing from young people in the community talking about the upcoming hike this year, I decided to head over to the hike to learn more about this organization and how it manages to remain relevant among all generations.
Upon my arrival at Saturday's ride, Nathaniel Jones, a longtime member of the Warrenton Posse, took time off duty to fill me in on the history of the organization and how they are currently building momentum by allowing their younger members to take a more active role in directing and executing their business ideas. He described their decision-making process as a meeting of the minds.
"The pandemic has put us on hold," Jones said. "The younger members are enthusiastic and we want to encourage them, so we take ideas from young minds and thoughts from older minds, negotiate and come together. We also encourage younger people to take over offices and leadership positions within our organization.
I asked Jones, who is also a founding member of the organization, to explain The Posse's original vision and mission. He said he had always dreamed of seeing a group of young black men start a club, offering fellowship and showing love to young people, letting them see that there is more to life than just hanging out. the streets or just electronics (technology). "And our club/organization has become well known from Warrenton to New York," Jones said.
In a soft but intentional and passionate voice, he added: "We are open to all races, but by creating a bond; a young group of black people got together and built a relationship. When we first organized, we had a plan: no member is bigger than the club; everyone is on the same level. Jones said many members left and came back, and to earn the respect of the community, they worked to become an official 501(c)(3) nonprofit organization.
As part of the organization's founding mission, Jones said, "We continue to provide youth activities such as children's walks, be visible at community events such as parades and festivals to show young children that horseback riding is part of black culture and teaching young people and other horse owners the responsibility of caring for horses and caring for animals. He added: "For me, a hobby has turned into so much more than a hobby, a group of people who like the same thing and bond. We always try to be an encouragement, to be role models to try to help guide in a positive way.
Jones pointed to some of the runners and the continuous line of people pouring into the front doors, saying at least 20 different groups from Bladen County, Dinwiddie, Virginia, South Carolina, New York and Maryland, among others , took part in the trail rides that started at 7 a.m. Saturday morning, and more and more people were coming for the fun and festivities that were to take place after they finished hiking the trails.
Not being a rider myself, I asked Jones to explain what happens on a typical ride. He responded by saying the rides usually last about three and a half hours and are about eight to 10 miles each. He said they have mapped the trails that they have been using for years, but need to revise them from time to time, and they need to clean up the trails, make them safe for horses and riders. Each trail has what he calls a Trail Boss who is responsible for directing each ride, as they have four trails with four groups of runners on each trail this year, with around 100 runners participating. When the rides are over, there is a rest period, and before COVID-19 riders dined together, but this year riders were given individual meals to ensure distance and safety.
Intrigued by the excitement and visible passion of the members, I asked Christopher Boyd, 34, who says he practically grew up in The Posse alongside his father, Earl Boyd, another longtime member of the organization. , why he chose to join. Boyd replied, "I've been around them all my life and I remember since I was about 5 years old all the things I saw them doing in the community and how they portrayed themselves as people. black organization, and I love the joy of being around club members who share the same passion.
I also asked Boyd what he thought of the excitement and buzz on social media about this year's ride and how it's progressing. He said with a laugh, "Yes, social media has developed the trail running scene using TikTok to show the 'afterlife' of trail running. But it's so much more than the afterlife. It's a happy feeling to see all the planning come to life. We spend a lot of time planning and estimating the number of trails to prepare, clearing the trails, which can take up to four months and more.apply them. We even have to inform the owners and make sure that they are always in agreement with us on their ground.
Before we wrap up our conversation, I asked Jones to share some parting words for readers about this year's ride. He quickly chimed in, saying, "We've been blessed with not just great weather, but a good day overall; we had no accidents with runners. God sent his cowboy and cowgirl angels to watch over the riders.
The current leaders of the Warrenton Posse are Wilbert Perry, chairman; Keith Talley, Vice President; and Nathaniel Jones, Treasurer.