The Tenby Male Choir season kicks off with a bang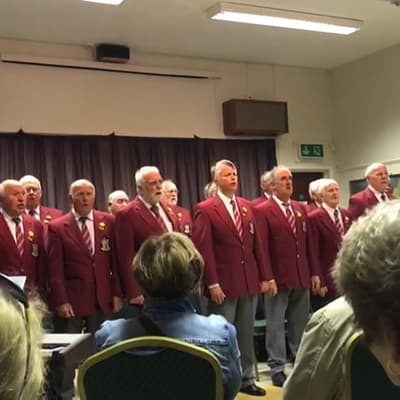 The Tenby Male Choir's 2022 season got off to a flying start with two successful concerts under its belt.
On Thursday, May 5, after two long years, the choir finally returned with a stellar performance at Penally Village Hall. Illness had struck at the last moment, rendering musical director Ian 'Wilbur' Williams, soloist of the night Paul Varallo and other backing singers unavailable. However, the nearby practice trenches seemed to ignite the spirits of the choir members to face and overcome adversity.
President Tom Pearce stepped in as a last minute soloist, David Blackmore stepped into the breach as MC and accompanist Jill Williams seamlessly led the choir into what can only be described as a polished performance . The hall was filled with standing room only, and some of our supporters even had to stand outside. The audience response was exactly what the doctor ordered, encouraging and instilling confidence in the boys, convincing them they could still cut the mustard. Penally Village Hall organizer Jenny D'Arcy said: "Thank you, the gig was fantastic, our audience really enjoyed it."
On Tuesday 17 May, the choir performed their first Tenby concert at St Johns Church, where they had closed their final season in September 2019. A strengthened line-up, once again led by accompanist Jill Williams, once again performed delivered an impressive performance of familiar and popular tunes. The choir swept classic Welsh hymns, across American rivers from 'Shennandoah' to the Swiss Alps with 'Climb Every Mountain'. Favorites "Hallelujah" and "Rhythm of Life" were particularly well received.
Guest soloist Marilla Evans (trumpet) accompanied by Mark Thompson, delighted and dazzled all present with her excellent playing and choice of pieces.
The choir were proud to perform part of their November 2019 set at the Millennium Stadium when Wales returned from the Rugby World Cup to face the Barbarians. 'Yma o Hyd' and 'Sospan Fach' welcomed Wayne Pivac from Scarlets as he took over as head coach. Warren Gatland was thanked for his leadership with his favorite, "Calon Lan".
Wearing yellow and blue lightning bolts on their lapels, the choir dedicated the poignant 'anthem' from the musical 'Chess' to the people of Ukraine, before singing South Africa's rousing anthem, 'African Prayer' and fenced with Wales 'Hen Wlad fy Nhadau'.
The choir's next appearance will be at St Mary's Church, Pembroke, on May 26 at 8pm with a fundraising concert for Ukraine Appeal, and they will return to St Mary's, Tenby for a concert on Jubilee June 2.
Full 2022 program details are available at Facebook.com/TenbyMaleChoir and http://TenbyMaleChoir.org