The second wave caught Nepal off guard. No lesson learned a year later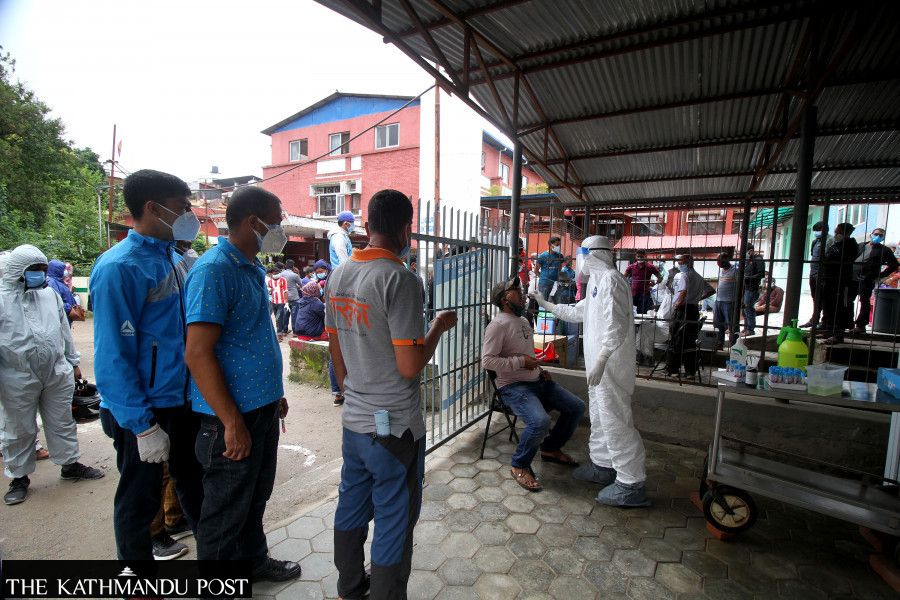 Hours after the health ministry confirmed 24 new cases of Omicron on Friday, Prime Minister Sher Bahadur Deuba hastily called a meeting of the country's Covid-19 response agency. He took stock of the situation and passed instructions, which included daily monitoring of the situation and ensuring hospitals were equipped with oxygen, medicine, beds and ventilators.
As many as 572 people had tested positive on 8,272 polymerase chain reaction tests, while 396 out of 6,699 antigen tests that day.
Two days later, the health ministry said on Sunday that 1,167 people had tested positive for the coronavirus – 841 in 8,848 polymerase chain reaction tests and 326 in 3,784 antigen tests.
The daily positivity rate jumped to 9.5%.
The Covid-19 Crisis Management Coordination Center (CCMCC) held a meeting and made a series of recommendations. As a result, the Interior Ministry issued a circular on Monday to limit the use of public facilities and access to government offices to those vaccinated, as of January 21, and to ban gatherings of more than 25 people.
The government also imposed restrictions on the entry of nine countries. The Ministry of Education has decided to close schools until January 29.
Nepal recorded a sharp rise in coronavirus cases on Monday – 1,357 people tested positive on 8,965 PCR tests. Another 89 people tested positive from 2,464 antigen tests.
Public health experts say no strategic decisions have been made as agencies trained to deal with the pandemic waited for the virus to strike.
"Since the start of the pandemic, we ask the authorities to be on the alert and to continue to prepare strategies according to the evolution of the situation," said Dr Krishna Man Shakya, public health expert. "But the authorities here don't wake up until the last hour."
Government officials admit that there were no plans in place, especially to tackle the third wave driven by Omicron, even if an explosion in infections was looming.
"We are still working on preparing a rapid action plan," said Dr Hemanta Chandra Ojha, head of the Division of Epidemiology and Disease Control. "The rapid action plan is in its final phase; we will unveil it and implement it soon.
Even some detention centers, which were to be set up at border points before the second wave of the pandemic, have not yet been completed.
Doctors say no extraordinary action has been taken by the government, as no discussions have taken place with public health experts who have warned of the third wave.
Entry restriction for passengers arriving or transiting nine countries—South Africa, Botswana, Zimbabwe, Namibia, Lesotho, Eswatini, Mozambique, Malawi and Hong Kong — is a continuation of an earlier ruling.
Even though there were concerns about the rapid spread of Omicron in southern African countries since its emergence in South Africa in late November, cases in the region decreased as soon as they increased. Instead, the new iteration of the virus is wreaking havoc in Europe, the United States and India.
No decision has been taken on monitoring arrivals from these countries.
This clearly shows that authorities have not developed any strategic plan to combat the new wave of viruses caused by Omicron, experts say.
Another decision that has generated mixed reactions is to make vaccination cards mandatory in public places.
"It appears that the Nepalese authorities are trying to emulate the decisions of some foreign governments, including the United States," public health expert Dr Sarad Onta told the Post. "While the decision is not inherently incorrect, it would not help contain the spread of the virus in the country."
Nepal's vaccination campaign has remained woefully slow despite the government having enough doses in its stockpile.
As of Monday, 11,232,683 people, or 37% of the more than 30 million inhabitants, had been fully vaccinated.
Of the 39,203,927 vaccine doses obtained to date, approximately 12 million doses are in stock.
Health ministry officials said in December last week that booster injections would begin after 40 percent of the total population was injected. The Ministry of Health also announced on December 29 that it would launch a vaccination campaign of 500,000 people per day. Both plans failed.
Experts say that instead of encouraging people to get vaccinated, the decision to allow only those vaccinated to access public facilities and government offices, if implemented, could mean an injustice to non-people. vaccinated.
"There can be many reasons people don't take vaccines, including a lack of easy access," Onta said. "And this decision on immunization cards may do an injustice to those people who could not get the vaccine due to lack of access."
Authorities, however, claim that despite their best efforts, people did not show up to vaccination centers.
"We have repeatedly asked people to go to the vaccination centers. But people are not looking for vaccines these days, "said Dr Samir Kumar Adhikari, joint spokesperson for the Ministry of Health. "We are working to increase the rate of vaccination by forming several high-level committees down to the local level to increase vaccination coverage. "
Officials said making compulsory vaccination cards in public places could reduce crowds, which in turn could help reduce the spread of the virus.
"We hope this decision will encourage people to get vaccinated," CCMCC spokesperson Sunita Nepal told Post. "The recommendation was made in good faith; the only goal is to increase the vaccination rate.
Infectious disease expert Dr Prabhat Adhikari said such a decision should have been taken much sooner if the goal is to encourage people to go to vaccination centers.
"I hope the decision to allow only people who have been vaccinated to enter public facilities and benefit from government services will encourage more people to rush to vaccination centers," Adhikari told the Post.
Government officials, however, were silent on why there had been no strategic preparations when the number of cases was not too high.
"We were vaccinating people. What was there to do? Said an official from the Ministry of Health. "We have constantly urged people to follow health safety protocols. Either way, there is no guarantee that our recommendations will actually be implemented.
CCMCC officials said their job was limited to "making recommendations" and they could not make decisions.
"We can only recommend; we can't make any decisions, "said Nepal, spokesperson for CCMCC. "There are separate agencies that can implement our recommendations. "
Nepalese political leaders and bureaucrats have consistently failed to pay attention to the threat posed by the virus from the very beginning. Experts say there is a tendency among leaders and bureaucrats to make decisions for themselves, even on matters that need to be dealt with by people with specialized knowledge. Even during waves one and two, suggestions offered by public health experts – even if they were invited from time to time to discuss the pandemic – were never given priority.
"They invite experts to meetings and look for suggestions, which are rarely implemented," said Dr Mingmar Gyelgen Sherpa, former director general of the Ministry of Health Services. "Things don't get done because the experts haven't provided their suggestions. The problem is, the government's implementation mechanism is poor.