The Blue Violin: Life Lessons from a Love of Music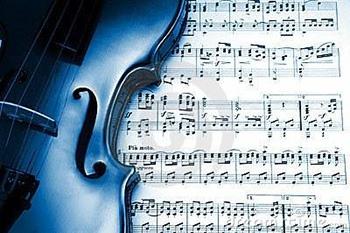 Kia Walker places her blue violin under her chin. She smiles, as she so often does, says a sentence or two, partially in song form, as she often does, then straightens up to begin. Her soft curls fall lightly across her forehead as she gazes at the instrument. She moves her slender fingers over the string at the neck of the violin while the other hand slides the bow over the strings. In a flash, the bow moves rapidly over the strings, stirring up white resin dust on the strings, neck and bridge of his instrument. His fingers glide from string to string. They glide in unison, almost like a dance. This instrument has become natural to him. It's second nature.
In Walker's studio, stacks of thin books line the walls and shelves. They range from music books for beginners to more difficult levels, some are duplicates – aimed at students. There are works of art around, which all revolve around music. On every windowsill, signs with quotes about music or God sit. The studio is quaint and bright, with lots of natural light. Just outside, through the window, is the bustle of downtown Fayetteville. Walker continues to play, drowning out the faint noise of the city that can be heard just outside. She is now in her own world.
Walker puts down his instrument and rearranges himself. Her makeup is always done and she can usually be seen wearing long, dangling, shiny earrings. She loves her jewelry. She likes people. She loves to teach. Above all, she loves music.
In different corners of the room, instruments are displayed. At the entrance is a cello, held by its stand, and in the next room are a piano and a guitar. These are not for show. Walker plays all of these instruments and uses them at the Blue Violin Music Education Center – her music studio where she teaches piano, violin, viola, cello, guitar and voice. Well, almost all of them are played. In the corner of the entire studio are bright red conga drums.
"I don't play the drums. I bought these drums because they look good," laughs Walker. "I just thought it would be a nice little pop of color."
Walker started his life with music by singing at the age of 7. Around the age of 10, she began playing the violin when Cumberland County came to her school to introduce the orchestra. She even remembers at those young ages being in love with music. She tried her hand at writing songs, one of which she entrusted to her orchestra teacher.
"I thought she was going to be impressed. But she said, 'Kia, your song has no break,'" Walker laughs again then shakes his head. "She said, 'your song needs to breathe.' "
And Walker too. For about 18 years Walker laid down the fiddle. In high school, she took piano lessons which she paid for herself. She remembers driving to her piano teacher's house. Her mother, a single mother, was busy working, caring for Walker and her younger sister.
"I wanted music so badly," she said.
Eventually, Walker went to UNC-Chapel Hill to study psychology. But music remained his first love. During her studies, she received many credit card offers. They arrived in the mail and she examined them. She decided to get her first credit card and make her first big purchase.
"I bought my first piano. I put my piano on my first credit card," she said.
The piano she bought is still in her studio and she still uses it today to teach her students. Occasionally she sits down to play it for herself.
Walker returned to Fayetteville to complete her final years of college at Fayetteville State University. She eventually met her husband, Skip, at his recording studio in town. She would come into the studio to sing and record songs—both he wrote and she did.
"I started noticing that I was falling in love with him. After our recording session, we were finishing our sessions at Waffle House. I would have the scrambled eggs with cheese," Walker sings the word scrambled eggs with cheese.
Walker went on to work in a special education job at an elementary school in Cumberland County Schools. At the end of each day, Walker returned home exhausted.
"I noticed that I was too tired after teaching all day…I was too tired to practice. I thought maybe if I started making music as a profession, I could practice too. I wanted to be fresh enough to practice. I wanted to play the piano or the violin.
Walker looked out the window for a moment and smiled. This part of her life is when she took up the violin again. She took other instruments too. She began to combine her first passion with one of her other passions.
She moved on to teaching music. This is where her life took on meaning for her. At the same time, she learned to play the organ and played for a church in Massey Hill. It's a job she still does to this day. This position taught her great life lessons which she carried into her later projects.
"I wasn't very good at it. I was learning that you don't start to be good at it until you've practiced it for a while and given yourself time to get good at it. To this day, I've got this job. Some songs I smoke them. Some songs I don't know," Walker chuckles with a loud, infectious laugh and shakes his head.
Walker went on to earn a master's degree in divine church music from Campbell University Divinity School. For Walker, faith is very important. She said she had been a Christian for a "very long time."
"As I got older and saw life and experienced things, my faith got much stronger. Sometimes I sing just for the Lord. Walker sings a bit in a normal phrase. His life is partly musical.
This year, Walker launched an online TV show for her music which she named "Music Life". She says she wants to show the parallels between music and life and life and music. For her, there is no separation of the two.
"There are life lessons that come from playing an instrument. I was very slow to play the cello because it's a big instrument. There's a parallel there. Sometimes in life we ​​don't We don't want to deal with the big problems we have in our lives, we want to play small instruments. We want to play things that are more familiar to us. We don't want to try new things.
Walker pauses for a moment. She looks around her bedroom, the place where she learned so many life lessons.
"Music Life highlights the areas of life where we learn to… there's a saying, be patient, everything is hard before it's easy. Playing the cello is difficult for me. Playing the violin was difficult for me at one time. It's easy for me now.
Walker continues on the piano and plays a song, on the same piano she bought with her first college credit card. Her head moves as she moves through the music. The rain started pattering outside but nothing distracted her from the song at hand. She stumbles on one part and starts over. This fits perfectly with the first episode of his show. Walker asks each respondent to choose a keyword for the session. The first is practice.
"If you mess up, you go back to the beginning and start over. Same thing with life. You're not going to get it all right the first time, but if you keep perfecting what you do and perfecting who you are, and excellence is your goal…you will get there. Walker smiles then puts his violin away.