STJ Recovery Choir invites the community to sing together; Rehearsals begin October 11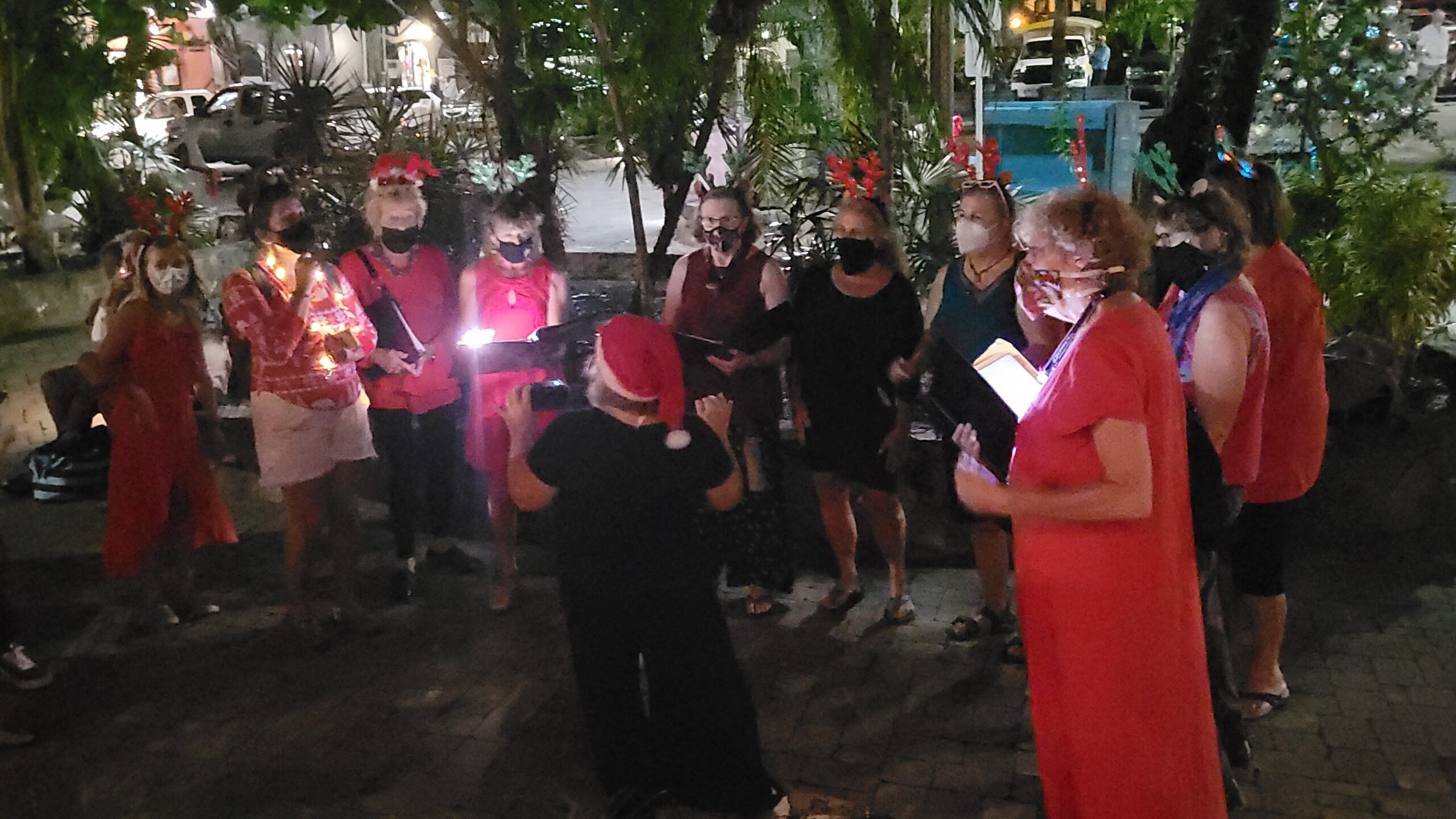 If you enjoy singing with others and Tuesday evenings are free, you are invited to join the St. John Recovery Choir.
Rehearsals begin Oct. 11 at 5:30 p.m. at Gifft Hill School's Upper Campus, and new members — experienced or inexperienced — are invited to join and be part of an island-wide celebration in the Cruz Bay Park on December 23.
It will be the first holiday concert at Frank Powell Sr. Park since the pandemic began in 2019, and Kristen Carmichael-Bowers, executive director of Sing St. John, which produces the event, has been preparing for months.
The Recovery Choir – which received its name when it formed after Hurricane Irma – is non-denominational and performs songs from many holiday traditions – Christmas, Hannukah, Kwanzaa and Solstice.
This year, the Recovery Choir will learn Handel's "Hallelujah Chorus" from age-old favorite "The Messiah." They will be joined during the show by several choirs and musical organizations from St. John's Church, who will also take the stage.
"The Hallelujah Chorus" is an ambitious piece, Carmichael-Bowers admits, but she has decades of experience teaching children, adults and seniors to sing – from beginners to professionals. "I'll be working with 'beginners' and people who haven't sung in a while or don't feel confident," she said.
Carmichael-Bowers provides singers with CD guide tracks, sheet music and lyric sheets. Rehearsals for each section are scheduled for Monday evenings (tenor and bass) and Thursday (soprano and alto) and will take place online via Zoom.
Members of the Recovery Choir are also invited to take weekly sight-singing lessons and monthly vocal technique workshops.
For the past two years, the Recovery Choir has been rehearsing and performing their concerts virtually via Zoom, and Carmichael-Bowers is excited to go live. "We are in person again! It's a big problem !
"Zoom is wonderful for keeping us connected on some level," added Carmichael-Bowers. "But last year, in March, when we started singing together outside, we realized the exhilaration of hearing each other's sounds at exactly the same time and without that fraction of a time delay. second on Zoom. The fact that voices are heard in an instant, exactly as they are, has something to do with a deep sense of belonging. It's hard to define, but it's real.
For more information or to join the Recovery Choir, go to the Sing St. John's website and click the box to register. The $50 registration fee will be waived upon request. "We don't want the fee to deter anyone from joining us," Carmichael-Bowers said.
For more information, call 340-227-4920 or email info@singstjohn.
The Recovery Choir is one of seven programs presented by Sing St. John, which is supported solely by community donations and grants. Currently, Sing St. John is halfway through its annual fall appeal to raise $60,000 to match a matching grant generously donated by Martha Robes and Dana Robes.
"Now is the perfect time to donate to Sing St. John," Carmichael-Bowers said.
"Every donation, no matter how small, goes twice as far." Donations can be made online with a credit or debit card or through PayPal by clicking this link https://www.singstjohn.org/support-us.html. Checks can be mailed to Sing St. John, Box 37, St. John, VI 00831.
In addition to community donations, Sing St. John is supported by grants from the VI Council on the Arts and the National Endowment for the Arts in Washington, D.C., a federal agency; the Virgin Islands Lottery; the Hodge Senior Citizen Fund through the Community Foundation of the Virgin Islands; the Rotary Club of St. John; the water of the seven seas; and Dana and Martha Robes.