SRO Crowd enjoys J.Robert's Songs of Florida Cattle Culture show | Lifestyles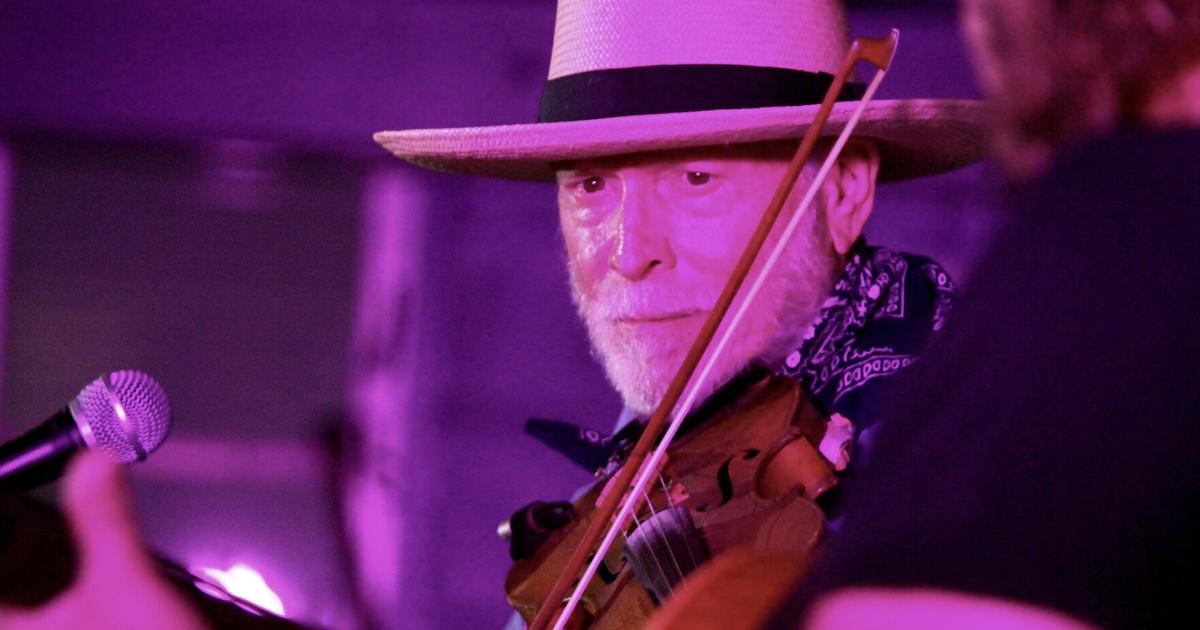 ---
Local favorite J.Robert was able to assemble a live band for the April edition of his first Monday concert series, Songs of Florida Cattle Culture, at the Margood Theater in Goodland. With the room standing, only the crowd latched on to every note — and every story — the set had to offer for a solid two-hour set.
The threat of a much-needed thunderstorm moved the show inside the theater this month. When the weather is right, J.Robert likes to put on his show on the outdoor stage behind the theatre, overlooking the bay.
Marie Nofsinger, a regular collaborator, hooks the public early. Captn Jac, another regular, kept things lively. TR Kerth brings his storytelling skills to the stage, entertaining the crowd with some of his original original compositions. Then Jack Shealy, the youngest of the crew at 38, regales the audience with tales of free-roaming cattle and not-quite-legal activities from his childhood in the Southwest Florida backcountry.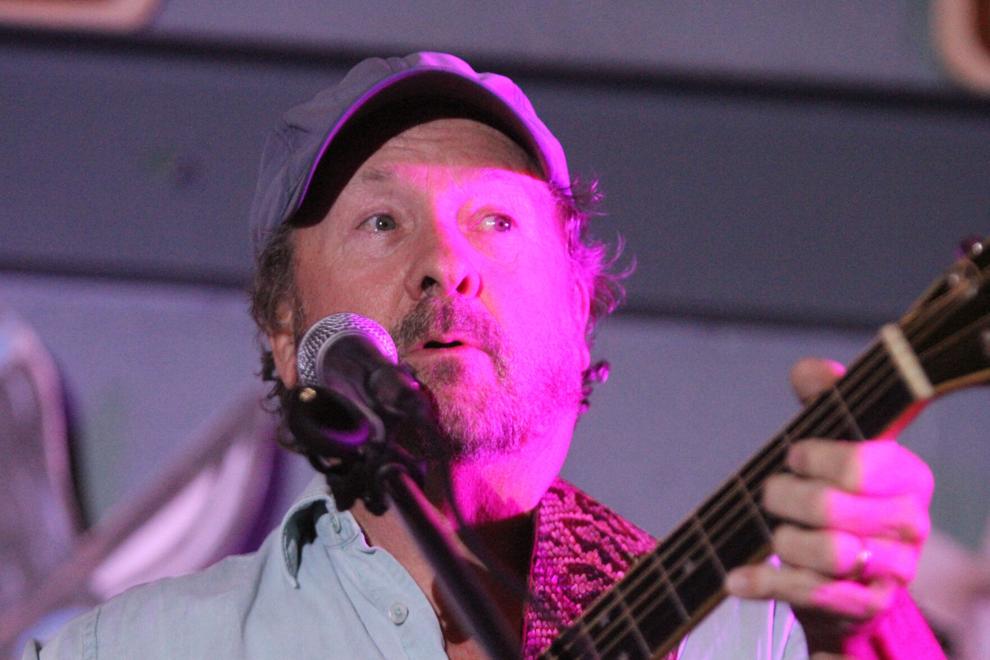 "My family is Gladesmen," Jack Shealy told the audience. "It was kind of a lawless culture. But it's only illegal if you get caught. My grandfather ran Moonshine. It's never wrong if it's to feed the family.
Some of Shealy's favorite souvenirs are owned by Jack Price in the Immokalee area.
"There was a lot of hunting," Shealy said, "but there wasn't too much hunting on Jack Price's property, mate. They said if you hunted on Price's property, it was good way to get shot. But when I was in high school, I met a kid who claimed to be Jack Price's nephew. He said he'd take me on a tour of the property. It was like going to Disney World for an 18 year old swamp rat like me. I remember walking around there, seeing it for what it was. I've probably seen more wild animals on Jack Price's property that I've seen over the years in Big Cypress. We didn't hunt, we just walked around.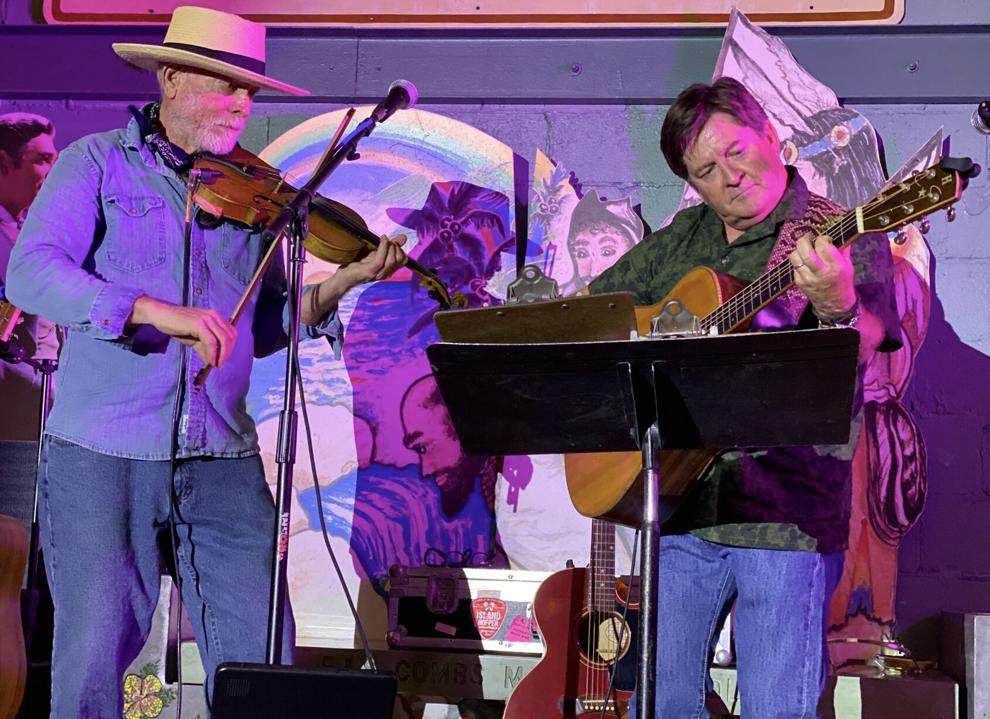 "They still had cattle out in the open," Shealy tells the audience of his childhood, "just like you read in the book A Land Remembered. There were families that had cows that they walked around the northern part of the reserve Some of the cows They looked so poor you wanted to put them down when you saw them The ribs were sticking out But they were really hearty They called them Spanish cattle or crackers They were so tough that people would pay a lot of money for cattle because of their genes. They raised them for their herds and took them all over the state. You hear a lot about the Everglades and the pythons and everything. I think that it's safe to say there's never been a better steward of our natural lands in Florida than the ranchers of Florida. You're going to see some of these legacy properties, there's wildlife aplenty. These lands of cattle are all i remember When I was young. You see the turkey, you see the deer, you see everything flourish there. How about one last round of applause for the cowboys.
Shealy then ignites the crowd with a heartfelt rendition of Wagon Wheel.
After the song, J. Robert asks Shealy if he's ever seen a Florida Cur dog.
"I have two," Shealy replied. "Our Florida Cattle Curs are like a lean, short-legged Lab/Greyhound mix."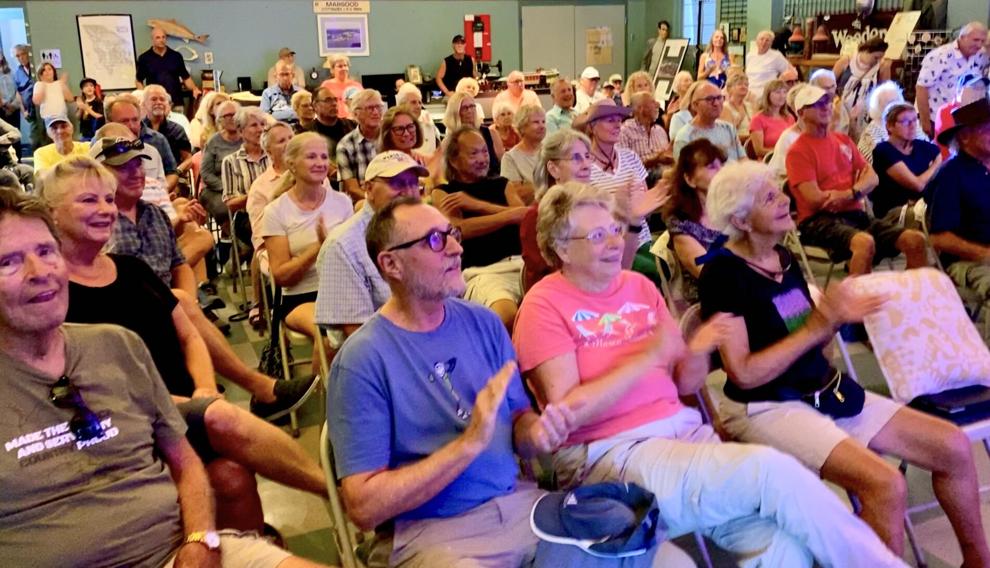 J.Robert then delights audiences with an original composition, Mangrove and Buttonwood, taken from his original musical score for the award-winning documentary "Unbroken Circles, The Great Florida Cattle Drive".
"Gotta slip one in here for the saltwater cowboys," J. Robert said. "I was born on the black waters, of a backwater bay," he sings, "deep in the mangroves and buttonholes…Up in the morning, fishing in the gulf, shooting big, all alone …Lawdy, Lawdy, life is slow, in the mangroves and the buttonholes. Yeah, huh! Big Cypress gal cooks good oatmeal. Her daddy has a brand new boat… The moon is high, the tides are low , the alligators are hiding in Smuggler's Cove… The nets are forbidden, the boats are up, Mom is hungry, her dress is thin… the bottle is all empty, the money is all spent… Lawdy, lawdy, lawdy, times are slow, in the mangroves and the button trees… Lawdy, lawdy, lawdy, the Yankee winds are blowing, in the mangroves and the button trees."
J.Robert introduces Mac Martin as its star host. Martin is a fourth-generation Floridian from Arcadia, about 90 miles north of Goodland. He is as comfortable sharing a story as he is playing a tune on his acoustic guitar.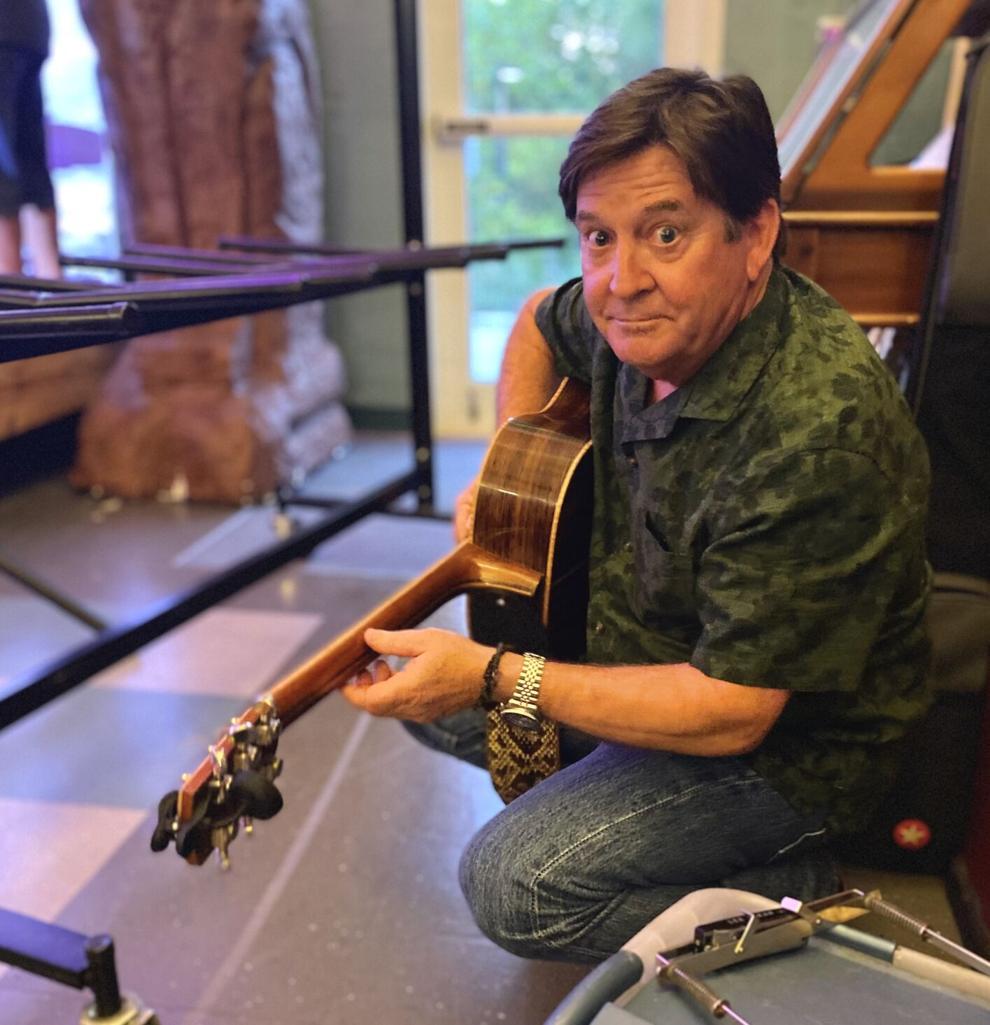 "My great, great, great-grandfather was a legislator in the 1800s," begins Mac Martin. "My great, great-grandfather was a doctor in Arcadia. He was the first doctor to operate on a Seminole Indian. It made national headlines because they used ether. high tech at the time."
As a young man, Martin worked for famed citrus grower, Ben Hill Griffin, whose name adorns the University of Florida football stadium. Martin's 89-year-old mother is still a choir director at a church in Arcadia. He said she wouldn't be happy if she knew he had gum in his mouth.
He then sings an original song about a Florida cowboy. "He works from dawn till dusk, with his dogs, his horse and his gun…In the freezing rain or the heat of the day, riding hard until he's done… Well, he's sitting all alone in the prairie, with the blue sky like heaven above…Even though he'll never get rich, he's got everything he needs He knows how God's world is led. He's the Florida Cowboy… He's honest and bold. Moving the cattle, riding the range, staying young until he gets old. He's the Florida cowboy… He works very hard with his hands…He goes to work with his dogs by his side…He never complains.He rides all day.He's tough, he's strong, he's calm and true…With a quick and sweet friendly smile…Early for work…He's there for you when you need him.He's a Florida cowboy…Moving the cattle, riding the range, quietly disappearing. is the cowboy of Florida.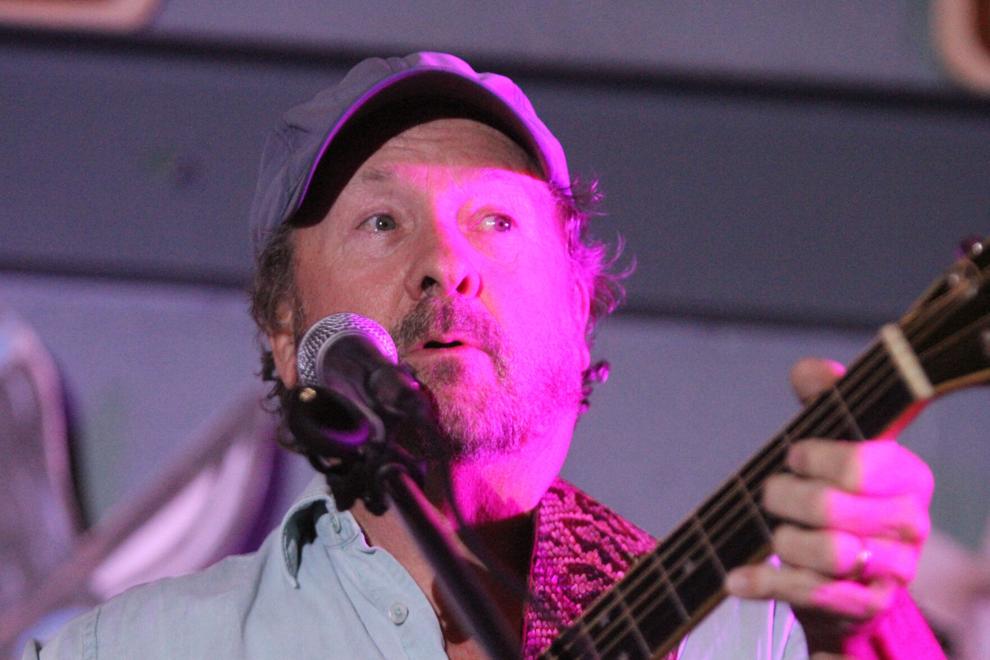 J.Robert's instinctive accompaniment on the fiddle – after all, he's called the Florida Fiddler – makes Martin's great Florida folk songs even greater.
As the evening draws to a close, Nofsinger, who shares hosting duties with J. Robert, calls a friend of the audience to the stage, Will Ferrell's character Ron Burgundy in Anchorman. Eric Strachan, a famous local journalist, takes the stage and borrows Martin's guitar. Strachan shows off his comedy chops by featuring his debut song as an original. "I'd like to do an original song here, 'Eric Strachan Deadpan,' it was originally written by James Taylor." True to the cowboy theme, Strachan plays Sweet Baby James, accompanied by J.Robert on violin.
Strachan does a believable job on his James Taylor cover and then plays a John Prine tune.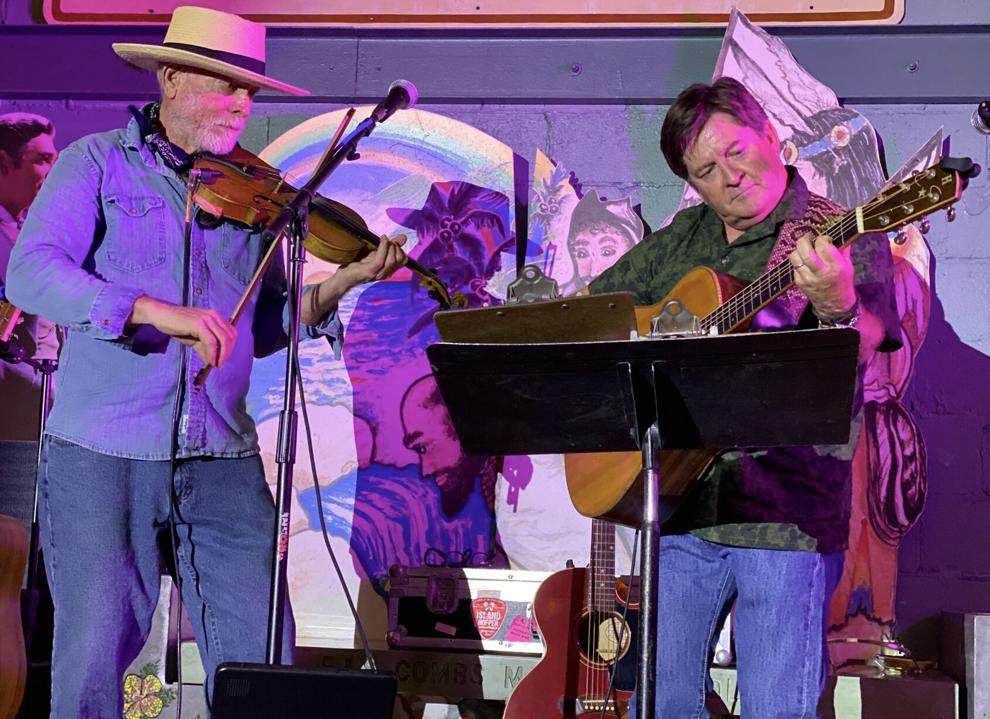 Although the audience would probably have been happy if the set played until the cows came home, J.Robert tops it all off with another original from his Unbroken Circles score. He actually wrote the song in 1970, while playing gigs in Utah, Idaho, and Wyoming.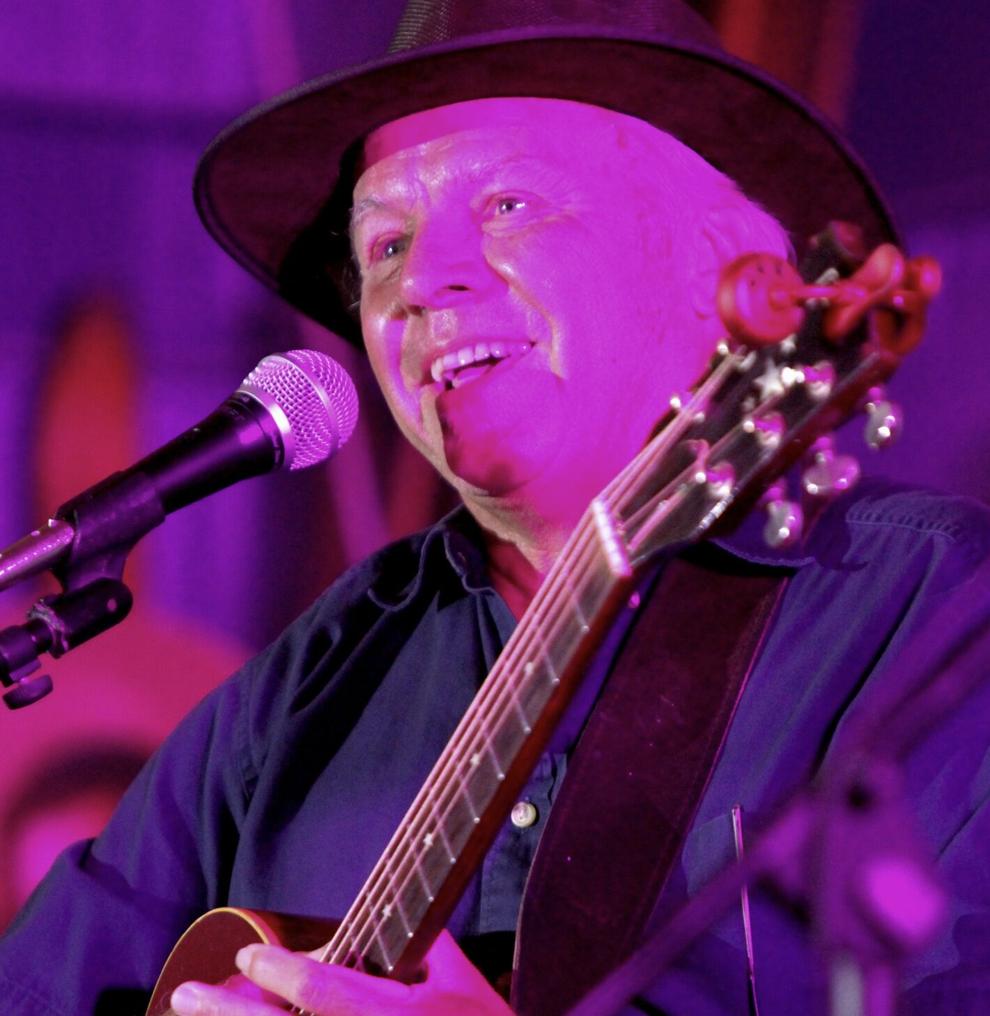 "I wrote this song and hid it," J. Robert tells the audience, "until this movie came along. It's called This World Beyond.
"Hello, captain", sings J.Robert. "Ready? Gather them… Trains of wagons roaring through the desert… Wheels of wagons, spinning around the sun… Pioneers, seeking their own comfort… Always seeking , never reaching, the life beyond."
J.Robert and Friends will do it again on Monday, May 2 at the Margood Theater. Admission is free, but generous donations are encouraged.
---