Review: BLACKOUT SONGS, Hampstead Theater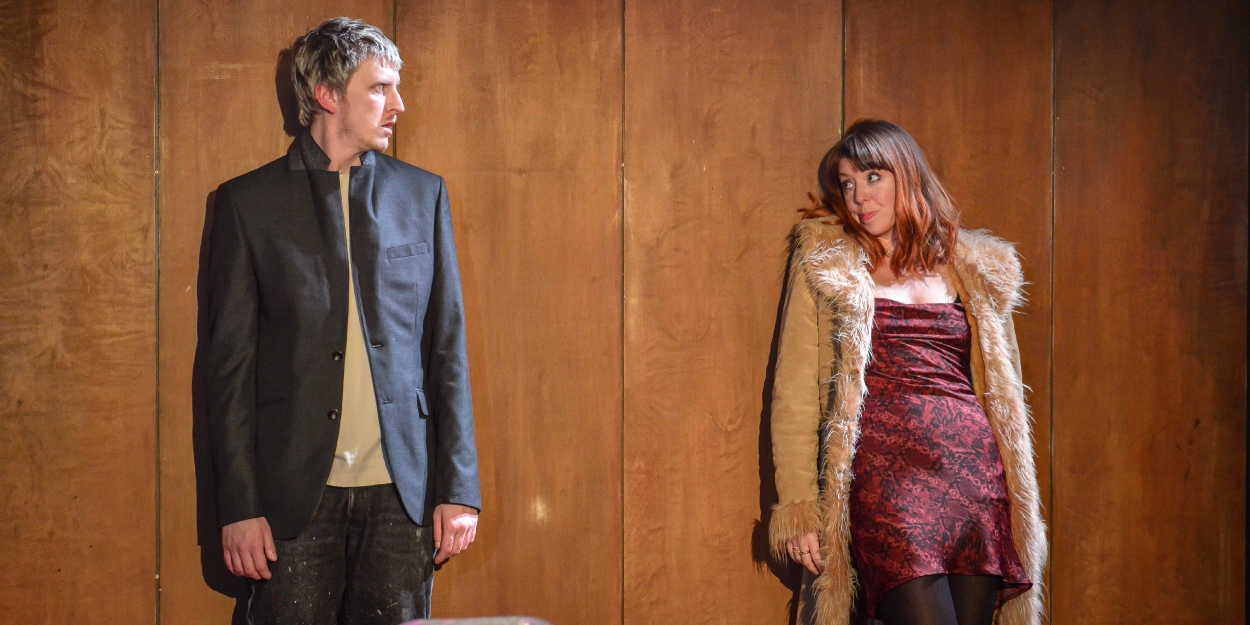 When Beyoncé was singing Drunk in love she didn't mean like that. Or maybe she did.
Award-winning writer Joe White's new play is a tender exploration of the boundaries between craving and addiction. For two young Alcoholics Anonymous (played by Rebecca Humphries and Alex Austin), that line becomes increasingly blurred between their tops from booze-soaked parties and their bottoms from hospital visits.
The word A is never mentioned but Occult songs is soon haunted by it. The two meet at an AA meeting and despite their blossoming romance cannot separate nor their relationship from alcohol. White tackles boldly heavy themes, but his touch is light and crisp. His writing is layered with irreverent wit and humor while underpinned by burning curiosity and immense compassion.
There is something profoundly contemporary in the struggle. First and foremost, alcoholics are nihilists, struggling to cope with a world without a larger idea to live in and ground them. A poignant scene sees them breaking into a church to loot stocks of communion wine; it's more than just a drink, it's an expression of their post-modern malaise and inability to live beyond the present moment.
But it goes both ways, not only forward in accepting the opportunity cost of tomorrow's hangover for today's happiness, but also backward in memory. The two alcoholics drink to the point of not remembering where they have been or more miserably who said what. By drinking to forget their life, they forget to live.
Both performers galvanize White's script with electricity. Rebecca Humphries' character is the sun at the center of Austin's character universe; it is a planet caught in the orbit of its spell. She swans and struts with the impetuous brilliance of a rockstar. by Richard E. Grant with nailhis female counterpart. His puppy eyes beg Austin's character for "Just one more sip." But the flirting turns sour when all romantic artifice is dropped and the reality of their parasitic addiction is brought to light.
Alex Austin bounces off Humphries' energy and together their bright playfulness is as adorable as it is magnetic to watch. While silly and juvenile, he also incubates a silent tragedy in his heart as the quintessential struggling artist trying to channel his emotions into his art. There is a question about art and masochism, the myth of the suffering artist contextualized in the 21st century, but White does not reveal his cards. He keeps the audience spellbound.
The production moves with kinetic fluidity thanks to Guy Jones' quick but confident direction. Static exchanges are broken up by movement following director Iskander R. Sharazuddin's sequences of physical theater and interpretive dance. Sequences can be on the nose emotionally, lots of screaming punches, but they maintain a welcome dynamic pace.
Occult songs will undoubtedly cement Joe White's status as a player to watch, even though this is only his second full play. This reviewer can't wait to see what he does next.
Blackout Songs plays at the Hampstead Theater until December 10
Photo credit: Robert Day