Quaynotes Choir Concert at Tenby Arts Club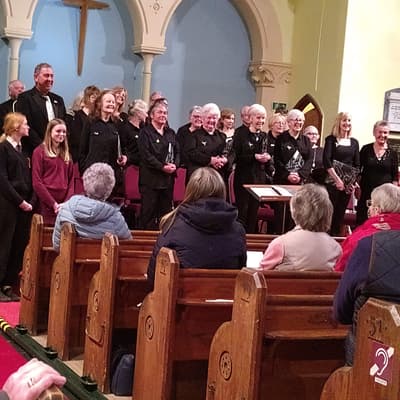 On Friday March 18, for the last meeting of this season, the Tenby Arts Club attended a concert by the Quaynotes Choir. With their musical director, Mark Thompson, and accompanist Eileen Thomas, the choir provided an excellent program.
Carol announced that the first set consisted of popular music. First 'You raise me up', originally by Secret Garden but popularized by Westlife. Then 'Hallelujah' by Leonard Cohen, the version of Shrek, followed by Burt Bacharach and Hal David's number, 'Close to You', forever associated with the Carpenters. Finally, a song written for Whitney Houston for the Seoul Olympics in 1998, "One Moment in Time".
While the choir was resting, Mirella Evans played Saint Saëns' "Fantaisie en E flat major" on the trumpet. The second set was spiritual and sacred. First Mozart's 'Ave Verum', followed by 'God so loved the world'. The Vicar of Dibley's theme song followed – 'The Lord Is My Shepherd' by Howard Goodall. Finally, a hymn by John Rutter, 'Look at the World'.
The second soloist, sister to the first, was Nell on oboe. She played Marcello's Sonata for oboe and cello. The choir's latest set was inspired by recent events in the news, the first being a song from the 1986 film, "An American Tale", about two mice who are actually Ukrainian refugees, "Somewhere out there". . This was followed by Disney's Lion King classic, "Can You Feel the Love Tonight?" Then come "Bring Him Home" from Les Misérables and finally "Anthem" from the musical Chess, dedicated to the Ukrainian people in this difficult time.
As everyone made their way to the hall for tea, coffee and refreshments, it was noticed that the choir were all wearing little yellow and blue hearts. After lots of talking and refueling, everyone started heading home, after a great evening of fun.
The next meeting of the Tenby Arts Club will be the AGM to which all members are invited. It will be Friday, April 22 at 6 p.m. at St Johns Church Hall. There will be refreshments and even a mini-speaker (the speech is mini rather than the speaker!).
Then on Friday, July 15, everyone is welcome to the Arts Club Art Exhibit Preview Party, where once again there will be refreshments and a raffle.
The next regular fixture season kicks off Friday, Oct. 7 at 6 p.m., with schedule details to follow later in the year.