Prices for double private lessons in Homs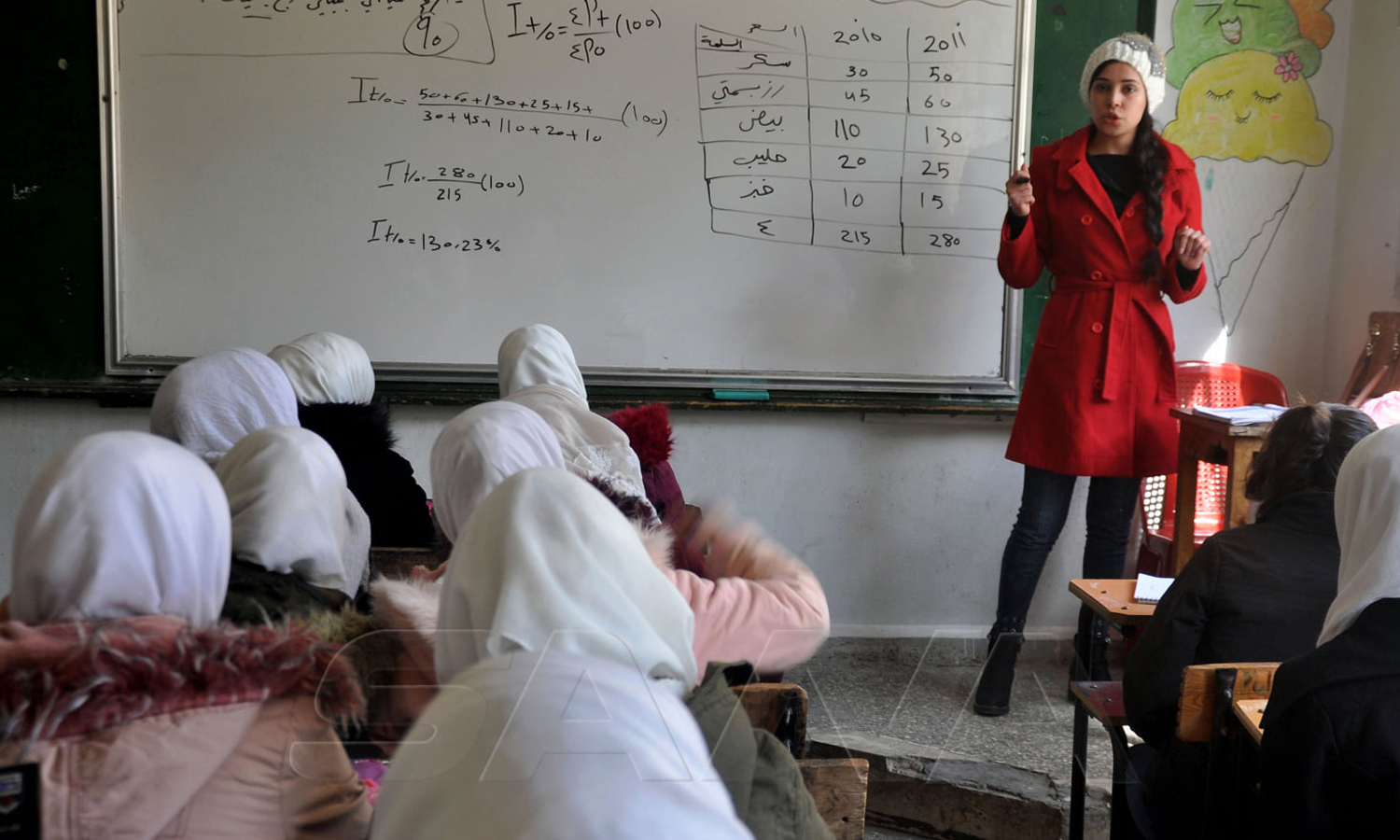 Enab Baladi – Homs
Mohammad, 43, a mathematics teacher, leaves his home at six in the morning and does not return until midnight, moving between residential areas in the central city of Homs, to answer questions from students who have contacted him and solve for them the important questions they have encountered during their studies.
The teacher wants to make sure his students are ready for the upcoming exams, and he gets a double benefit by making up for what the students are missing and improving his income this season.
The Syrian Ministry of Education has set the date for certificate preparatory exams on May 29, and middle and high school exams in its literary and scientific branches start on May 30.
Due to the degraded educational situation in public schools, students resort to tutoring in institutes and private schools when studying curricula for middle school and high school certificates.
This has increased the demand for private lessons and increased their fees as they are no longer available to all students in the city of Homs, prompting some of them to gather in groups and pay the fees tuition after dividing them among the participants.
High prices for private lessons
As the exam date approaches, prices for one-to-one lessons have more than doubled and are likely to increase as the date nears.
Prices for private lessons increase with the increase in transport costs and the cost of living. For teachers, private lessons are the most important source of their livelihood due to their low salaries in public schools, which do not exceed 80,000 Syrian pounds per month.
Mathematics teacher Mohammad said Enab Baladi that the prices of teaching hours have increased with the increase in transport costs and the increase in demand before examinations. I can't rely on public transport as it is slow and takes a lot of time.
"I depend either on my own car or on the public taxi. Petrol prices have increased, the price of a liter of petrol is around 6,000 pounds, and the lowest fare to request a taxi is over 5,000 pounds. These expenses are at the cost of one hour's salary," explains Mohammad.
It's a season for teachers who often rely on tutoring to improve their livelihoods amid the rising cost of most basic materials and goods.
The exchange rate of the US dollar against the Syrian pound reached 3,970 pounds, according to the Syrian pound today website specializing in exchange rates and foreign currencies.
Student initiatives
Somaya, 47, a resident of the city of Homs, said her son, a high school student, is on a date with fateful exams, as she said. Enab Baladi.
"Prices for private lessons have increased significantly lately," says Somaya, who works as a civil servant with a monthly salary of 80,000 Syrian pounds.
"At the beginning of the year, the salary of a math teacher was 10,000 per hour, but now it is 35,000 Syrian pounds for some teachers, it is other than physics, chemistry and science. rest of the materials," she added.
The high costs have reached the point where most parents are unable to pay them to teachers, which is reflected in the level of education of the students.
This poor living condition of the parents prompted the students to gather in small groups in one of the student houses to share the cost of lessons and private lessons.
Poor public education
Most of the students in the transition classes, in particular college and high school diplomas, have recourse to private lessons or to private institutes and schools approved by the Ministry of National Education to review the program after the low level of education in public schools.
Ammar, 46, an English teacher at a school in Homs governorate, said Enab Baladi that "public schools lack seriousness in education, as most students depend on private institutes or private tuition, which increases their dropout from classes".
According to the teacher, who asked that his full name be withheld for security reasons, most teachers said they lost the incentive to present their professional and scientific thesis because they barely receive a salary that is sufficient for them with transportation costs, not to mention the full commitment to work in the classrooms and the lack of time as in other state institutions.
Government schools lack basic elements after the destruction that affected them following the military operations launched by the Syrian regime during the control of opposition factions over neighborhoods in the province. This reality has forced the Department of Education to limit working hours to renovated school buildings and to divide school hours into two periods, morning and evening.
According to estimates by the United Nations Children's Fund (UNICEF), the number of children deprived of education in Syria during the ten years of war exceeded two million.
The Syrian education system is fragmented and unable to provide safe, equitable and sustainable services to millions of students and suffers from a lack of funding, in addition to severe teacher fatigue.