Practice, practice, practice… The Union Choir performs at Carnegie Hall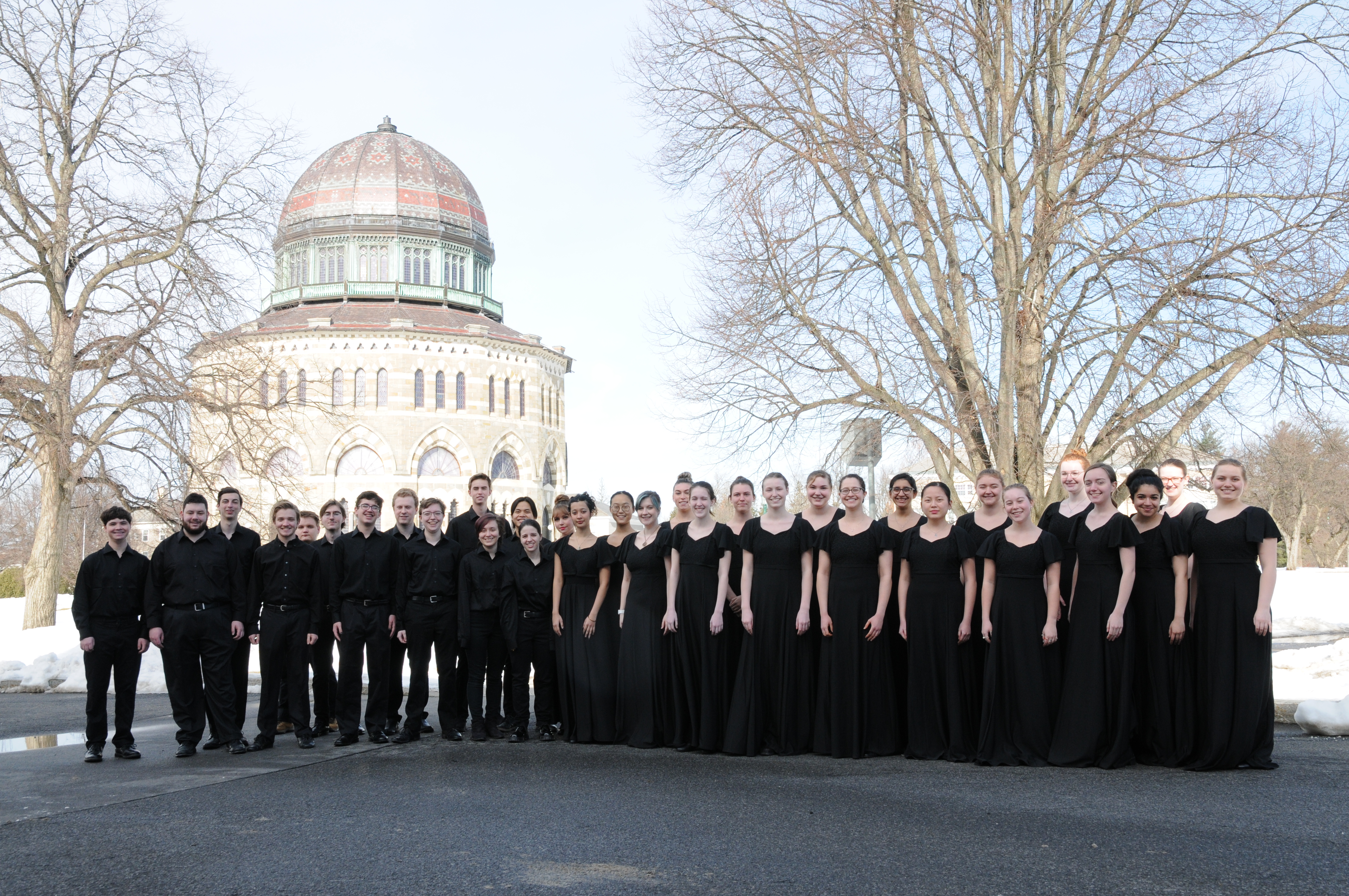 Tchaikovsky. The Beatles. Judy Garland. Jay Z.
For more than a century, the names of Musical legends paraded under the marquee of Carnegie Hall, the downtown Manhattan concert hall revered for its beauty, acoustics and history.
The Union College Choir will add its name to the marquee this spring.
Its members poured their hearts and souls into preparations for its March 20 performance at Zankel Hall, the first-ever concert at Carnegie Hall for the College choir. It's scheduled for 6 p.m.
It will be followed by a singing engagement at New York Avenue Presbyterian Church in Washington, DC, at 2 p.m. on March 22.
"We don't partner with any other choir, but simply introduce our students to these two amazing cities. Everyone is very enthusiastic," said Shou-Ping Liu, performance director and lecturer in choral and orchestral conducting in the Department of Music. "It's especially poignant because none of us will ever forget the days when we stood 12 feet apart in double face masks and still tried to make music together."
"I'm incredibly excited and humbled to sing at Carnegie Hall," said soprano Abigail Smith '23, an interdepartmental biology and English major from Killingworth, Connecticut, and one of the 31-member choir who will be touring. .
"I've been a member almost since I first set foot on campus two and a half years ago. I auditioned for Professor Liu during my first week here. I didn't expect this fantastic opportunity to come our way because Carnegie Hall is such a prestigious venue and we are such a small choir. It is a testament to Professor Liu's tireless dedication to our choir that this is happening.
The choir's spring concert tour actually started on a different note and took a major detour due to the pandemic.
The group was originally to sing in Berlin and Prague with a professional orchestra conducted by Raphael Alpermann, the keyboardist of the Berlin Philharmonic Orchestra, with whom Liu studied for several years. Alpermann came to Union in February 2020 to work with the choir as part of their US concert tour.
"He was so impressed with our students, both in their musical commitment and their work ethic, that he invited us to sing three Bach cantatas in his hometown of Berlin later that year," said Liu said.
Liu, whose conducting career has taken her to major international concert halls, devoted her doctoral research to music composed by Holocaust victims. She teaches Holocaust music in a second-year research seminar.
The choir was to perform Holocaust-related music at four concerts over 10 days in Germany and the Czech Republic, and supplement its music with visits to Holocaust memorial sites in both countries.
But like most performers, Union student ensembles have been hit hard by Covid-19. The tour scheduled for fall 2020 and the rescheduled event for fall 2021 have been cancelled.
With the European engagement now on hold until 2023, Liu hosted the two East Coast city dates to create a meaningful live performance experience for the singers.
Tickets for the Carnegie Hall concert are on sale directly from the hall's website. The cost is $20 per ticket.
At New York Avenue Presbyterian Church in Washington, tickets can be purchased at the door. The suggested donation is $20.
There will be alumni receptions at both sites.
"It's amazing to see the love pouring out from our former choir members," Liu said. "Many of them will come to the two concerts and then join the receptions organized by the Office of University Relations. It will really be a great "reunion" for all the members of the choir from different decades.
For Smith, that's a big part of the appeal.
"On this tour, I can't wait to sing for the oldies," she said. "I'm a big believer in the power of the union community, and that community doesn't end when you graduate and leave campus. I hope to have the opportunity to talk with alumni, especially those who participated in the choir during their union years, and to hear their stories. »