Pembroke and District Choir RNLI Concert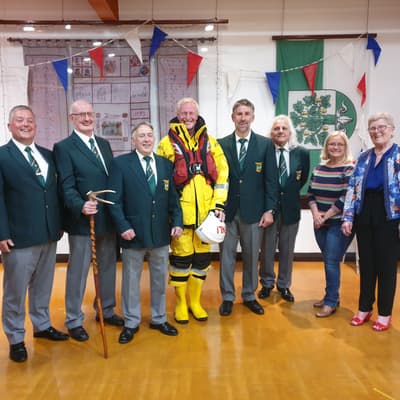 At the Pembroke Town Hall concert, a volunteer RNLI and choir supporter dressed sportingly in Angle's Lifeboat Mechanic's uniform for a photo with organizers and members of the choir. With him are, left to right: Matthew John, Rod Jones with a newly acquired cane, Dave Brinn, new backup singers Rob Mathias and Peter Halifax, and Penny Blackborow and Daphne Bush.
At the start of a busy weekend, the choristers of Pembroke and District Male Voice returned to familiar territory, Pembroke Town Hall, and regular hosts, the Pembroke RNLI Ladies Committee.
In front of a full house, the choir, led by music director Juliet Rossiter and accompanist Carole Rees, won hearty applause for a two-part programme, with shouts of welcome and Welsh cakes served during intermission for the public and the choristers.
It was a particularly busy evening for new emcee Matthew John who was joined by fellow first tenor Dave Brinn in duets – 'Danny Boy' and 'I Believe'.
The choir appropriately concluded its program with the poignant "Home From The Sea" with solo verses taken by Huw Morgan, Matthew John and John Hillier.
In the well-supported raffle, second tenor Rod Jones won a unique prize – a sculpted cane given to the organizers by David Roberts. Other recipients of the unique Rods of David include the Prince of Wales and well-known personalities.
The public and choir were welcomed on behalf of the RNLI Ladies by Daphne Bush and the event – held for the first time since the Covid crisis – raised a bumper £900 for the RNLI.
The second part of the choir weekend took place at Pembroke Castle after the unveiling of the statue of William Marshal. Six well-chosen elements almost raised the roof of a marquee, before the choir conducted the Welsh national anthem.
The next concert will be on Friday 20 May at St Twynnells Church.