Newly formed choir heads to Geelong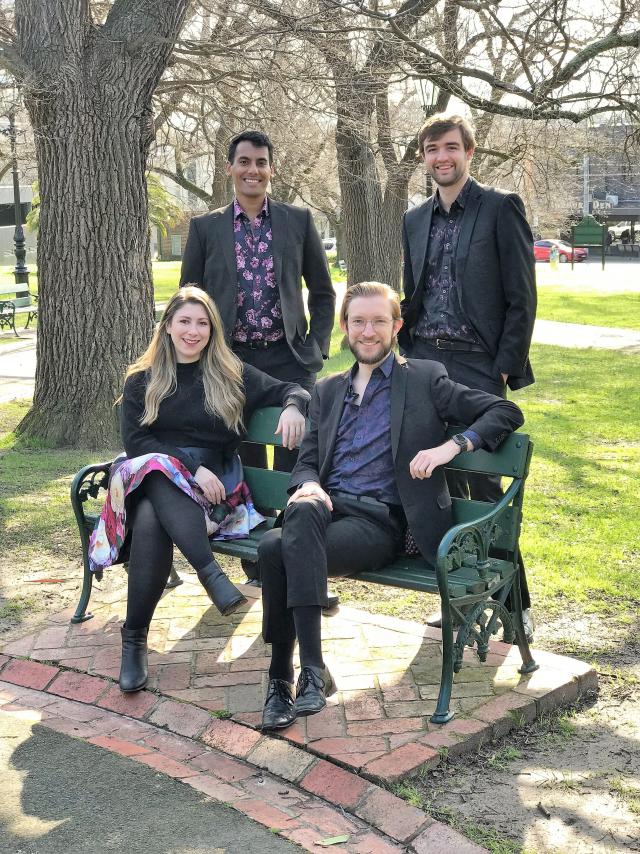 By Justin Flynn
The new chamber music choir Fiore, which describes itself as a "choir nerd", is heading to Geelong.
The quartet of Monika Harris (soprano), Anish Nair (tenor), Alex Ritter (countertenor) and Lachlan McDonald (baritone) will perform at St Paul's Anglican Church on September 25.
"All four of us have been lifelong friends as we grew up together in the Australian Boys Choir," says Anish Nair.
"We are sort of self-proclaimed choir nerds having performed in the majority of choirs in Melbourne for the past 10 years or so. Between us four, we covered all the choirs.
"We had fun together as a band so often that we decided we finally liked each other enough to make a little quartet together and bring all of our years of musical experience into a band and an effort."
It's not the first time they've performed in Geelong as individuals, but it's the first time for the band.
"We went there with various other choirs, so it was basically our Geelong debut that we set up," says Anish.
"Three of us played in a quartet with a friend of ours from Perth about three years ago who was at St Paul's."
Spectators can expect a lot in just 50 minutes.
"We don't want to stick to one specific genre, we're good at everything, so we're going to make a little tasting plate for everyone and give them a taste of everything from new music that we don't have never done before, new music that audiences have certainly never heard before and just shows what we can really do," says Anish.
"Audiences can expect a lot of variety in the kind of pieces we are going to perform and quite a dense density during the 50 minutes we are going to perform."
The concert, A Tasting Plate, is at 2pm in St Paul's Geelong on September 25. Tickets at trybooking.com/eventlist/fiorechamber at the gate or at the door.