New Journalist Writes Sports and Weekend Activities | Free content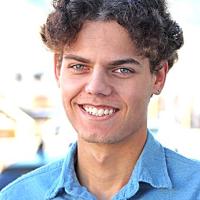 by DJ DeJong
Mail Editor
The Mountain Mail's new sports reporter, Joseph Bahr, is getting used to living in a small town.
The recent Texas State University graduate grew up in Killeen, Texas, north of Austin, which has a population of about 145,000.
Bahr was homeschooled and then attended a local community college to earn his high school credits.
After a year-long stint at Sterling College, a small Christian school in Sterling, Kansas, he decided it wasn't for him and transferred to Texas State University in San Marcos.
He studied political science and communications there.
He spent time as an assistant speech and debate coach at a local high school.
Bahr's sporting background includes soccer, which he played as a kid as a goalie until a concussion ruled him out, and tennis.
As a newcomer to Salida, he learned pickleball.
He said he could try skiing and he wanted to climb mountains in the spring and summer and maybe try some river sports.
Bahr said he had always been interested in sports and was learning the ins and outs of being a sports journalist in addition to other assignments.
It's been on-the-job training for Bahr as he hones his photography skills and covers a variety of winter sports, including basketball, wrestling and swimming.
"I like going to games," he said.
He also begins to be recognized in the city through his attendance at high school and other sporting events and begins to meet people.
"Being new to the area gives me the opportunity to meet…people from the community," he said.
The biggest differences he's noticed in a small town include "meeting random people at the grocery store" and the early closing times of most businesses, including restaurants.
"It's an adjustment," he said.
He decided to move to Salida because he thought it was a "cool place".
He said there are two places in nature that he finds exciting, the beach and the mountains, and Salida has one.
Bahr's Main Rhythm covers high school and other sports in the Salida area.
He can be reached at sports@themountainmail.com or 719-539-6691 ext. 121.