Neighborhoods will host activities for National Night Out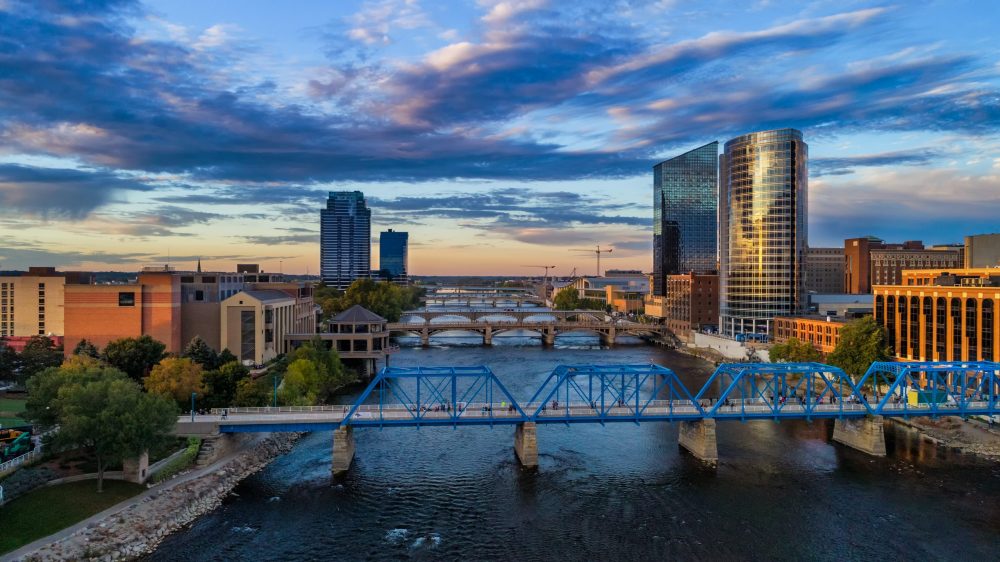 Residents of Grand Rapids are invited to participate in a national community event.
Residents are encouraged to turn on their outdoor lights and spend the evening outside on their porches, lawns, streets or in parks with their neighbors as part of National Night Out on Tuesday, August 2.
The national event is held annually on the first Tuesday in August and aims to promote community and crime prevention.
Several neighborhoods in Grand Rapids will host family activities to celebrate National Night Out. Throughout the evening, Grand Rapids police and firefighters and city leaders will visit and communicate with residents at these events.
Julie Niemchick, crime prevention coordinator for the Grand Rapids Police Department (GRPD), said when residents and police work together in their neighborhoods, good things happen.
"National Night Out is a time when residents can reclaim their streets in a fun and positive way," Niemchick said. "Some neighborhoods have chosen to make this night especially important because they coordinate a variety of family activities to get everyone involved."
In addition to neighborhood activities, the city's Parks and Recreation Department will offer free admission to all three city pools from 5:30 p.m. to 7 p.m.
The city, the GRPD and several neighborhood associations and neighborhood clubs are sponsoring this year's national evening.
National Night Out Neighborhood Sponsored Events
Baxter Neighborhood Association — music, food, games, resource tables
Time: 6 p.m.-8 p.m.
Location: Joe Taylor Park, 1011 Baxter Street SE
Berkley Hills Church – games for all ages, inflatables, shaved ice, carnival food, petting zoo
Time: 6 p.m.-8 p.m.
Location: Berkley Hills Church, 1670 Ball Ave. NOT
Creston District – food, games, arts and crafts, resource and vendor tables
Time: 4-7 p.m.
Location: Briggs Park, 324 Knapp St. NE
Fuller Area Neighbors and MLK Neighborhood Association – food, bouncy house, face painting
Time: 6 p.m. to 7:30 p.m.
Location: Fuller Avenue Church, 1239 Fuller Avenue SE
Garfield Park Neighborhood Association — story time in the park, information tables, family activities, snacks
Time: 5-6:30 p.m.
Location: Garfield Park, 250 Burton Street SE
Heritage Hill Association — community building, resources, activities, ice cream
Time: 6 p.m.-8 p.m.
Location: Pleasant Park, 400 Pleasant Street SE
John Ball Area Neighbors and West Grand Neighborhood Organization — food trucks, kids' activities, superheroes, zoo animals, resource tables
Time: 6 p.m.-8 p.m.
Location: Lincoln Park Lodge Building, 1120 Bridge St. NW
Belknap Lookout Neighbors – back-to-school stuff exchange, information tables, games, snacks and desserts, participatory budget information
Time: 6:30 p.m.
Location: 701 Coit Avenue NE
Northeast Citizen Action Association – Beckwith Hills Community Playground Grand Opening, Music, Food, Games
Time: to be determined
Location: Beckwith Hills Christian Reformed Church, 2100 Chelsea Road NE
Ottawa Hills Neighborhood Association — children's activities, animals, face painting, ice cream
Time: 6:30-8:30 p.m.
Location: Grand Rapids Christian Elementary School, 1050 Iroquois Drive SE
Roosevelt Park Neighborhood Association – games, gifts, ice cream
Time: 5-7 p.m.
Location: Cesar E. Chavez Elementary School, 1205 Cesar E. Chavez Avenue SW