Marion's new youth minister plans to show, not teach faith lessons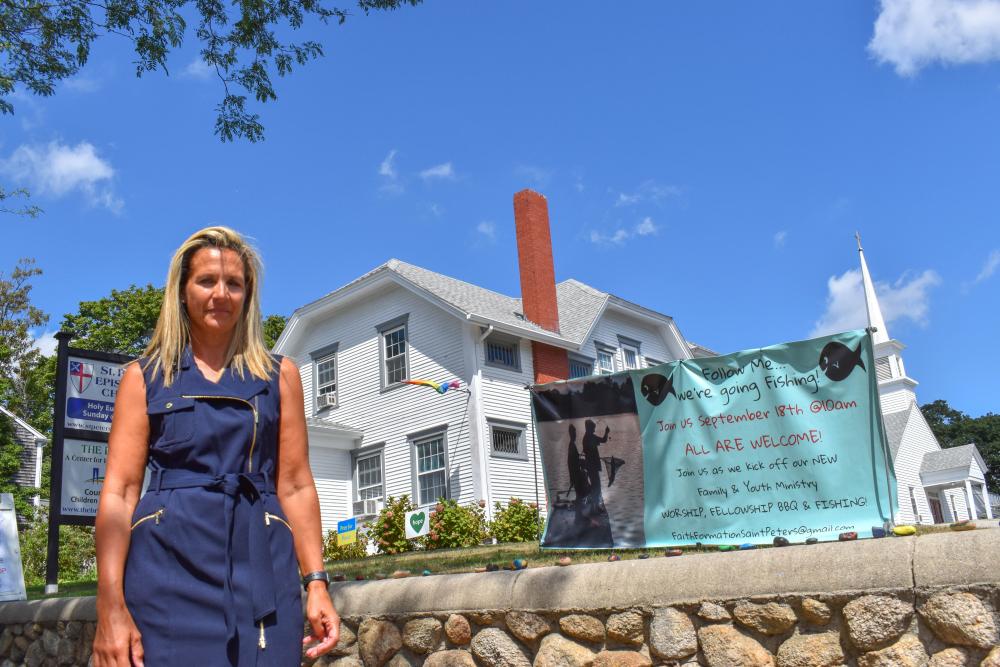 MARION — With the arrival of a new head of youth ministry at Saint-Gabriel de Marion Episcopal Church, the days of learning the faith from pamphlets are over.
Wendy Reardon, who was recently hired to lead the program, said her greatest strength is knowing what it's like to not fit in.
Building on this experience, she hopes to create a space in the city where all children will feel comfortable being themselves.
"I just want to invest in their lives," she said.
At a time when the constant use of electronics and social media can have a negative impact on mental health, Reardon said it was important to have a place where young people can gather to share their points of view. view and find their faith.
"They can never get out of it," she said. "They're bombarded with everything – a lot of things that aren't even real. I think we as a church can restore some balance and create that safe space.
Reardon added that involving more young people is also crucial to ensure the church continues to grow.
"Without young people in the church, you lose that momentum," she said.
"The formation of children and young people as Christians and Episcopalians is my top priority as rector," said Reverend Eric Fialho.
According to Fialho, when he arrived at the parish, the pandemic had "decimated our Christian formation offerings" and he now feels "we are on the path to major growth."
In addition to bolstering services at St. Gabriel, Reardon is providing similar assistance to St. Peter's Episcopal Church in Padanaram.
"They're run by two very different guys," she laughed. "But still, both are going in the same direction."
Prior to his passion for youth ministry, Reardon worked in the hospitality industry. Six months after quitting work to raise her first child, Reardon realized she was starting to lose her mind.
Seeking voluntary work, she began helping the South Dartmouth Congregational Church as a Sunday School teacher.
"I would do the lesson for five minutes and my own thing for 40 minutes," she said.
From there, she found her calling to connect young people to the faith.
Reardon held a similar position at churches in the Westborough area, setting up programs where she said she was always in touch with those she helped.
"I'm still writing letters of recommendation for a lot of these kids," Reardon said.
When it comes to presenting Bible lessons and stories, Reardon said she prefers to take a show, don't tell approach, rather than the traditional classroom setting that she says is associated with faith-based learning.
"It's about finding out who you are as a person of faith," she said. "You can read the Bible and learn about these historical figures, but it's more important how it applies to you today."
Reardon recalled how in a previous church she told the "parable of the good Samaritan", in which a stranger helps someone in need when others would not.
For her lesson, she said she led a group of children on a trip where they passed a number of people trying to stop them for help. In every situation she set up, she kept driving, only for the kids to be more upset with her decision to pass them.
The only "stranger" she helped was at the end of the trip, only because he was directly in the way. Once the group entered a clearing, everyone they passed came out one by one to then tell the Bible story.
"Slowly, but surely, it appeared on every child's face what I was teaching them," Reardon said. "I did this 10 years ago, and to this day I still see adults and children participating telling me they will never forget this parable and what it means."
Each lesson is part of a larger theme that Reardon plans to teach throughout the year. As it begins in St. Gabriel, this theme surrounds discipleship.
Already, the church has hosted an outdoor mass and luncheon that included a fishing jamboree at Silvershell Beach on Sunday, September 11.
"Jesus' first two followers happened to be fishermen," Reardon noted. "Not only [did] we learn more about them, but about what it means to be a fisherman, the environment and all of creation.
It was just one of many "adventure meetings" that will be chosen by the group of children, she said.
Once the youth program is more established, Reardon said, the plan is to take the children on self-planned mission trips. At her last church, she said her groups went to places like West Virginia and Costa Rica.
"It's about what excites them, what they want to be involved in," she said. "These are great opportunities to help out and see how others are living.
Reardon added that children from all walks of life are welcome to join in and share their ideas and experiences, including child members of the LGBTQ+ community.
"No matter who you are, no matter what you were born into, we all have God within us," she said.
For more information on the new group, email Reardon at faithformationstgabriels@gmail.com.