Lessons from Larry: How can we bridge our divisions? | Waverly Logs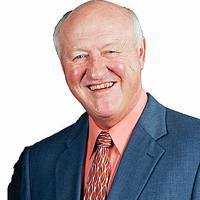 I am deeply concerned about our country and the direction in which we are going. Polls indicate that the majority of Americans share my concerns, although often from different angles. My concern is not just for the Biden or Trump administrations. I am concerned about the growing depth of the divisions that separate us from each other and the ever-growing cycle of hatred and violence that accompanies these divisions.
Divisions are not new. In our gospel lesson last Sunday, Jesus warned that his coming would divide even family members against one another. (Luke 12:L 49-53) But what seems to be different these days is that hatred and intolerance today is the easy access to guns and the willingness to use them, even against children! In each of the past two years, 45,000 people have died from gun violence (nearly the entire population of Cedar Falls!). There have already been 27 school shootings in America this year! A sobering reality as we prepare to send our children back to school. We used to naively believe that gun violence happened "elsewhere". Today, grocery stores, supermarkets, small town parades, and even churches, synagogues, and mosques have become "killing fields." No place is safer.