Lenten Activities – Intermountain Catholic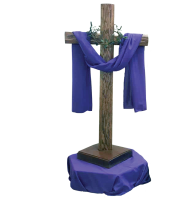 Friday, February 25, 2022
Ash Wednesday
Lent begins on Ash Wednesday, March 2. For Mass times and distribution of ashes, consult your parish.
Retreats/parish missions/Lenten study
• "A Lenten Journey with Mary" sponsored by the Immaculate Villages Militia will take place March 4-5. Hours of operation are Friday 3-8:30 p.m. and Saturday 8 a.m.-6:30 p.m. at St. Mary's Catholic Church, 4050 South 3900 West, West Haven. Free. Register at www.stmaryutah.org. For more information, call 801-621-7961.
• Lenten Parish Mission — at Holy Family Parish March 6-8, 6-8:30 pm each evening at the Church, 1100 East 5550 South, Ogden. With Tony Brandt and Chris Steward of Casting Nets Ministry. Active Catholics, non-practicing Catholics and non-Catholics are all welcome. Free.
• The Lenten Study—"Entering the Passion" with Dr. Brandon R. Peterson will be held on Thursdays during Lent beginning March 3 from 7:30 to 8:30 p.m. every night except April 7. Sessions will be held in Archbishop Wester's Lecture Room at The Madeleine Choir School and simulcast on Zoom. The study will use AJ Levine's book Entering the Passion of Jesus: A Beginner's Guide to Holy Week. Registration sheet at https://forms.gle/KPsNyXgFJhhZEM9H8.
Holy Week
• Giovanni Battista Pergolesi's Good Friday choral meditation "Stabat Mater" will be performed by the Madeline Choir School on Friday, April 15 at 3:00 p.m. at the Madeline Cathedral, 309 E. South Temple, Salt Lake City. Free and open to the public.
• Easter Vigil — Bishop Oscar A. Solis of Salt Lake City has decided that the Easter Vigil should not be celebrated in the Diocese of Salt Lake City until 8:30 p.m. on April 16. If there is a pastoral need to start earlier, contact Msgr. Colin F. Bircumshaw, Vicar General.
If your parish or Catholic organization is planning a Lenten event that the greater community is welcome to (such as a retreat or prayer service), and you would like the information printed in the calendar section of the Intermountain Catholic, send the information to atd@icatholic.org. There is no charge for this listing.