Kaiser Permanente doctor and patient review COVID-19 lessons | State and Region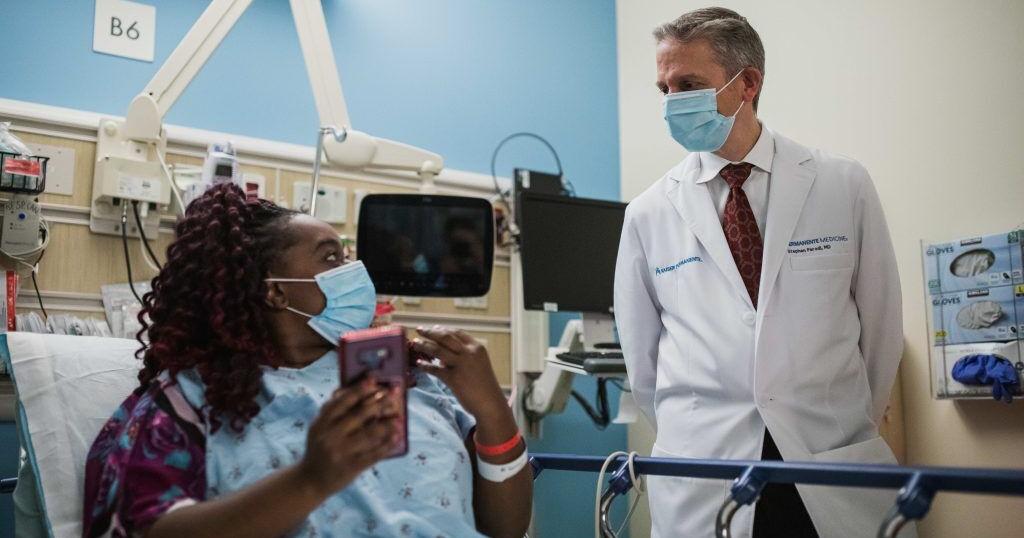 As Central Valley COVID-19 cases continue to decline and state mandates for wearing face coverings are relaxed, California's Kaiser Permanente is asking the public not to become ambivalent about the virus.
The health care provider held a videoconference this week to remind people of the devastating toll of the coronavirus around the world – especially in communities across the United States.
"Even people who got vaccinated were infected," said Dr. Stephen Parodi, clinical lead for Kaiser Permanente's coronavirus response team. "There are probably also a lot of people who had it and didn't even know it."
Nearly one million deaths in the United States are attributed to COVID-19, according to the Centers for Disease Control (CDC) and Prevention, which tracks coronavirus cases daily.
The CDC has reported 961,620 deaths as of March 11, 2022. Nearly 32,000 patients have been hospitalized with diagnoses of COVID-19, according to CDC data.
In Kings County, the Department of Public Health this week reported a drop in the overall number of COVID-related cases, particularly among children ages 0-15.
"We continue to see a steady decrease in cases over the past week," Rose Mary Rahn, director of public health, told Kings County supervisors at their weekly meeting.
But as Kings County hospitals see fewer patients admitted with symptoms of COVID-19, diligence appears to be the watchword among local public health officials.
Rahn noted a slight increase in the number of elderly patients testing positive for COVID-19, resulting in the delivery of 12,000 additional test kits for the county Commission on Aging's "community partners," including Meals On Wheels.
"We are shifting focus and prioritizing the highest-risk populations for investigation," Rahn told supervisors during his weekly health report.
Among Kings County's top priorities are patients over the age of 64 in skilled nursing facilities.
During the videoconference, Kaiser Permanente said it is redoubling its efforts to educate the public about the long-term impact of COVID-19 on society, and on areas like Kings County in particular.
"We vaccinated, at Kaiser Permanente … millions of people in California," Parodi said during the March 9 videoconference.
"We know we can't eradicate the virus, but we have the ability to determine whether we should live with high or low levels of the virus," Parodi said, comparing the current drop in the number of reported coronavirus cases to the living with the common cold.
"Now that we have vaccinations in place," he said, "determining the threshold is crucial in deciding whether to wear masks, when to isolate and vaccinate."
Governor Gavin Newsom recently lifted the face mask mandate in most public places in the state. He also issued a proclamation that allows K-12 public school officials to decide whether they want to require students, teachers and staff to wear masks after Friday.
In Kings County, where about 51% of residents (not counting inmates) were fully immunized as of March 9, school principals unanimously agreed not to require masks for students in kindergarten through 12th year.
"They go with a 'highly recommended' language," Kings County Schools Superintendent Todd Barlow said, alluding to Governor Newsom's recommendation.
Science and technology
During the Kaiser Permanente videoconference, Parodi echoed the governor's emphasis on following science and data, rather than public opinion, when making crucial health care decisions.
Rather than trying to prevent it, Parodi said it's important to send the message to all California residents that "we need to mitigate this disease."
Comparing the terms endemic with pandemic, Parodi said it comes down to accepting COVID-19 as a potential way of life rather than seeing it as an anomaly that will soon go away.
"Endemic basically means it's predictable," Parodi said. "COVID-19 could be like this, where it will periodically come back.
"At some point," he continued, "we may have lower levels where we take the masks off, and then at other times it may be at higher levels – and the masks have to come back.
Referring to the term "long COVID", Parodi noted that some people – seen to be recovering from the disease – may experience relapses.
"Up to 15% of people who have contracted COVID-19 may have longer-term levels," he said.
Faith and Will
Pastor Mark Wallace, a recovering COVID-19 patient, joined Parodi on the Kaiser Permanente videoconference.
Wallace spent a month at Kaiser Permanente Fresno Medical Center "fighting for his life."
"I'm a 'miraculous recovery,'" Wallace said, quoting one of his doctors.
The Tulare County pastor has written a book about his experience for therapeutic reasons — and to share with others what it's like to face death with an illness that many people still don't take seriously.
"Everything I've been through, I wanted to put it down – pen to paper," said Wallace, author of "I'm Not Done: When There Is No Hope…But God Says, LIVE!"
"I wanted people to know what it was, firsthand," Wallace said. "The doctors hadn't given me any hope. I had multi-organ failure. My first words off the ventilator were, 'I'm not done.'"
The experience of surviving COVID-19 made him even more empathetic.
"It helped me take care of our flock," Pastor Wallace said. "Helped me understand where they come from."
"The pandemic almost cost me my life," Wallace said nearly two years after he was admitted to a hospital in Fresno Kaiser. "It was a terrible, horrible process. I think everyone should be vaccinated. I don't ever want anyone to go through what I went through."
After stating this on a high-tech audio/video recording, Wallace made it clear that he was not preaching vaccinations in church.
"Our congregation, we've taken a very conservative approach to coming together and being safe," the pastor said. "I encourage people to go ahead, but I respect that people have a choice. I don't get into the pulpit and tell people to get vaccinated."
Privately, Wallace advocates for COVID-19 vaccinations due to personal experiences and vivid memories.
"I remember the hospital was overrun with people losing their lives," Wallace recalls. "People have been through so much – the mental anguish and the mental health – the stress…is very real."
Communicate and educate
Parodi said communication and technology will play a vital role in educating and treating people in the future.
Healthcare providers need to "get the information out faster," Parodi said. "The closer connections between health systems – like Kaiser Permanente – are essential for the community to come together."
Citing the important roles technology and oral medications can play in helping to mitigate a future outbreak of COVID-19, or any pandemic, Parodi argued for both.
"We had to move from routine care to virtual care," he said. "Some of what we've learned through technology like video is now an integral part of what we're going to [experience] in the future.
"We need to be on our toes when it comes to vaccinations," Parodi advised community health officials, likening the coronavirus to the common cold, through which people can become immune to drugs that treat it.
"We need a better supply chain for these oral drugs," he said in a call to action (CTA) for hospital administrators and healthcare providers. "We need that extra safety net to offer oral medication when someone presents with symptoms of COVID."