JESUS ​​CHRIST SUPERSTAR rocks audiences with songs and sparks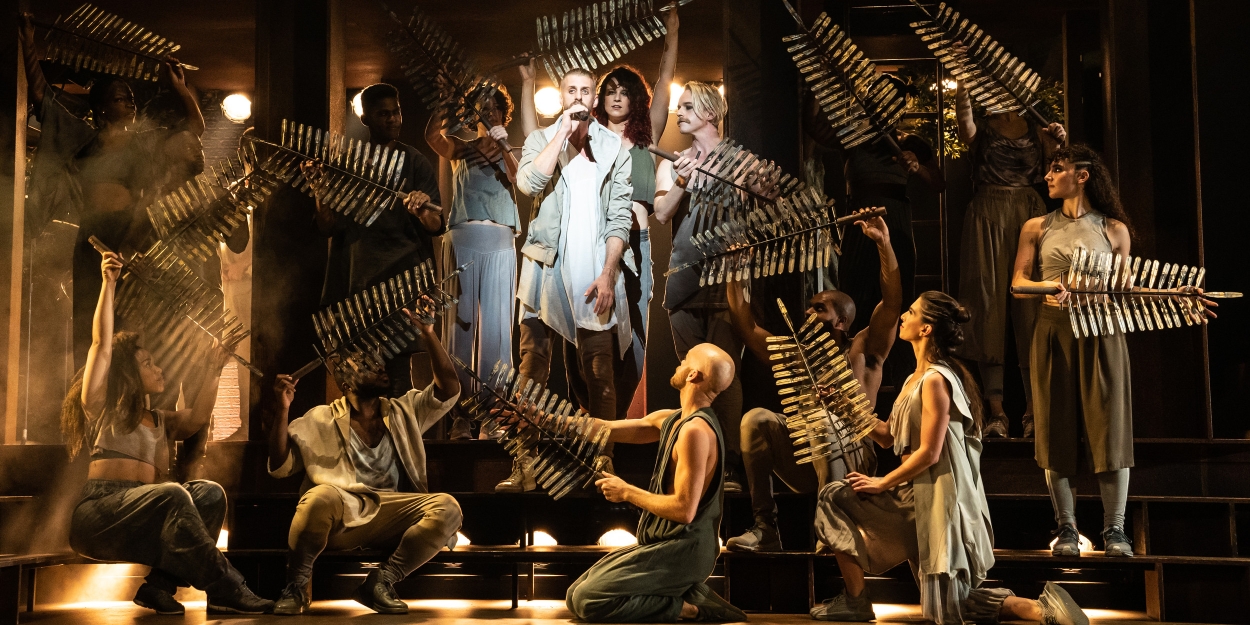 Wednesday night I went to a rock and roll concert. The diverse group of performers wore these modern, natural-toned outfits and danced all over the stage. The songs told a story that I had heard before, but they told it in a way that I would never have considered. They sang of friendship, loyalty, betrayal and a bit of romance. Oh yes, and it featured Jesus Christ. Broadway Dallas did it again and brought an amazing performance to Fair Park-Broadway's Music Hall Jesus Christ Superstar.
Now, I have to admit, I don't often think of Jesus wearing modern street clothes, playing guitar, and singing into a long wire microphone, so I didn't know what to expect. The large red stage curtains had two angels reflecting each other, and the color scheme definitely gave off "rock concert turned musical" vibes. A few minutes after the start time, there was a deep, loud bass sound that physically rocked the theater. The crowd started cheering and courting! It really felt like it was building up when your favorite artist is headlining a music festival and their set is about to begin. The bass led to a guitar solo, and the solo led the band to start playing. The unique, almost twisted sounds they produced intrigued me and made me wonder if we were traveling to some kind of alternate reality. As the Ensemble walked through the theater doors, ran through the aisles screaming and screaming, and then found their place on stage, I knew I was going to find out.
Jesus Christ Superstar tells the story of Judas' betrayal of Jesus Christ, but it's not the same story you might have heard. This inventive musical humanizes both characters and invites audiences to witness their thoughts and experiences behind closed doors, highlighting their flaws and triumphs. If you think this is a story that doesn't need to be told, please remember – it's art, an incredibly effective investigative vehicle. This work of art does not require you to accept its story as the truth; it simply invites you to ask the question, What if?
Although Jesus is one of the main characters in this musical, Judas' betrayal of him is central to the story. Of course, audiences get into the grounded performance against Judas, which Omar Lopez-Cepero brilliantly portrays, but as his humanity reveals itself, it becomes harder to despise him. We were able to witness his rage which led to betrayal, his weakness which led to unclean hands and his remorse which ultimately led to his downfall. Thanks to Lopez-Cepero's limitless range of voices, it was possible to feel his impassioned description of each of these emotions. Singing alongside Lopez-Cepero, and often one-on-one with him, was Aaron LaVigne as Jesus Christ. As his betrayal unfolds, the humanization of Jesus is clearly presented to the audience. LaVigne's voice was beautiful and sometimes frightening, and her acting was impeccable. His talent allowed audiences to see Jesus suffer through human cares and sorrows. He was becoming overwhelmed by the crowd, potentially giving in to romantic temptations and fearing his impending death, which becomes clear when he sings the lyrics "before I change my mind" in the musical number "Gethsemane". It is these two characters, who engage in their own fights of men and fight each other, which made it possible to tell this adaptation of a well-known tale.
The story of Judas betraying Jesus is tragic and memorable enough to be told on its own, but there were many characters whose roles helped develop both men's humanity and contributed to the historic yet showy tone of the performance. Mary, in this performance played by Chelsea Williams, was clearly one of Jesus' faithful followers, and maybe a little more than that. Williams did an incredible job portraying a woman who believed in the teachings of Jesus while loving him as a man who sometimes needed to take a break and "let the world go round without [him]. "Williams' singing was beautiful and heartfelt, and his performance was one of the main contributions to the humanization of Jesus, alongside Garfield Hammonds, playing Pilate. Hammonds gave an impassioned performance as his character tried to convince Jesus to accept his help. Without the impassioned voice of Hammonds, this moment would not have been so powerful. Seeing Jesus refuse Pilate's help confirmed his divinity, but it also revealed his human capacity to break and refusing the help that can allow him to move forward in his life's work.
In direct conflict with Jesus were those plotting his arrest and eventual crucifixion, especially Caiaphas and Anne. These two characters demanded attention whenever they were present on stage. Alvin Crawford's deep, booming vocals presented Caiaphas as strong and imposing while sounding pleasant. Tyce Green's sassy yet serious vocals kept the tone of the performance going while confirming that he had no intention of allowing Jesus to live on. The collaboration of these two characters was engaging and kept us focused on their gruesome plans. However, there was one character who attracted even more attention – Herod. Paul Louis Lessard's Herod was moving and brilliant. He surprised the audience with his attire and attitude, and his simultaneous humor and violence made me laugh as I looked hesitantly with one eye open. The show's upbeat tone wouldn't have been a success without the notable personalities and antagonistic actions of these characters.
This new-age story was told entirely through song, which seems to induce vacation Bible school flashbacks, but I can assure you it wasn't anything like that. The songs were sophisticated, sharing a story full of tumultuous relationships and complex decisions. The lyrics and enunciation of sounds by the actor were impressive, but the story really couldn't have been told without the physical movements of the Ensemble. They moved as a perfectly disordered whole, each person functioning as an absolutely necessary individual to connect the whole group. The changing voices and movements of the Ensemble could have represented the entire framework of the performance. They have gone from the biggest fans of Jesus, to citizens begging for healing, to maniacal mobs calling for his crucifixion. If you ask me, no one, not even Jesus, could have been a superstar without his skillful choreography.
The set itself contributed massively to the atmosphere of the performance. Raised on stage was a formation in the shape of a cross. Throughout the performance, the figures walked on this platform, jumped on it and got off it, and even used it as a dining table – yes, it was the setting for the painting of the Last Supper, which was one of the most impressive uses of stage placement. throughout the musical. Crosses were integrated into different aspects of the set, and at one point there were several illuminated crosses all over the stage. The space allowed cast members to move seamlessly from place to place, not only changing the setting, but sometimes changing who the Ensemble members were meant to be. There was never any kind of confusion as to where or who they were; the Ensemble gave a perfect performance, and it was made much easier by the clever and beautiful stage set-up.
Completing the beautiful ensemble were the accessories. At times the props were exactly what I expected to see – palm branches, large golden staffs, and small pots of water as the Ensemble cared for Jesus. However, there was one accessory I didn't expect: GLITTER. It was used in a variety of ways, including emphasizing each lashes landing on Jesus' already bleeding body. With each crack, a member of the Ensemble hurled a handful of glitter at Jesus' body and it exploded, acting as a beautifully gruesome substitute for blood. LaVigne's reactions to the glitter were awfully believable and this scene, despite the glitter, was hard to watch. That wasn't the only awkward juxtaposition in the performance; For a time, Jesus crawled and collapsed on stage, unable to walk due to his wounds inflicted by the enemy, while Judas sang a catchy song as if nothing had happened. It felt wrong and somewhat absurd, especially after finally witnessing the crucifixion of Jesus, but this musical number aligned with the tone of the entire performance. After all, it was a rock and roll concert.
Jesus Christ Superstar tells a familiar story with the added nuances of human experience. Oh, and the music is amazing! The harmonious elements of the individual playing with the Ensemble, the music, the lighting and the decor allow these people about whom we have read so much, in particular Jesus and Judas, to appear painfully human. Instead of running away from that idea, I encourage you to embrace it and allow yourself to ask questions. Will see Jesus Christ Superstar –you might notice a bit of yourself in Jesus, the one you might know to worship, and even Judas, the one you might know to despise.
Music Hall at Fair Park from April 5-17. Buy your tickets through the Broadway Dallas website. Recommended from 10 years old. Duration: 90 minutes without intermission.
Photo credit: Matthew Murphy, Evan Zimmerman – MurphyMade