Hode Hode Hode Ho! : backing songs can become synonymous with players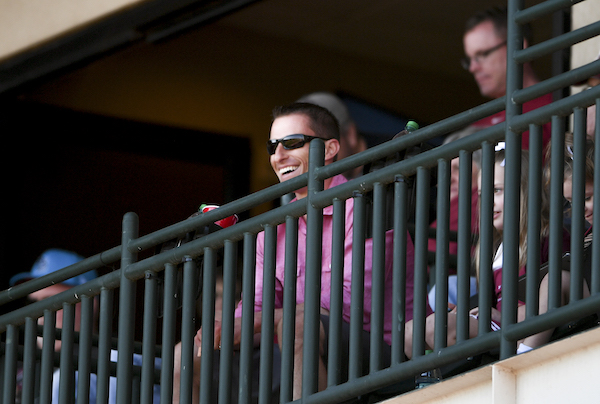 FAYETTEVILLE — As part of a commemoration of 100 Arkansas baseball seasons, fans will be asked later this year to choose their all-time favorite songs.
If there is a parenthesis, Scott Hode would be the No. 1 seed overall.
For four seasons, from 2002 to 2005, Hode (pronounced HO-DEE) came to the plate of Cab Calloway's "Minnie the Moocher." Never have the moments before a batting game provoked such a reaction from the local public.
Hode's name and the song's lyrics matched perfectly. Each of his appearances on a plate was greeted by thousands of people chanting these words:
Hidee hidee hidee hidee hidee hi

Hodee hodee hodee hodee hodee oh
"He had the best song ever here," Arkansas coach Dave Van Horn recalled in 2017. "It got the whole crowd rolling."
Walking songs can also become synonymous with jersey numbers for players, especially the big ones.
Unparalleled buzz filled the stands as the first note of Glass Animals' "Heat Waves" hit and Kevin Kopps emerged from the bullpen on his 2021 National Player of the Year season.
In the second inning of an April 10, 2011 game against LSU, most of the stadium spectators were standing within a few bars of "Strong Tower" by Kutless, the song by James McCann. It was McCann's first at bat after hitting a home run the night before.
Cab Calloway's song has followed Hode for two decades. Now a pilot for Walmart, Hode said it's not uncommon to hear someone chant "Hode Hode Hode ho" when they walk into a room.
It played over the speakers at Baum-Walker Stadium when it was shown on the video board during a match in 2018. As if by instinct, the crowd sang along.
"It gives me chills to talk about it," Hode said. "It's the coolest feeling ever."
Hode takes credit for finding the song, which was recorded in 1931. It was introduced to a new audience when Calloway performed it in the 1980 film "The Blues Brothers."
Hode grew up near Chicago and said he loved the movie set in the city, but never associated his last name with the song's lyrics.
That was until his older brother, Todd, spent a summer playing baseball for the Southern Minny Stars in Austin, Minnesota.
"They brought it closer," Hode said. "I think he picked a Metallica song and they didn't play it once for him. They were playing the 'Hode Hode Hode ho.'"
Hode never considered using this song as his own when he arrived in Arkansas in 2002. He chose a song by the rock band Cracker that was so memorable he can't remember the title of the song. .
"The only reason I chose it was because of the intro," he said.
During a game against Oral Roberts at the end of his first season, someone in the press box decided to play a different song – one that chanted his name.
"I had no idea they were going to do it," Hode said. "They played and that was it. The rest is history. It stuck.
The song helped make Hode a fan favorite. It didn't hurt that he became one of Arkansas' best players. As a junior, Hode was an All-SEC shortstop on a team that won the league championship.
During his college career, the Razorbacks added a video board inside the stadium and began playing "The Blues Brothers" scene to accompany the song. to construct.
"He said, 'Hey look, the audience loves this song. You have to let the whole song play. You don't have to walk straight to the box, dig and the song only plays for five seconds. Hode said. "I started walking slower, messing up my batting gloves, messing up my socks. I just did a bunch of stuff to let the song play a little longer and the fans could sing against me.
Some of Hode's bandmates asked him for advice for their own song. Second baseman John Henry Marquardt chose the theme "Ghostbusters" after such a conversation.
"Indeed, after 10 games, the crowd was screaming and singing," Hode said.
On Wednesday, the Razorbacks flipped the switch for their "Sounds of Baum" website which includes a snippet of all the hitting dropout songs and pitching dropout songs this year.
PODCAST: Scrimmage Observations with Bubba Carpenter, Illinois State Series Preview with Baseball America's Joe Healy
As usual, it's an eclectic assortment of songs ranging from the Hollies' 1972 "Long Cool Woman" for pitcher Matthew Magre to four songs performed by Kanye West.
Rapper Travis Scott will provide the soundtrack for outfielder Gabe D'Arcy and pitcher Gabe Starks, and Guns N' Roses will provide rocking entries for outfielder Chris Lanzilli and pitcher Jaxon Wiggins.
Infielders Robert Moore and Cayden Wallace picked up cult songs from Matthew West and R-Swift; pitchers Connor Noland and Elijah Trest chose music from indie country artists Colter Wall and Whiskey Myers; and pitcher Mark Adamiak has the oldest song, 1969's "Bad Moon Rising" from Creedence Clearwater Revival.
Senior outfielder Braydon Webb is one of those who chose a Kanye song. He'll walk to the plate to the tune of "Good Life."
"I like to change it up from time to time to incorporate different genres into it," Webb said. "At the end of the day, anything that gets you in the zone to the plate is your best bet."
Freshman Peyton Stovall chose two songs – the hip-hop "Danger" by Migos featuring Marshmello, and the country-rock "Lights Come On" by Jason Aldean.
"It's a lot of thought because you want to have a song that fits the crowd well and gets the fans excited," Stovall said, "but you also want it to pump you up and feel that feeling. of tingling when you go up to the bat.
"You kind of think about your song without a date like two weeks ago. You're listening to music, maybe something on the radio or something you have on your phone, and you visualize yourself walking towards the plate and you're like, "Oh, that could be good."
All Arkansas players are invited to submit two song options. Some use the second song as a reference when they're struggling, but Stovall said he'll spin his own. "Danger" will play for its first and third at bats, and "Lights Come On" will play for its second and fourth plate appearances.
"If I'm in a crisis, I don't think it's going to be because of the marching song," Stovall said.
None of the players seem to have a song with Hode's stamina that was recorded nearly a century ago, but the season is young. Maybe a song they haven't heard of — or never would have chosen — will become another Baum anthem.
Hode is happy that this is the case for him.
"Players on other teams would be like, 'Man, that's great,'" Hode said. "I just have a lucky last name."
Arkansas shortstop Scott Hode reacts after turning a double play to end the fourth inning of the Razorbacks' 4-2 victory over Florida State in the NCAA Super Regional on Saturday June 12, 2004, in Fayetteville. (Andy Shupe/Northwest Arkansas Times)