Happenings: community events, activities and announcements | Local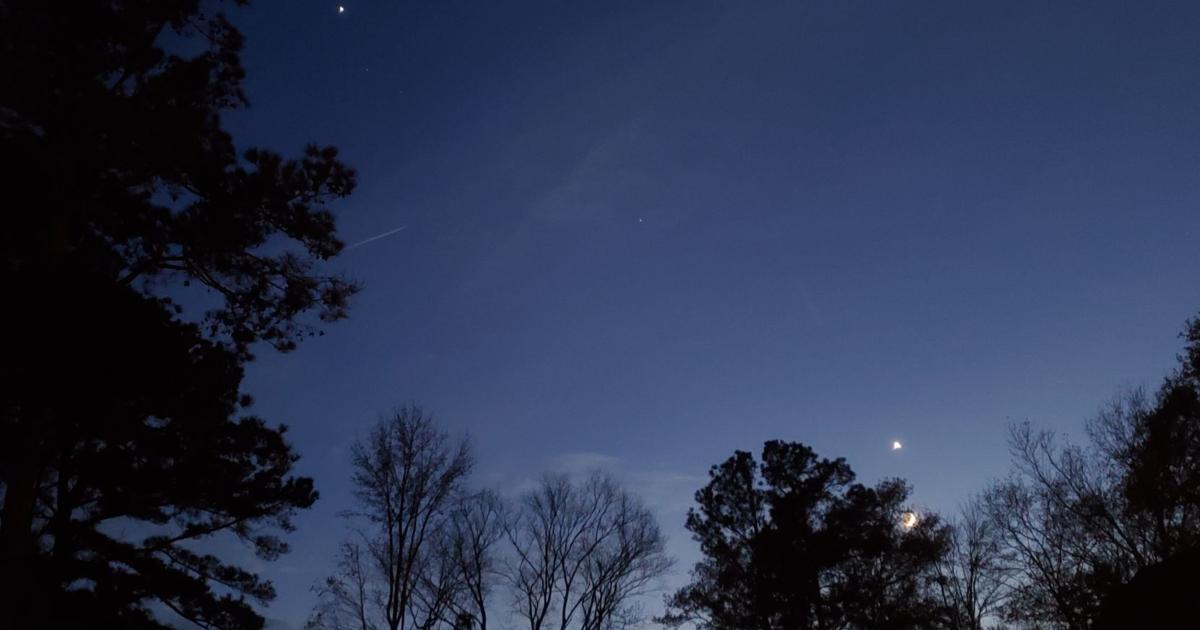 Poinsettias are now available for purchase from the Greene Central High School Agriculture Store. Selling hours will be 8 a.m. to noon on school days. Appointments can be made to collect group orders at other times. The poinsettias will be available in four sizes and four colors. For pricing or additional information contact the school at (252) 747-3814 or email henrypasour @ greene.k12.nc.us.
The light at the refuge will be from 6 p.m. to 9 p.m. Thursday through Saturday as well as December 16-18 and December 20-23 at 1380 Lower Field Road, Ayden. The event includes a live nativity scene and other exhibits to highlight the biblical Christmas message. There is no admission fee, but donations are accepted. Visit ncrefuge.org Where facebook.com/NCRefuge.
The Community Soup Kitchen at 3492 S. Walnut St. in Farmville serves hot meals from noon to 1 p.m. Monday, Wednesday and Friday. The kitchen relies on donations and volunteers. To volunteer or for more information call Janet Heath at 917-4563.
First Christian Church, 3776 S. Main St. Farmville, will host breakfast and a visit with Santa from 8 am to 10 am Saturday. Tickets are $ 5 at the door, $ 3 for children under 10. Masks are encouraged for dining indoors, outdoor seating is limited weather permitting. Then stay downtown for the Christmas Parade at 10:30 a.m.
The Farmville Christmas Parade will take place Saturday at 10:30 a.m. on Main Street. Praying for Farmville will be held Saturday at 6 p.m. at the booth. The May Museum Christmas tea will be on Sunday at 4 p.m.
The Leroy James Farmer's Market, 4560 County Home Road, will be holding its Holiday Magic Craft Fair from 8 a.m. to 3 p.m. on Saturdays with music and more. Santa and Mrs Claus will be visiting from 10 a.m. to noon with bags of treats for the kids and hot spiced cider while supplies last. The market will be open from 8 a.m. to 1 p.m. from December 10 to 11 and from December 17 to 18, and from 8 a.m. to noon on December 23. It will open from 8 a.m. to noon on Saturday January 8 until spring.
The Winterville Historical and Arts Society, 2543 Church St., opens the Winterville Museum from 3 p.m. to 5 p.m. Sunday. Located in the Cox-Angel House, the museum houses artifacts and exhibits that reflect the history of Winterville and Pitt County. Free entry; donations are accepted. Call 321-2660 for more information or to schedule private or group tours.
The 398th Greenville Engineering and Supply Company will be holding their next breakfast at 8:30 a.m. on Saturday, December 11 at the Golden Corral, 504 SW Greenville Blvd. All former members are welcome. Contact Frank Meeks at 252-258-5330 or meeksfd@suddenlink.net if you can attend.
The Farmville Community Arts Council will present the Tim Sutton Trio with Ernest Silver in concert at Salvation & Praise Full Gospel Church, 9243 W. Marlboro Road, Farmville, at 3 p.m. Sunday. Come and enjoy the sounds of the season. Tickets are $ 10 showtix4u.com/event-details/59065. Visit www.farmville-arts.org, the FCAC Facebook page or call the FCAC office at 252-753-3832. This event is sponsored by Plaza Auto Care.
Tickets for Farmville's 150th Anniversary Black Tie Gala with Music from Project Rakiem Walker are on sale now. The event will take place on January 15 at 7 p.m. at the freight station, at the corner of Wilson and Walnut streets in Farmville. General admission is $ 75. A table for 8 costs $ 650. Contact the Farmville Chamber of Commerce and Service Center, 252-753-4671, to purchase tickets by check, cash or credit card.
A wreath-making workshop using fresh greenery from the Pitt County Arboretum will be hosted by volunteers from the Pitt County Master Gardener at 10 a.m. on Monday, December 13 at the Farming Center, 403 Government Circle, Greenville. Call 252-902-1709 to register and arrange payment of the $ 10 fee in advance. Class size limited. Bring gloves and pruning shears.
Emerge Gallery & Art Center, 404 Evans St., will host "At Home With Santa" from 11:00 am to 4:00 pm December 11th. The Zoom event will feature a 10-minute video conference call designed to allow children to talk with Santa while staying at home. Tickets cost $ 30 for one child and $ 10 for additional children on the same call. Registrations are limited and reservations are required. Visit Emerggallery.com or send an email to paula@emergegallery.com.
The Dance Arts Theater will present "The Nutcracker Ballet" at 2 pm and 7 pm on Saturday, December 11 and at 2 pm on Sunday, December 12 at the Wright Auditorium at ECU. Tickets cost $ 38 for adults and $ 32 for children. Net proceeds from this event will be donated to Children's Miracle Network Hospitals to benefit the James and Connie Maynard Children's Hospital at Vidant Medical Center. Call 328-4788.
The Emerald City Big Band will perform their annual Big Band Christmas concert at Jarvis United Methodist Church Taft Christian Life Center, 510 S. Washington St., at 7 p.m. on Friday, December 17. An adult donation of $ 10 is requested at the door; young people and students are free. Proceeds will be used to fund the Ed Wheatley Jazz Trumpet Scholarship at East Carolina University and the Music Academy of Eastern Carolina. The concert celebrates the group's 30-plus years of bringing holiday music to Greenville audiences. The group, founded by Michael Stephenson, will present a program of favorite holiday instrumental songs with voices from Emery Davis and RaSheeda Waddell.
Tryon Palace, 529 S. Front St., New Bern, will host Candlelight 2021 from 4:30 p.m. to 9:30 p.m. on Friday, December 11 and Friday, December 18. In addition to the palace tours, the event will offer other activities and entertainment. Tickets cost $ 25 for adults, $ 20 for teens, and $ 15 for children. Visit tryonpalace.org, email info@tryonpalace.org or call 639-3500.
The Greenville Choral Society Winter Concert for Youth and Children will be held at 3 p.m. on Sunday, December 12 at Memorial Baptist Church, 1510 SE Greenville Blvd Free. Free entry. Customers are asked to bring a stuffed animal to the TEDI Bear Advocacy Center. Visit greenvillechoralsociety.com.
The Family Chess Club organizes weekly chess games and lessons on Tuesdays from 6 p.m. to 8 p.m. for children aged 3 and over. Wednesday evenings are weekly open game nights from 6 p.m. to 9 p.m. All ages and skill levels are welcome. Chess sets are provided. The club meets at Apt To Learn, 650 E. Fire Tower Road, Suite B, Winterville. Contact Jerry Skinner at 209-4148 or howlandbakerjarvis@yahoo.com.
Hoggard Christmas Wonderland of Lights, 101 Dalton Drive, Windsor, will be open until January 1. The exhibit features 500,000 lights, as well as hand-inflated silhouettes, figurines and Christmas decorations. The hours are 5 p.m. to 9 p.m. Sunday to Thursday and 5 p.m. to 10 p.m. Friday to Sunday. There is no admission fee, but donations are accepted. Visit facebook.com/hoggardchristmaswonderlandoflights.
The Family Support Network of Eastern NC will host the 2021 Festival of Trees from 8 a.m. to 5 p.m. weekdays through December 23 at the Greenville Convention Center, 303 SW Greenville Blvd. There is no admission fee. The event features a variety of holiday-themed trees, sponsored by various people, businesses, and local religious and civic organizations. Visit fsnenc.org.
Library invites submissions
East Carolina University College Library Services and Laupus Health Sciences Library Ask Residents of Eastern North Carolina to Share Stories About How the COVID-19 Pandemic Has Affected Their Lives to be included in its archives of special collections. Individual stories are important to shared local history, and researchers will be better able to understand how the pandemic has affected East Carolina University and the region because of the contributions. Submissions that document experiences during the pandemic can be shared in any format at https://bit.ly/COVIDCollection-ECU or send an email to specialcollections@ecu.edu if you wish to drop off physical material at the library.
The Pitt County Social Services Department is accepting applications for emergency utility payment assistance to pay overdue utility bills from people who have been financially affected by the COVID-19 pandemic. Utility customers are encouraged to verify their eligibility and apply by visiting: www.pittcountync.gov/utilities. Applicants without Internet access can call 252-751-9900. The agency can also help residents who are unable to pay their rent and are being evicted.
The Pitt County Council on Aging offers the following courses and programs at Pitt County Senior Center, 4551 County Home Road. Offers are free, unless otherwise specified. Registration required unless otherwise specified by calling 752-1717, ext. 201.
Intermediate computer course for those who wish to deepen or perfect their computer skills, from 2 p.m. to 4 p.m., December 13.
Cozy Conversation Caregiver Coffee, 1 p.m. to 2 p.m. on December 13.
Computer lessons for beginners, 2 p.m. to 3 p.m. on Mondays, January 1, 24 and 31.
Have fun with oils with Glenn Nelson, 6:30 p.m. to 8:30 p.m. Thursdays, Jan.6-27. The cost is $ 65.
Beginning of woodcarving, 1 p.m. to 2:30 p.m., Thursdays January 13-Feb. 17. The cost is $ 35.
It's All About Balance, a four-week series designed to help you deal with concerns about falls, Mondays and Wednesdays January 24 through February 24. 6.
Keep dementia out of your mind 2 p.m. to 4 p.m. Tuesday, January 25.
The American Red Cross Donation Center, 700 Cromwell Drive, is open 6:30 a.m. to 2:30 p.m. Friday through Sunday and 11 a.m. to 7 p.m. Monday. Visit www.croixrouge.org or call 758-1140 or 1-800-733-2767 to make an appointment at the center or for upcoming blood drives at the following locations:
Drew Steele Center, 1058 S. Elm St., 9 am-2pm, December 10.
Brody School of Medicine, 600 Moye Blvd., 10 a.m. to 4 p.m., December 10.
Lighthouse Mennonite Church, 1281 Honolulu Road, Grifton, 3 pm-7pm, December 13.
Winterville Christian Church, 257 Cooper Street, 3 p.m. to 7 p.m., December 13.
Bethel United Methodist Church, 3798 James St., 2 p.m.-6 p.m., December 16.