Froxfield Choir hold a half-century concert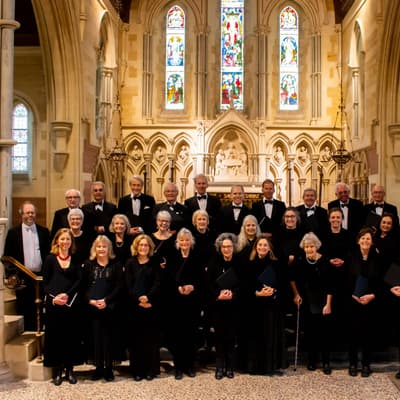 There are few sights more awe-inspiring than Privett Church, which sits atop a hill with its spire visible for miles around, writes Froxfield Choir member David Dobson.
It is a huge church which, even in its Victorian heyday, must have seemed a bit too big, because it is big, especially inside.
As it has very good acoustics, it's no surprise that since Holy Trinity Church came into the care of the Churches Conservation Trust, it's been a popular venue for concerts.
It is home to the Froxfield Choir, who with their Jubilate! The concert on Saturday June 18 celebrates its 50th anniversary.
I think the members are quite proud that what is essentially a village choir has survived and thrived over these fifty years.
For that we have Froxfield resident Elizabeth Gotto to thank, who started it and who at that time chose the music, trained us and did just about everything else until her retirement there. a few years.
She remains a strong supporter and I hope she will sing with us on June 18th.
My first Privett summer gig was about twenty-five years ago, and I remember the horrible chairs and benches the audience had to put up with.
Electricity was also unreliable and the cemetery in June needed a bomb squad to clear their way to the gate.
Today the church has comfortable and bright seats, the electricity is working and the cemetery is a revelation.
Trees, bushes, nettles and brambles have disappeared; thanks to a group of valiant Privett devotees, it has been sensitively cleaned.
One of my fondest memories was a magical picnic and concert with family and friends last summer, when we still couldn't hold public concerts.
The joyful and festive theme of Jubilate! The concert is reflected in the music, which I personally find uplifting, and I think our audience will too.
The main work is Beethoven's Mass in C, which is not long, but magnificent.
The choir will also sing familiar works, such as Handel's Zadok the Priest, Mozart's Laudate Dominum, Parry's towering hymn, I was Glad, and a short new work, composed by choir member Mike Orchard.
He has composed a melodious piece or two for us in the past, and his setting of Hardy's poem The Darkling Thrush is utterly enchanting.
Choir members will enjoy Jubilate! Concert, and the audience too – they will also, I'm sure, appreciate the sparkling wine reception.
So come join us in what we think will be a memorable evening.
Tickets are £20 from One Tree Books or via Ticketsource on the Froxfield Choir website https://froxfieldchoir.co.uk