Fall activities occupy Georgetown Pack 95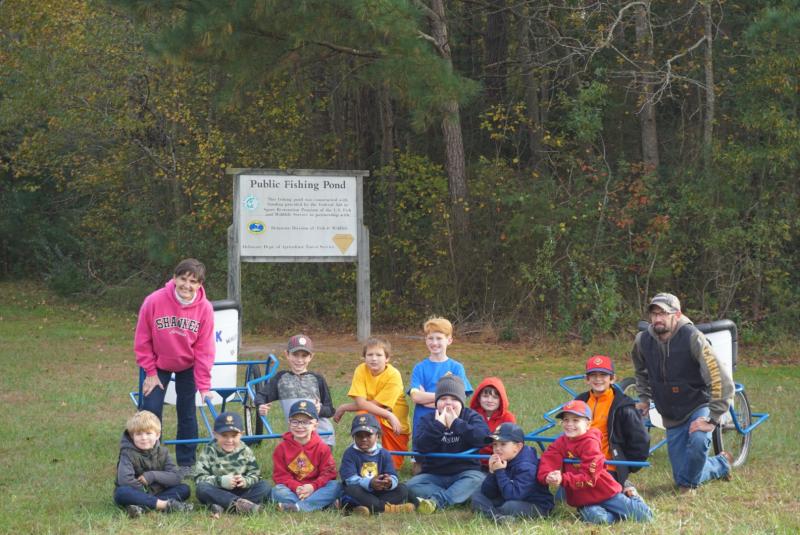 Georgetown Pack 95 has been busy since the start of the Scout program year in September.
Beginning the year with the Trails End popcorn sales, the Cubs did a great job selling in various locations as well as online. The September Pack reunion was held at Jones Hall in Wesley Church and was enjoyed by all.
During the October Fall Festival Pack reunion, the Boy Scouts donned their favorite costumes and took part in different fun stations. Each Scout was able to decorate and bring home a small pumpkin.
Dens continued to meet weekly. All of the Boy Scouts were getting ready for the Sussex District Tank Race held at Redden State Forest in the picnic area on November 6th. Packs from across Sussex County came to compete in their hideout categories. Pack 95 contained the Lion Den, Wolf Den, and Webelos / Arrow of Light Den. At the end of a great day, Lion Den Scouts and Webelos / Arrow of Light Scouts took first place in their age groups. The Wolf Den took third place.
At the November pack reunion there was a Bobcat ceremony and the recognition of all the Boy Scouts who participated in the popcorn sales. Pack 95 has a tradition of Boy Scouts winning tickets for their involvement in sales. Tickets earn them a number of whipped cream pies that they can toss to any host of their choice. Once the tickets were distributed, the pie toss began. Several executives were the lucky ones to have whipped cream pie in their faces
Several Cubs joined Caroling on December 13th. Each Scout brought non-perishable items to donate.
At the December Pack reunion, Fun on the Run belt buckles were presented to six Lion Den Scouts for their advancement achievements. Everyone enjoyed the audience's participation in the Santa Claus and 12 Days of Christmas Scouting sketches. Boy Scouts were also able to purchase their Pinewood Derby car kits for the event on Saturday, January 29.
Boy Scout Sunday will be at Wesley Church on February 6th and the Blue and Gold Banquet is scheduled for Saturday March 5th.
To learn more about membership in the Wolf Cub Pack 95, contact Committee Chairman Dustin Roth at dustinatracc@yahoo.com or Cubmaster Paul Dorey at pdorey@bgclubs.org, or visit pack95georgetownde.com.
Pack 95 meets the third Wednesday of each month at Jones Hall at Wesley United Methodist Church on E. Laurel Street, Georgetown. The dens meet weekly, with the night and time determined by the individual den leaders.