EVERYDAY HEROES: Group director gives life lessons to students | News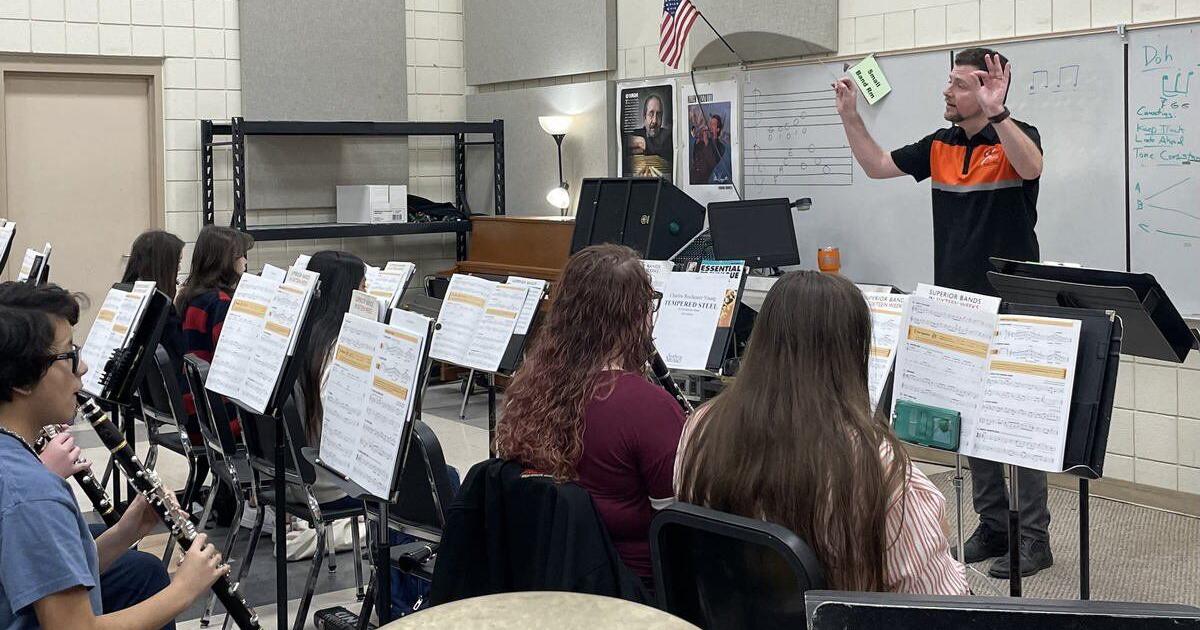 Tahlequah High School Group Principal Josh Allen was recently named Teacher of the Year for 2021-22. Allen draws on his own experience to teach students how to succeed in life.
Allen attended Lowrey School and transferred to Tahlequah while in college at what is now Central Academy. He had never played instruments at Lowrey, so he felt like he had a lot of catching up to do.
"I was just playing drums in my church. It's the only music I had before I went to Tahlequah, but I learned it immediately," Allen said. "They let me into the band program with no previous experience. I just had to catch up, and I caught up quickly, and went through the program. The rest is history."
He earned a music scholarship to Northeastern State University, where he performed in the marching band. After graduating from NSU, he was excited to leave Tahlequah, but within a month he read a job posting at Tahlequah High School. His intention was to take the job for about a year and transfer.
"Twenty-one years later, I'm still here," he said.
Once he decided to leave and took a position at Skiatook High School, but after two years he returned to Tahlequah because something was wrong.
"I thought I had to get out. As soon as I left I knew I didn't need to leave. Tahlequah is my home," he said.
Allen has found immense satisfaction in helping the children of Tahlequah succeed. He received job offers, including one in Texas that paid more, and where the school offered tutoring for each band member. For Allen, the offer didn't seem fair either.
"Success in an environment like this is going to happen no matter what. Each of their children has a father and a mother at home. Here in Tahlequah, it's just not like that. Here it's There are a lot of single parents and a lot of grandmothers raising children. There are a lot of people just trying to make ends meet. What keeps me in Tahlequah is that I like to take a group of 'students that few people would think could succeed, and that's exactly what we do,' he said.
At THS, its students work hard in practice, and after that they have to fundraise for trips. This kind of work has an effect on students that he hasn't seen anywhere else.
"When we're in the field, we look like a million bucks and we feel like a million bucks. Our students feel the same as everyone else [wealthier] music programs," he said.
This year was the most successful in the group's history. The band plays in the Oklahoma Secondary School Activities Association Division 5A, and next year will compete in 6A, but Allen has already let his band play with other 6A member bands.
That fall, the band performed at the Oklahoma Bandmasters Association competition, where they finished fourth in the state.
"It's like our football team going to the national semi-finals," he said.
The group was ranked first in the state for visuals from the perspective of spectators in the grandstand.
In the OSSAA competition, judges evaluate scores, but not rankings. The THS group won a perfect score – the same as Broken Arrow, which won the Grand Nationals, a national competition.
Allen explained that this type of ranking taught students that with hard work and teamwork, the group could compete with any other in the country.
"When they're in this program, they learn this attitude: hard work and teamwork means something. If you do it together, you can be as successful as someone who receives everything on a plate of money," Allen said.
Allen loves Tahlequah because the journey to success makes the ending sweeter.
"Success in Tahlequah means so much more. I came out of poverty. My heart goes out to these children. I was able to succeed because I worked hard and was dedicated. It was instilled in me by my family. A lot of these kids need the same thing," he said. "I don't see teaching a band as teaching music, as much as I see it as teaching life lessons."
He found that students who work for their success are more likely to achieve results later in life. He said local fast food restaurants noticed that their student-employees who were part of the group often had a better attitude and worked harder than their non-group colleagues.
"Children who can learn to be successful in a group can learn to be successful in other facets of their lives," he said.