Emeline Jones Rankin was a choir director for nearly 30 years | Obituary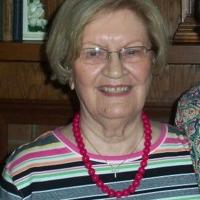 Emeline Jones Rankin
ALLSBROOK COMMUNITY – The funeral of Emeline Jones Rankin, 87, will be held January 15 at 11 a.m. at Loris First Presbyterian Church with Pastor Dr Tim Osment officiating. Commitment services will be held at Twin City Memorial Gardens. Ms Rankin died on January 11 at Shoreland Health Care and Retirement Center in Whiteville, North Carolina.
Born July 15, 1934 in the community of Buck Creek, she was the daughter of the late George Washington Jones Sr. and the late Mildred Oxner Jones.
She was a faithful member of Loris First Presbyterian Church where she served as choir director for nearly thirty years.
Survivors include her two daughters, Ellen Holley Rankin Stevens and her husband Larry and Julia Emeline Rankin Hardwick and her husband Dewayne; three grandchildren, John Watson Rankin and his wife Page, Hanna Emeline Hardwick Gattoni and her husband Adam, and Spencer Hardwick and his wife Taylor; and six great-grandchildren, Matthew DeFlieger, Jacob DeFlieger, Addison Rankin, Luca Gattoni, Jude Gattoni and Brecken Hardwick.
In addition to her parents, Mrs. Rankin was predeceased by her husband of sixty years, Watson Smith Rankin; and two brothers, George W. Jones Jr. and Paul Ray Jones.
Family will receive friends from 10 a.m. until time of worship Saturday at Loris First Presbyterian Church.
Those who wish may make memorials at Loris Library, 4316 Main St., Loris 29569 and Loris First Presbyterian Church, PO Box 425, Loris 29569. Please sign Ms. Rankin's online guestbook at hardwickfuneralhome.com or call Hardwick Funeral Home at (843) 756-7001.