DHS Students Selected for Honor Choir from All Regions in Southwest Oklahoma | Community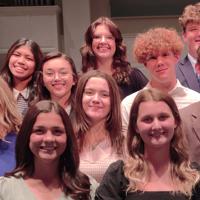 Several voice students took the opportunity to audition for a position in an honor choir.
Kevin Zinn, director of vocal music at Duncan High School, said that of the 15 singers who auditioned, all 15 were part of the honor choir from all areas in southwestern Oklahoma in 2022.
"Seventh, eighth and ninth graders participated in the middle school choir," he said, "while the 10th, 11th and 12th graders were in the high school choir."
According to Zinn, each choir is made up of 200 students and they were chosen from schools in southwestern Oklahoma.
The choir held its first full day of rehearsals in Lawton on October 3 at First Baptist Church.
"The choirs then performed a concert that evening with college principal Charlotte Oates, a retired music director from Oklahoma; and in high school, Dr. Karsten Longhurst, associate professor, director of choral music and assistant director of music education at Northwestern Oklahoma State University in Alva, Oklahoma," he said.
Duncan High School students selected for the All-Area Southwest Oklahoma Honor Choir include: Seniors – Anna Hutto and Devon Taliaferro; junior – Emersen Villagrana; sophomores – Reagan Hicks, Nevaeh Kamrath, Aaron Roy, Braidin Stevens; and freshmen – Zion Butler, Jacob Conn, Alivia Cook, Charly Heath, Alethea Juyad, Averie Knapp, Andrew McFarland and Katherine Skinner.