Cochrane is home to the new Cool Choir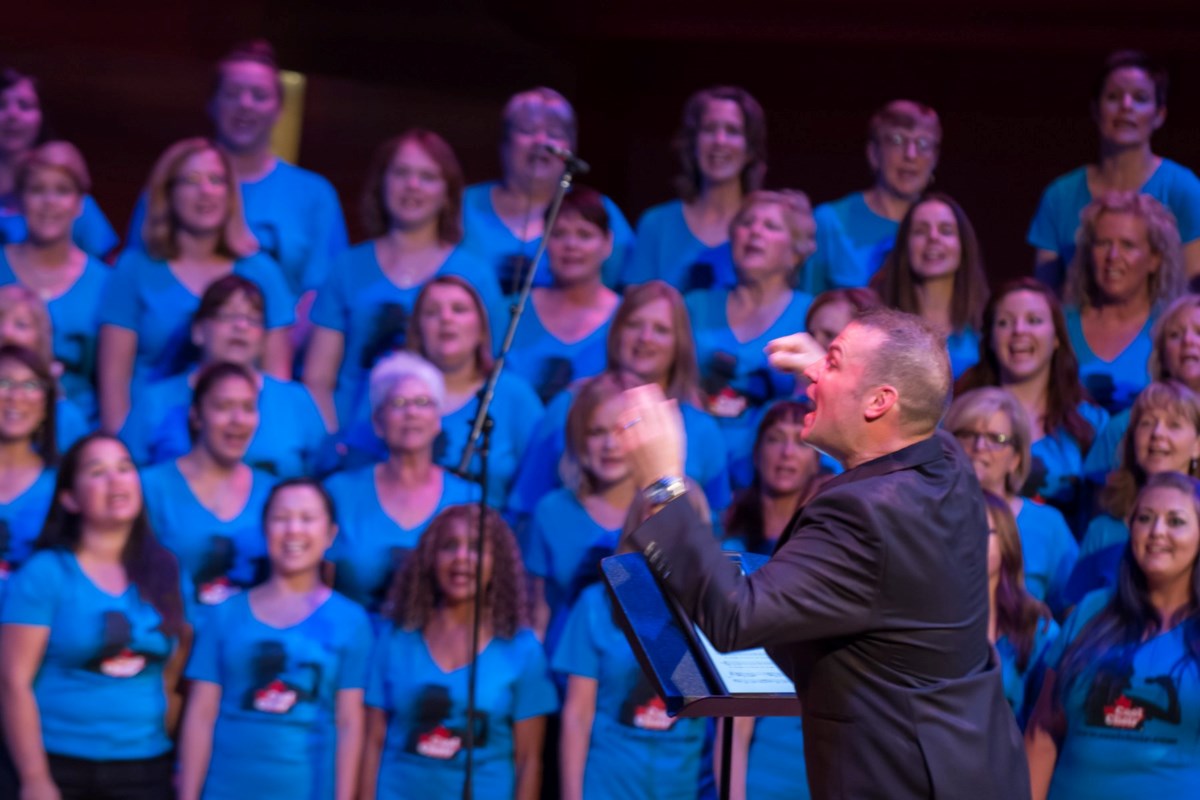 There's a new choir in town gearing up to sing Monday nights at St. Andrew's United Church
Singers, good or bad, can find new friends in the new Cochrane Singing Group.
Cool Choir, brought to Alberta from the UK by founder Jamie Serafi, offers local adults the opportunity to sing their hearts out in a place as welcoming as their own vehicle – no audition necessary.
So says Cochrane director Lee Ann Davis DeCoteau.
"Think of it more like a musical social gathering," she said. "Anyone and anyone who just wants to sing – no experience necessary.
DeCoteau said the opportunity to sing was taken away from so many people because of harsh criticism and comments from friends and family.
"When you sing, you feel good. It's the most natural thing a human can do," she said.
DeCoteau owned O'Canada Soapworks in Canmore for over 20 years before selling it in 2019. There she was and continues to be involved in the music and choral community.
"My retirement aspirations and dreams are to focus on music," she said. "I thought it was a great opportunity."
After meeting Serafi through a Facebook group, DeCoteau tapped into the community she's called home since 2020 to see if there was any interest.
The answer was a resounding yes.
"Everyone was pretty sad to be locked down," she said, noting that the response she received was encouraging — it could work here.
Next, she had to find a location.
"Finding a location has always been a challenge," she said. "I'm still exploring Cochrane, but like Canmore, Cochrane lacks spaces for the arts."
She said arts user groups then become dependent on churches.
"And of course the churches were the first to close and the last to reopen."
St. Andrews United Church, she said, was open, friendly and willing to rent the space to a choir.
With around fifty people already registered, the group is meeting for the first time this Monday at 7 p.m.
"My job is to get people to learn music as close as possible," DeCoteau said.
The group will learn to sing some of their favorite songs – old or new – arranged in three-part harmonies and set to a backing track.
"It's a great opportunity and exercise to use their ears and their brains. Music is so good for so many reasons, but the older we get the more important it becomes," she said. "It helps us emotionally, physically – we start to catch our breath, it's good for the lungs, good for mental health and it's great for people who don't know how to meet people."
COVID-19 safety protocols are in place for the new choir and the group and church are adhering to the Restrictions Waiver Program.
Those interested in learning more or signing up can visit coolchoir.com.