Churches Bring Holidays to Life with Fun Activities | News | The Daily Sun of the Villages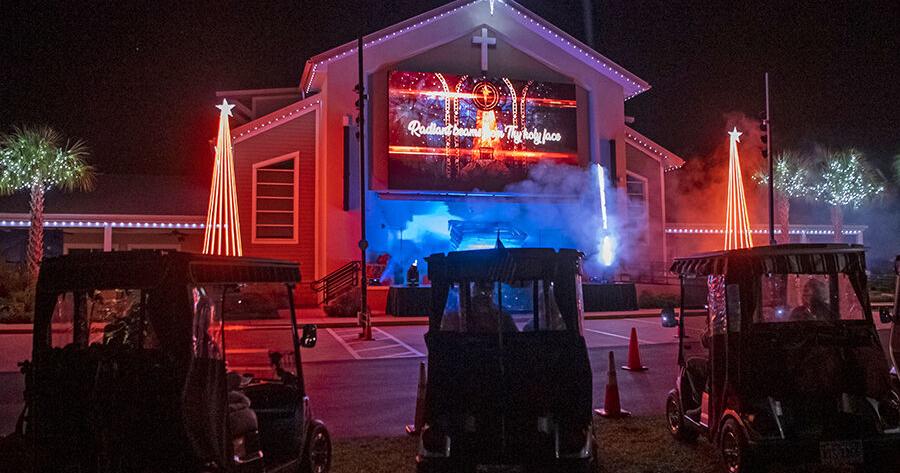 The COVID-19 pandemic forced places of worship in the area to modify or cut Christmas programs for the community last year. But now that residents are more comfortable attending events, local churches are planning many ways to celebrate the season.
By the end of the year, over 30 Christmas shows and events are scheduled in churches within a 15 mile radius of The Villages. This includes "Come to the Light", which returns for a second year at the Woodridge Campus of Live Oaks Community Church in Oxford.
"Last year's shows went so well that we decided to bring them back to the community again this season," said Senior Pastor Chris Holck. "It's the perfect way to get into the Christmas spirit and remember the real reason for the season."
"Come to the Light" is a 40-minute presentation on the Woodridge Campus outdoor site, The Grove. The show includes the Nativity story told by singer Steve Green and Christmas carols synchronized with a light show.
Those who attended the show last year can expect a few changes if they attend it again this year.
"We put in a few more lighting effects to make the event a bit more dramatic," said Holck. "We have also added a large crib which is part of the show which illustrates that a miracle has happened in a crib. We also have different songs that will be synchronized with the lights."
The shows take place at 6 p.m. and 7:30 p.m. every night until December 23. A free parking pass is required for each vehicle that parks at The Grove, and can be obtained by visiting liveoakschurch.org.
"We also want to remind the community that not everyone needs a pass because parking passes refer to the car or the golf cart," said Holck. "We've already had some 1,600 bookings for this year's shows at the end of Thanksgiving weekend, and we're hearing from people as far as Ocala and Mount Dora wanting to attend. We also hear about a group of neighborhood caravans from all over the villages planning to see the show. "
The New Covenant United Methodist Church is planning a series of shows and activities this month to mark the holidays. The church began the festivities last Thursday and Friday with "A Quiet Christmas," a benefit concert for the House of Hope building fund. New Covenant UMC will also present "A Christmas Festival" with the Central Florida Brass Band this Thursday and a concert called "The Spirit of Christmas" on December 18th and 19th.
And the church will be hosting its December family event on December 17th.
"The December family event will feature a story of Santa Claus, cookie decorating, crafts and other holiday activities," said Brad Collins, digital and communications director for New Covenant UMC. "The event is free, but we ask each family member to bring a new, unwrapped toy for children in need."
Participants are also requested to register in advance at the ncumcfl.com.
Lady Lake's First Baptist Church will bring its Nativity Scene back to the wheel on December 11, 17 and 18 and host Christmas concerts on December 18 and 19. And the Summerfield Congregational Church will be offering a pair of concerts featuring artists popular in the community.
"We will have Eirinn Abu coming in for a show on December 10th, followed by Christmas with Kevin O'Connell and his friends on December 15th," said Reverend Jim Keough of the Congregational Church. "Both shows are at 6 p.m. and tickets can be purchased at the church office and after Sunday worship."
The Villages Pops Chorus will be at the North Lake Presbyterian Church in Lady Lake at 3 pm and 6 pm Monday for their holiday show, "We Need a Little Christmas". Part of the profits will be donated to local charities. And Family Community Church in Lady Lake plans to bring back its popular Living Nativity presentation on December 10 and 11.
"The community came in droves for the living nursery last year, and we appreciated the support," said Pastor Aaron Baum of Family Community. "This year's Living Nativity scene will be a passing event rather than a drive-thru, with new stages. People will be able to sit down and explore each section at their own pace. "
A few churches plan to continue balancing fun and camaraderie with safety this month. Summerfield's Trinity Lutheran Church aired a Christmas concert on Saturday featuring award-winning singer Amy Grant after the service. And St. Vincent de Paul Roman Catholic Church in Wildwood will host a virtual concert featuring the Amazing Grace Notes at 4 p.m. Thursday at sumtercatholic.org.
Two members of the Amazing Grace Notes, Becky Pishko and Dawn DiNome, lead the music ministry of St. Vincent de Paul, while the third member of the group, Jillian O'Neill, is the cantor of the church.
"It was difficult, especially the fact that we can't play in front of a live audience," Pishko noted. "But I think we've found a way to keep our fans entertained while remaining safe."
Principal writer James Dinan can be reached at 352-753-1119, ext. 5302, or james.dinan@thevillagesmedia.com.