Church Offers Tony Goetz Students Extracurricular Activities | Lifestyles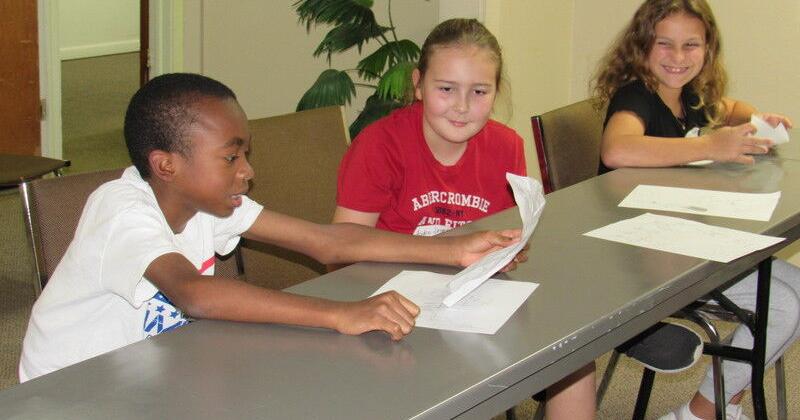 Students at Tony Goetz Elementary School can have after-school activities every Wednesday just across Haskell Boulevard from the school.
Eastern Heights Baptist Church hosts an After-School Kidz Place from 2:50 p.m. to 7:30 p.m.
"The idea was to give the kids across the street in Tony Goetz something for after school," said retired teacher Carolyn Robertson.
The program started on September 21. Robertson said 43 students came last Wednesday.
"We have a class where we have a brief object lesson that has a Christian accent and then we play bingo," Robertson said. "We learn a little, then we play a little. The kids seem to enjoy that."
On Wednesday, CM2 students illustrated what sharing means to them. Raymond Champlain said the task for the day was to draw a picture and tell the story of two animals sharing kindness with each other,
Raymond told the story of a fish encountering another fish that needed food.
"And they went to Arby's and ate the whole menu, and then they came home, I guess. They ate all the food, got sick and died," he said.
Robertson said the program also provides a time when students receive help with homework, especially reading.
Classes change after recess, she says.
Students have a free dinner with other church members at 5:30 p.m. and then join other children for the regular church program on Wednesdays, she said. This program includes outdoor play time, a Bible story and a song service in the auditorium.
Parents of students must complete an authorization form for them to come.
"We need to know who their parents are," Robertson said. "We need to have information about the child before we can take him. The school needs to know he's going, and we know he's coming based on that permission."
Robertson said she did not anticipate that the Eastside program would serve students from other schools.
"We also partner with the school and do other things; we do the school backpack," she said. "That's what we like to do, because they're right across the street and we'd like to be their friends. And I think they're our friends."
Robertson, who taught for 41 years at Hilldale, said the program was good for her, too.
"I love kids and I'm glad we have a lot of kids," she said.