Choir practice | Home & Family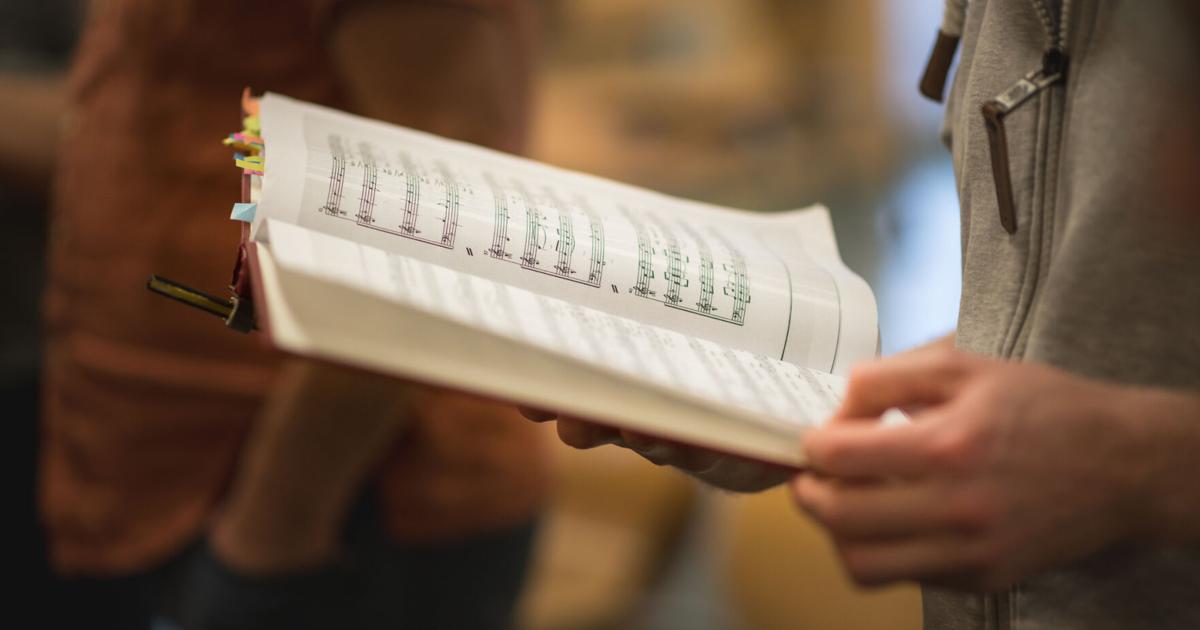 As summer approached, the church choir I sing in took a break until the fall. We usually train once a week on Wednesday nights for an hour, and I find myself missing those sessions already. I consider these practices "music therapy", because you can't help forgetting anything that might be troubling you while you focus on singing the correct notes and where you're supposed to sing loudly. or gently. You also have to pay attention to the rhythm, while enjoying the resulting harmonies. I guess that would make the conductor our "therapist". If we watch him closely, we won't miss any of his clues and everything will be fine.
While I like to think our choir selections add to the worship experience on a Sunday morning, recently Dennis and I were listening to a choir that made us wish we could reach for soundproof headphones to cover our ears. The members of this small choir all sang the same tune, but their only volume was "forte fortissimo" or "ff", which in a musical score means "very loud".
Although they made a lot of noise, since there were only four "performers" involved, I guess the proper term for them would be a quartet. I love the harmony of barbers and gospel quartets, but this quartet cannot be accused of being melodious. And what's more, their favorite time to sing seemed to be at night, when everyone else was trying in vain to sleep. In case you haven't guessed, this foursome is made up of four members of our backyard cattle herd.
All of us, human or animal, have transitions to go through in life, and not all of them are pleasant transitions. In this case I am referring to the four "amigos" known as Cash, Kringle, Rex and Milo – all Hereford steers who had reached weaning age. Through research, we've learned that the best way to do this is to use the process known as "weaning off the fence." In the pasture, this means putting the calves and their mothers on either side of a fence, where they can see each other and even touch each other nose to nose, but suckling is not possible.
Our version of weaning at the fence usually takes place in the barnyard, before putting the herd out to pasture for the summer. The "weaned" are confined to a stable of their own, with a transparent door separating them from the rest of the herd, including their mothers. Although this is a recommended method of weaning, it does not mean that it is an easy time for calves or their mothers.
It takes a little while for the calves to realize that, although this barn was their old "calf cellar", where only they could come and go as they pleased without the larger cattle being able to enter, this time, they are stuck inside. Things start to get noisy on both sides of the gate as the calves get hungry and their mothers' udders fill. The resulting cacophony is anything but harmonious. It's annoying to our ears, and also pitiful, but we know it's a necessary transition that will benefit both moms and their kids.
We also know from experience that over time choral performances will gradually fade. I suppose you could call our cows the "choristers". Moms also make "music", but they will be the first to stop mooing. It's likely that the cows' memories come into play to remind them of how enjoyable their new release from half-adult calves has been in the past. They will always come to the door and take a look at their offspring, but their "singing" has stopped.
The calves will continue their whining sounds, even if we increase the amount of hay and feed rations they receive to compensate for the nutrition that came from their mother's milk. In a matter of days recently, the quartet went from full-throated performances to hoarse from overusing the vocal cords, making them sound like a bunch of hollering donkeys. This marked the end of the weaning process, as cows and calves settled into their respective new normals.
A few days after the return to calm, our buyer arrives with his cattle truck to transport our foursome to his farm a few kilometers away, where he will join a group of other beef steers. They might do a few encore performances in their new home first while they adjust to the decor, but after that the silence will turn golden in this farmhouse, as well as in ours. To that end, calfless cows and their bovine friends who still have young calves look forward to their annual journey to the freedom of the pasture life. Until then, their choir, like mine, will also be on hiatus during the warmer months.
Sue Bowman is a freelance writer from southeastern Pennsylvania.