Cathedral's new organist and choir teacher takes a long, winding road to Utah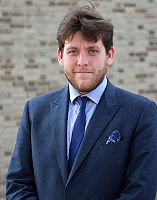 Friday 09 Sep 2022
SALT LAKE CITY — James Goldrick has been teaching students at Madeleine Choir School for nearly two years, but he didn't set foot on campus until April.
The school's new Associate Music Director, Goldrick, taught pupils remotely from Sydney, Australia, due to the pandemic lockdown, which lasted until October 2021 in his country. The immigration process took another few months, so it wasn't until April of this year that Goldrick arrived in Utah.
"My first day was the Chrism Mass, which was a wonderful baptism of fire," he said.
This fall, he is happy to teach in person at the choir school, where he helps with all the choirs. In particular, he is responsible for the Sainte-Thérèse girls' choir.
"It's wonderful getting to know the kids," Goldrick said of her new school year in person. "Being able to start the school year again is always wonderful."
In addition to teaching at the choir school, Goldrick is also organist and choir director at the Cathedral of the Madeleine.
"James already has a great relationship with students and has great skills in vocal development and choir conducting," said Gregory Glenn, school pastoral administrator and director of liturgy and music for the cathedral. "He has extensive experience, including serving at St. Mary's Cathedral in Sydney, where they have a similar choir school, and St. Stephen's Cathedral in Brisbane."
Goldrick, whose family emigrated to Australia from Manchester, England, when he was a child, always wanted to be an organist, he said. After attending Jesuit schools, he earned a Bachelor of Music degree in organ from the Newcastle Conservatorium of Music. After graduating, he became the first organ researcher at Christ Church Cathedral in Newcastle, Australia, and won the Michael Dudman Prize for Organ.
Christ Church Cathedral "'poached' me right out of college and into the world of choirs and the organ; that was the real beginning," he said.
Goldrick was later appointed Deputy Music Director of St. Stephen's Cathedral, Brisbane and Music Director of St. John's College, University of Queensland. In 2018, he won a scholarship to pursue a master's degree at the University of Notre Dame. A graduate of Notre-Dame, he was hired by the Madeleine Choir School and the Cathedral of the Madeleine.
In addition to her other responsibilities at the cathedral, Goldrick will be the director of a new women's choir the cathedral is starting. "We are looking in the community for adult volunteer singers who want to participate in cathedral services," he said.
"James will be a great relief to the current staff and will contribute significantly to the musical life of the school and the cathedral," said Glenn.
Goldrick is the middle child of three children, all of whom are musicians. His sister is an opera singer in London; his brother is a guitarist in Sydney. He already loves Salt Lake City, he said. "Salt Lake City is lovely; the views are amazing. The way it is laid out is beautiful.
He appreciated the hospitality of the people of Utah, he said. "They are some of the most polite and welcoming people I have ever met. it's really adorable.
For more information about the Cathedral Women's Choir, contact Goldrick at jgoldrick@utmcs.org or aray@utcotm.org.