Cantilena Chamber Choir participates in the launch of the "Music at Trinity" concert series | Berkshire landscapes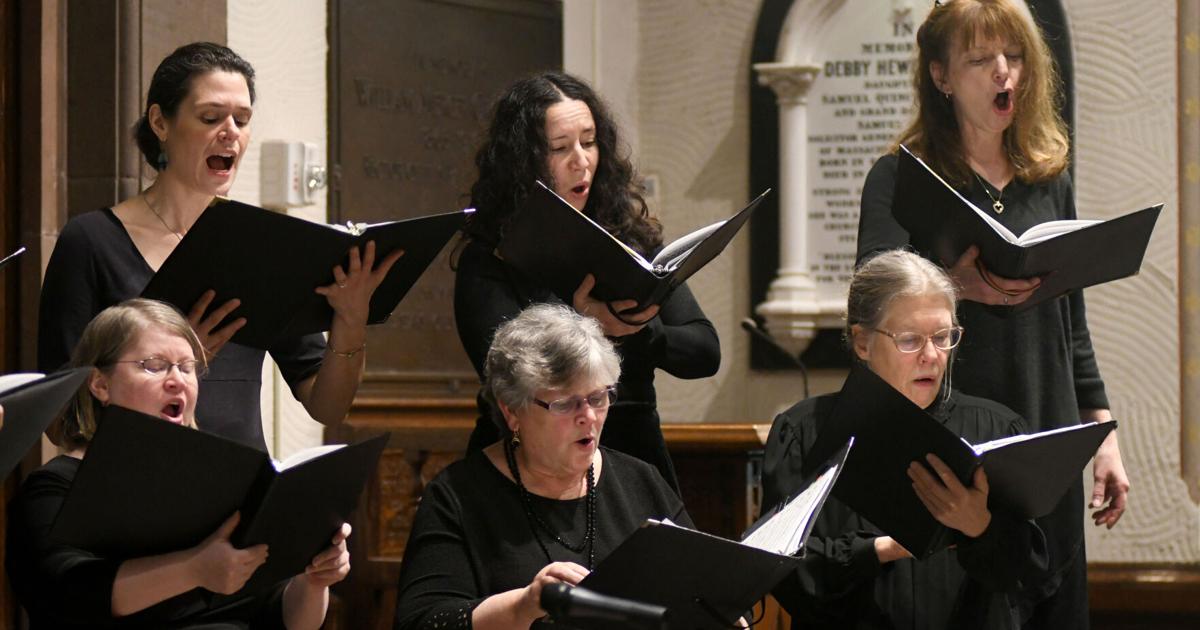 LENOX – Trinity Church launches a new concert series, "Music at Trinity", on Sunday, October 16 with a performance by the Cantilena Chamber Choir.
The choir, now in its 19th season and led by Andrea Goodman, will be joined by special guests, the Palmer Trio — Noah Palmer, piano; Jamecyn Morey, violin; and Julian Müller, cello – for "Music for the Dance", a program combining choral and instrumental chamber music, a format rarely seen on Berkshire county stages.
The two ensembles originally performed a dance-themed concert five years ago at the National Museum of Dance in Saratoga Springs, NY, Goodman said in a phone interview.
"It went well and I really wanted to do it again," she said.
Although the instrumental selections have changed, the choral works for this concert remain the same and are accompanied by Palmer, newly appointed Artistic Director of Music at Trinity, and other members of the trio.
"Noah is amazing, he can do anything," Goodman said. "When he arrived in the area, we hired him within five minutes to be our accompanist. He had to sight read something impossible. He also sang in the choir for a few years, and we have been collaborating since.
Sunday musical selections range from Latin America and Cuba to Central and Eastern Europe.
Palmer, in a recent phone interview, described the program beginning with the instrumental pieces he selected.
A piano trio arrangement of "Fall" from Astor Piazzolla's "Four Seasons of Buenos Aires", he said, "is a beautiful piece, originally a quintet with Piazzolla playing the Bandoneon accordion It's dark and somewhat moody, with a ton of energy and jazzy tango vibe.
He associated the work with "Danzas Latinoamericanas" by José Elizondo, a Mexican American composer with degrees in music, humanities and electrical engineering from the Massachusetts Institute of Technology.
"This piece has become very popular; Yo-Yo Ma played it," Palmer said. "The title of the first movement, 'Otoño en Buenos Aires' — 'Fall in Buenos Aires' — is an exact translation of the title of Piazzolla's piece. There is a sense of homage to this, Piazzolla was so dominant in the fusion of classical style and tango.
"Spanish Dance" is taken from the opera "La Vida Breve" by Manuel De Falla, popularized in an arrangement for violin and piano by Fritz Kreisler.
"It's gypsy music, almost flamenco. It's very Carmen in feeling," Palmer said. Compared to Brahms' "Gypsy Songs", De Falla, he said, "has a more exotic feeling, whereas Brahms has a more dramatic romanticism."
Müller selected the work for solo cello "Ride Through" by Jamaican composer Eleanor Alberga. Based on tunes by island children, "his music is classic with elements of Jamaican music," Palmer said.
The trio will perform "Hungarian Dance No. 5" by Johannes Brahms, one of his most famous pieces. "Everyone will recognize it after a few notes," Palmer said.
The choral side of the program includes the baroque ballet "Tirsi e Clori" by Claudio Monteverdi, with soloists from the choir – Alec Hicks, as Tirsi, and Sarah Dworjan as Clori – as well as Palmer and Müller.
"It testifies to the transition between earlier forms of the Italian madrigal and church music [and] a more lyrical style," Palmer said. "It's very pastoral."
"Zigeunerlieder" (Gypsy Songs) by Johannes Brahms is a suite of 11 songs. "It's brilliant music," enthused Palmer, "so varied in terms of emotions and stories."
Some piano parts are quite difficult technically, he added. "It's a great opportunity for me to break my fingers a bit." Palmer also helped the choir with some diction advice on the complex German text, he noted.
The program includes the Russian Soviet folk song "Kalinka" and an Afro-Cuban folk song "Son de Camaguey", arranged by Stephen Hatfield. "It's a cappella with this very Latin Cuban dance swing," Palmer said.
"It's not your big choir repertoire," Goodman said. "It's the only chance to hear chamber choir repertoire in the county — the new, the old and the rarely heard. The programming is [Cantilena's] a real strength, people come for the repertoire and the level of interpretation, they know they will get something unusual.
The Music At Trinity season will continue on November 6 with the annual Requiem Eucharist featuring community singing of Fauré's "Requiem", followed by Cantilena's "Christmas at Trinity" on December 4. Ukrainian soprano Irina Petrik will be accompanied by Palmer on piano in a recital on February 19. The musicians of the Ma'alwyck chamber quartet perform on March 19; an evening singing service is held on April 30, and the Cantilena Chamber Choir's Spring Concert rounds out the season on May 21.
IF YOU ARE GOING TO
What: "Music for Dance" choir and chamber music with Cantilena Chamber Choir. Directed by Andrea Goodman.
With: The Palmer Trio with Noah Palmer, piano; Jamecyn Morey, violin; Julian Muller, cello.
Where: Trinity Church, 88 Walker Street, Lenox
When: 3 p.m. Sunday, October 16
Cost: $25; $20, students/seniors 65 and over, free 12 and under. Available in advance and at the door.
Tickets: 518-791-0185, cantilenachoir.org