Camping, travel key off-season activities for high school athletes | Sports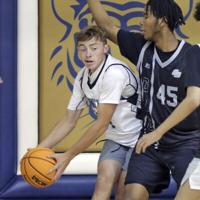 The second Tiger Summer Shootout was held Tuesday in Shady Spring, and while there was a slew of basketball players on display, there were also plenty of multi-sport athletes.
You could have started a game of any sport on the hardwood of the Dave Wills gymnasium and there would have been a standout to lead the way.
You had Shady Spring's Cam Manns, busy this summer working on his baseball career; Adam Seams of Greenbrier East, working on a football scholarship; Ethan Vargo-Thomas of Oak Hill, one of the state's top kickers; and then there was Greater Beckley Christian's Kendrick Wilson, fresh from weekend camp at WVU.
Ask them their main activity during the off-season and that's camping and traveling. Lots of both.
Despite likely careers on another playing field, all returned on Tuesday to refine their shared love of basketball with games starting in the morning until early afternoon. Nine teams competed. In addition to the previously mentioned teams, Bluefield, Independence, PikeView, Westside and Wyoming East participated.
I'm going
Right-handed pitcher Cam Manns, one of the area's top aces, got the call Sunday night. If he could get to Boone, NC, he would have a great opportunity to pitch against top-tier opposition.
Manns, a first-team all-state pitcher, had been staying with his girlfriend, fellow top athlete Olivia Ziolkowski of Woodrow Wilson, who recently signed to play basketball at Marshall. He called his grandfather Dave Hunter who quickly agreed to drive him to Boone for the event.
"My 17-year-old travel team coach called and asked if I wanted to come (to Boone, NC) and play with a varsity summer team last night," Manns said. "I was all for it. I played against a bunch of juniors and seniors in college. I pitched four innings, didn't allow a run, three strikeouts, I think. Against a bunch seniors and juniors in college, I think I pitched pretty well.
It's a great summer for rising seniors to get their names out there.
"Since the state tournament, I've traveled a lot, played in different places in front of many different colleges, trying to get my name out there," Manns said. "It's a great summer for me for baseball and I hope to finish well."
Why rush to play in the hoops event?
"I'm for basketball," Manns said. "I love coach (Ronnie) Olson and my team so I was going to be here no matter what."
He's expecting another great season — after winning a state title and finishing second last winter — despite mixed results that you might not expect from a veteran team. Shady lost to Bluefield but beat Greenbrier East.
"Everyone in the state is going to want to beat us," Manns said. "The first game this morning, we struggled against Bluefield, but we bounced back against (Greenbrier) East."
Manns was a two-time honorable mention basketball player and last year averaged 9.4 points per game
I'm going
There are parallels for Greenbrier East's Adam Seams in his two favorite sports – football and basketball.
"Run," said the rising elder. "Lots of running."
And either way, Seams is one of the best passers around.
A former basketball player, Seams became one of the best footballers in the state.
"The camps went well, a good experience," Seams said of his summer soccer camp tour. "There are higher level kids because where I go I don't really see that. Go somewhere else and see kids from other states. Even internationally. It's good to see.
He has been playing football since he was 3 years old and he continues to improve.
"Once I hit 8, I decided I wanted to be good at football and basketball," Seams said. "Before, I played baseball. But baseball is too slow. So I started to focus on football and basketball.
It's been a busy summer and there's still a lot to do.
"I actually just finished WVU (football) camp," Seams said. "I still have the James Madison camp to go to in Virginia, the Ohio State camp and the Dayton camp."
He said he would love the opportunity to go to WVU.
"WVU would be my top just because I've been a West Virginia fan since I was little, they were in the Elite Eight, good program," Seams said. "James Madison, I love Harrisonburg, then Dayton, I love Dayton too."
With a small team on the hardwood, Seams said the focus this winter will be more on running.
"We're going to be even smaller this year, the focus will be on going up and down the pitch and defending against people," Seams said.
I'm going
Ethan Vargo-Thomas has caused a storm on the recruiting track. Literally.
The Oak Hill product is one of the best punters/kickers in the state
"Since basketball ended in March, I've been really moving around trying to get better," Vargo-Thomas said. "I went to training camps in Buffalo, Pittsburgh and Charlotte. Last week I was in Orlando for the national Top 40 camp. And then I also kicked West Virginia and Marshall. I just stayed busy, worked hard and tried to improve.
The Top 40 was an invitational camp, hosted by the Hammer Kicking Academy.
"I think I kicked well in West Virginia and then last week at the Nationals," said Vargo-Thomas, an honorable mention from last fall. "There was a lot of talent there. I like to compete against people who are better than me at learning. At the nationals, they were the best specialists in the nation. I was lucky enough to be able to show my talent against the best.
Vargo-Thomas will be happy to let you know that he's not just a kicker in high school, although he'll likely prove himself there as a college player. This year, he could play a quarterback and a wide receiver. He moved during the three-week training period.
He fell into the kick as a freshman and got better with a weird partner.
"I did pretty well in freshman year and then Covid came along and there was nothing to do and I was bored so I went out and started kicking," Vargo said. Thomas. "I went to camp that summer, got even better and now I see it as a way to get to college."
Vargo-Thomas is a combo kicker (punting, kicking off and place kick) but he considers the punt his strong point.
It will be a new take on hardwood.
"We're looking pretty good but it's going to be tough replacing Jacob Perdue and Sammy (Crist) shoes but we have a lot of young guys who will step up," Vargo-Thomas said. "We are going to be bigger and we are going to be more sporty."
Vargo-Thomas averaged 8.4 points last season.
I'm going
Kendrick Wilson of Greater Beckley Christian returned from Morgantown on Tuesday morning and played Game 2 for the Crusaders.
He was at home on the hardwoods, the sport in which he hopes to make a name for himself.
It started for him when the rising junior combo guard, who will likely turn into more than a full-time point at GBC, landed a smooth 36 on reigning Class AAAA state champion George Washington.
He ended up making the States second team after averaging 18.4 points.
"You just have to stay in the gym to prepare for July," Wilson said of what he did. "I went to a camp in Ohio, I went to Morgantown, but July is the big month. The last week of July, we go to California.
Wilson already has a list of schools that have contacted him, including last year's North Carolina A&T.
"Princeton texted me, Columbia. TSU, Radford and Marshall have also been in contact," said the guard, one of the best point guards in the area to attack the rim, as he did so skillfully as the Crusaders made their way to the game in state championship last year.
He said his mother was especially enthusiastic about Ivy League schools.
Wilson knows he has to be a leader this year for GBC, with John Rose and Sherlock Padmore the only returnees.
"We have a lot of young guys that I'm going to have to take under my wing," Wilson said. "But everything should be fine."
Before all that, it's time to do some more camping.