Brand new Christmas songs to fill you with joy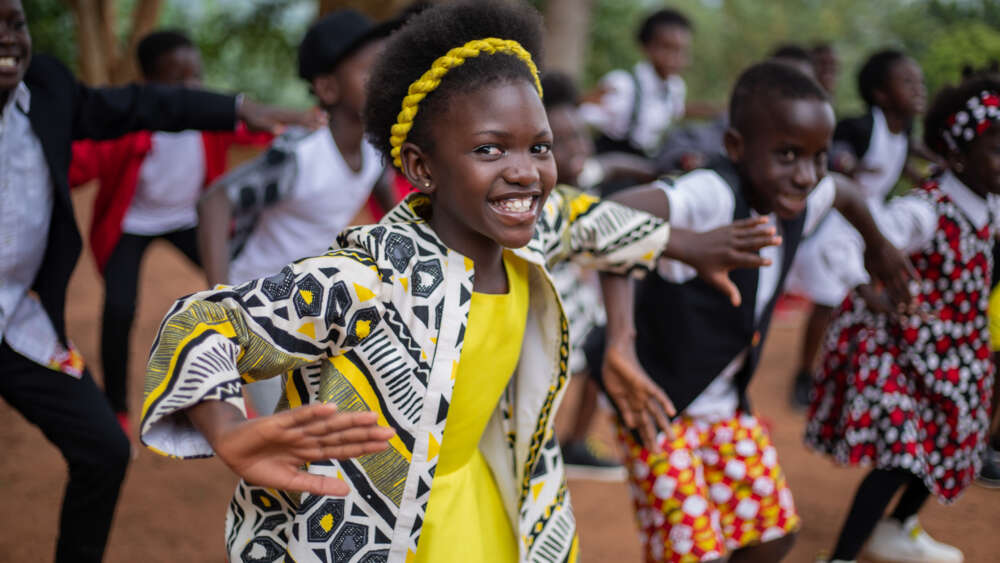 If you're struggling to find joy on Christmas, do yourself a favor and check out a brand new Christmas album from Uganda by internationally renowned children's choir Watoto. You can find it here.
The Watoto Children's Choir is a choir group based at Watoto Church in Kampala and made up of children who have lost one or both parents, often to AIDS.
"Watoto" means "children" in Swahili. Watoto Church was founded by Canadian missionaries in 1984. With a congregation of approximately 27,000, it supports women and children through sponsorship programs. Its children's choirs, started in 1994, tour internationally to raise funds and educate the public about Watoto orphanages, as well as to share the joy of the gospel.
"This Christmas album is a celebration of music, the Watoto children and their God-inspired talent and resilience." – Tim Sisarich
Over the decades they have performed for the Queen at Buckingham Palace, the US President in the White House and toured Australia, performing for former Prime Minister John Howard in Canberra.
Although the COVID-19 pandemic has kept the children's choir from touring for the past two years, it has not weakened their creative spirit or their love of singing.
While the world was locked in, dedicated Australians ensured that thousands of Africa's most vulnerable children had access to safe homes and everything they need to know they are loved and cared for. during this difficult time, "says Watoto Australia and New Zealand Country Director Tim Sisarich.
Although new to his role with Watoto, Tim is well known in Christian media circles for his career as a radio host. Tim has a deep passion and sensitivity for those who struggle to help themselves. He grew up in Fiji and has dedicated himself to serving vulnerable people in Israel and Palestine, Afghanistan and Mexico, as well as working in several child ministry roles in his native New Zealand.
"This Christmas album is a celebration of the music, the Watoto children and their God-inspired talent and resilience," said Tim.
"The past two years have been incredibly difficult for the children and for the whole world. It is therefore even more important to celebrate Christmas together. Despite a pandemic and the distance that separates us, we can be united in our love for Jesus and the celebration of his birth. "
Tim replied to an article in The Guardian from May 2020, who said the Ugandan government was investigating the activities of Watoto church for allegedly breaking child labor laws, taking children out of the country without permission and endangering them. 'not canceling the tour as coronavirus cases escalated and countries closed their borders.
"No one has had Covid; what happened is that the choir, which travels regularly around the world, was supposed to come to New Zealand and Australia and while they were in New Zealand the Ugandan government basically gave them 24 hours to enter the country before closing the borders.
"It takes about 25 hours to get there, so there was no way they would get back into the country, so it wasn't Watoto's mismanagement – it was just bad luck."
Tim said a few New Zealand churches have created spaces for children to move into their homes so that they can continue their education and stay together for six or seven months until they can return to Uganda and in their families.
"There were discussions around the Ugandan government using it as a tool to say 'watch these foreign organizations take our children out of the country.' But the Watoto choir is actually sent out of the country by the Watoto child welfare ministries in Uganda.
"It was put in place to help them flourish more rather than push them back. "- Tim Sisarich
He said there are usually three or four choirs traveling at any one time while three or four are said to be in formation for the following year.
"It usually takes about two years of training for kids before they go abroad, and usually they only get one tour as part of the choir," he explains.
"When Pastor Gary [Skinner] Set up Watoto, the purpose of the choir was to help children see the world and realize that there are a lot of opportunities out there if they put in the effort. It was the core around what started the choir in the first place. It was not about child labor and its use in that way.
He added that the children travel with adults who are teachers so that they remain engaged in their schoolwork while they are away.
"It was put in place to help them flourish more rather than push them back. So it is a privilege to be part of the choir, but when they travel they remain engaged in the organization of the classroom.
"They have the opportunity to play, which they love to do, they have the opportunity to see the world and to see these opportunities and they also have the opportunity to invest again by sponsoring the Watoto villages which provide houses. , families and holistic care for over 3,000 children.
Email this story
Why not send it to a friend?
To share