Bill Russell built his legacy off the pitch from life lessons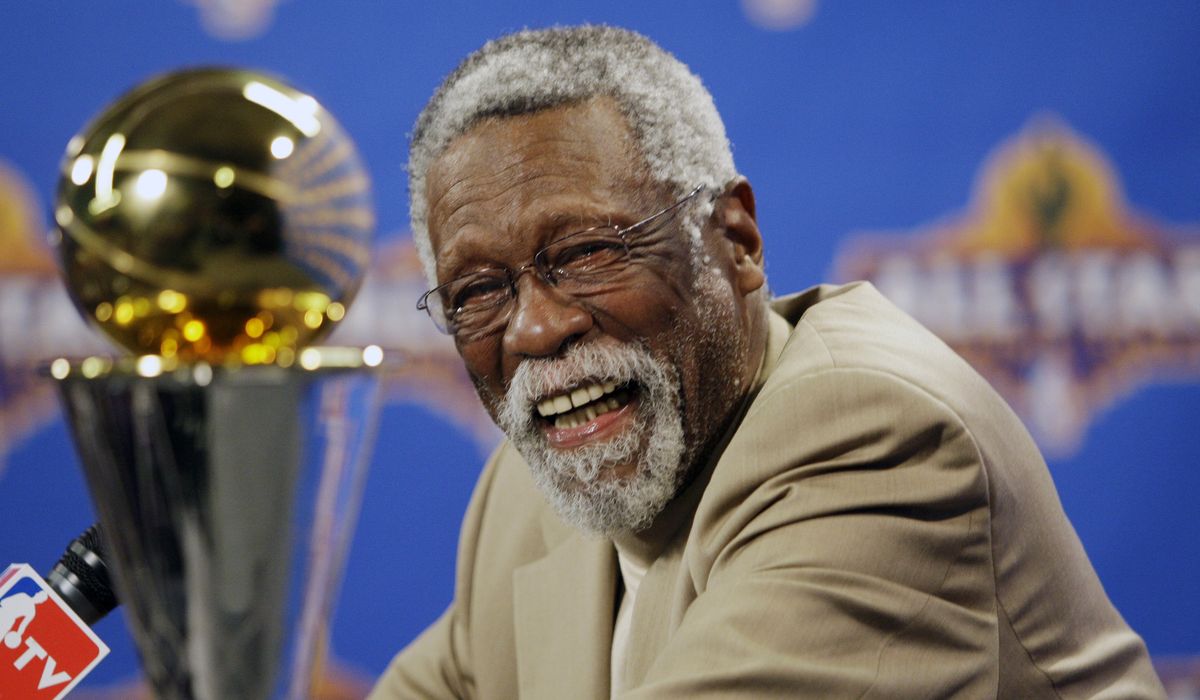 Bill Russell will walk this earth no more, but his words and deeds will resonate for years to come.
He died on Sunday at the age of 88, and a generation that worships the three-point line suddenly awoke to discover the life in the paint and the championship exploits of the sport's greatest winner.
Russell, a Hall of Famer and 12-time All-Star, was the heart and soul of the great Boston Celtics teams that won 11 NBA championships – eight straight titles – from 1956 to 1969. He also won two NCAA championships at the University of San Francisco in 1955 and 1956 and an Olympic gold medal in 1956.
According to Boston sportswriter Bob Ryan, over a 14-year span, across college and the NBA, Russell appeared in 21 win-win contest games – nine NCAA Tournament games, one medal game Olympic gold, 10 games 7. and a decisive game 5 – and did not play on a losing team in any of them.
I could have written that he hadn't lost any, but that would have offended Russell. One of the greatest players in basketball history recognized that when the game is played well, it's a team achievement.
His San Francisco varsity team went 14-7 in his sophomore year, even though he believed they had the talent to be one of the best teams in the country. "I never forgot that second season in all the years that followed of who the greatest basketball players of all time were," Russell wrote in "Second Wind," his 1979 biography. a great temptation for me to judge a player by the win-loss record of the teams he played with. It's not hard to see why. My high school teams only lost three games in the three seasons I've played. On our Northwest tour, the California All-Stars only lost one game, and that was against a varsity team. My freshman team at USF had a 19-4 record, and in my last two college seasons we went 57-1, with two NCAA championships.
"Then I went on a tour of Latin America with a team that won nearly 30 games without losing a game," Russell wrote. "After playing on an undefeated Olympic team, I spent 13 years in the NBA. In 12 of those years the Celtics reached the playoff finals, and in 11 of them we won the championship. , including eight in a row.
"I was the only player who was in all those places, so I guess I could say, 'Well, I'm the reason,'" Russell wrote. "But my sophomore year in college showed me otherwise. We had wall-to-wall fools on this team, and we couldn't win. I played my heart out, but our team was riddled with dissension, and I was one of them. I was not strong enough to change the atmosphere for the better, and the team was not strong enough to change me, so we had a fight. There was bad mood among almost all the players, so even though everyone played well, we still lost. Sometimes I'm haunted by the idea that my whole career could have been like this one season if some ingredients hadn't changed… it's one of the reasons I always have strong feelings about individual honors in team sports, especially one like basketball where it's vital that individual skills intertwine.
This man, who won on almost every team he played for, was haunted by a season of failure. That says a lot about his legacy as a winner.
I went back to my copy of "Second Wind" — co-written by Taylor Branch, who won a Pulitzer Prize for his trilogy of books chronicling the life of Martin Luther King, Jr. — only to be reminded of the basketball accomplishments -ball from Russell. , but events that shaped the life that was honored with the Presidential Medal of Freedom in 2011 – lessons that are relevant today.
He remembers a book he read when he was 13 at the Oakland Public Library about American history and a particular passage about slavery. "Despite the hardships they endured, most slaves enjoyed a higher standard of living and a better life in America than in their primitive African homeland."
It looks like a page from a proposal to the Texas State Board of Education.
"I had to get up and walk out of the library," Russell wrote. "For weeks afterwards I traveled in a fog. The sentence stunned me. It was there, written clearly, that the people were better off here as slaves than they had been as only free people back home. I couldn't believe anyone had the nerve to say something like that, especially in a history book.
Russell also recounted the first time his grandfather came to see him play in the NBA – and how it would have a lasting impact on him.
His grandfather was in the Celtics locker room after the game and Russell saw him cry. He had seen John Havlicek and Sam Jones in the shower. "I never thought I'd live long enough to see the day when water would run from a White on a Black, and water would run from a Black on a White…. I've been to church all day, but I never thought I'd see something like this.
What many of us take for granted was a defining moment in Russell's life. He would take those life lessons and build a legacy off the pitch.
For those close to him, this is where he made the biggest difference.
"For all of the winners, Bill's understanding of wrestling is what has lit up his life," the family statement said. "From boycotting a 1961 exhibition game to expose discrimination too long tolerated, to running Mississippi's first integrated basketball camp in the combustible wake of Medgar [Evers'] assassination, to decades of activism finally recognized by his receipt of the Presidential Medal of Freedom…Bill spoke out against injustice with a ruthless candor that he believed would disrupt the status quo, and with a powerful example that, although never his humble intention, will forever inspire teamwork, selflessness and thoughtful change.
• Listen to Thom Loverro on The Kevin Sheehan Show podcast.