Auditions are held for Christmas "Lessons and Carols"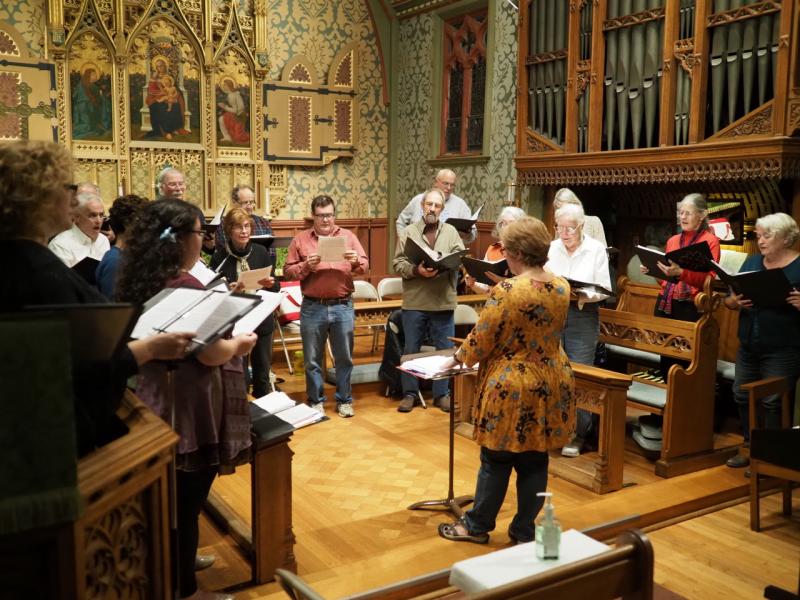 The St. Cecilia Chamber Choir is holding auditions for all vocal parts as they begin preparations for the "Lessons and Songs Ceremony" concerts on December 9, 10 and 11. Inspired by the famous King's College Cambridge Service of Lessons and Carols, the program combines sacred and secular songs with seasonal readings, accompanied by a professional string quartet. Generally, the choir performs in the chapel of Bowdoin College and in Newcastle.
St. Cecilia Chamber Choir is a community group of fully auditioned singers, from talented youth to seasoned artists. The singers perform the finest, stimulating choral repertoire spanning the centuries, from medieval to modern, under the direction of husband and wife team Linda Blanchard and Sean Fleming of Damariscotta. In the English choral tradition, performers sing with an upright tone, allowing for precise tuning of rich harmonies. Much of the choir's repertoire is a cappella, and it is often accompanied by a professional chamber orchestra. The choir presents two to three concerts a year, usually in December and May, with an additional concert this year in June.
The members are a dedicated and friendly group, eager to welcome new members, especially to encourage gifted students to audition. The rehearsals are energetic and stimulating.
"We work hard," says Blanchard, "but we keep the rehearsals upbeat and fun. We provide practice materials to use at home, so singers can come to rehearsal feeling prepared and ready to go!"
Singers wishing to audition must have good vocal control, and sopranos and altos must be able to sing without vibrato. Ability to read music is preferred, but those who cannot read can participate by spending more time learning music at home using the practice materials provided.
Rehearsals are on Wednesday evenings at 7 p.m. starting September 14, at St. Andrew's Church, Glidden St. in Newcastle. The singers are vaccinated and will wear masks when they sing.