Advent Lessons and Songs in St. Peter's on December 5th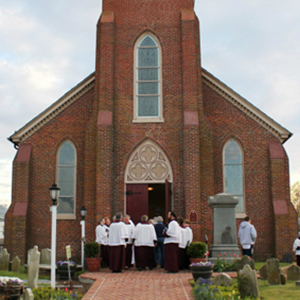 The annual Advent lessons and songs service, modeled after the service first held at King's College, Cambridge on Christmas Eve 1918, will be held at St Peter's Episcopal Church of Lewes in 5 p.m., Sunday, December 5.
James Douglas, organist and musical director of historic St. Margaret's Episcopal Church in Annapolis, Maryland, will lead the St. Peter's Parish Choir, accompanied by TJ Thomas, St. Peter's Music Director. Members of the church bell choir will also participate in the service.
"Our annual Advent lesson and song service includes readings, choral music, and congregational hymns anticipating the coming of Our Lord Jesus Christ," said Thomas.
Choral music will range from a 16th century work, "Matin and Vesper Responsories" by Palestrina, to the anthem from Charles Wood's 1915 repertoire, "O Thou the Central Orb".
The nine lessons, drawn from both the Old and New Testaments, will be read by the clergy and laity of the church, as well as by residents of the community. The Reverend Jeffrey Ross, Rector of St. Peter's, will officiate.
Currently, masks are mandatory for all services present in person and for live performances.
Recent major renovations to St. Peter's Church on Second and Market Streets included the installation of a high definition broadcast system.
This service, along with many offerings from the St. Cecilia Music Guild this season, will be broadcast live and will remain available for later viewing in St. Peter's. Youtube channel.
To find out more, visit stpeterslewes.org.