A mixed bag of activities on hot summer days in St. Tammany | St. Tammany Community News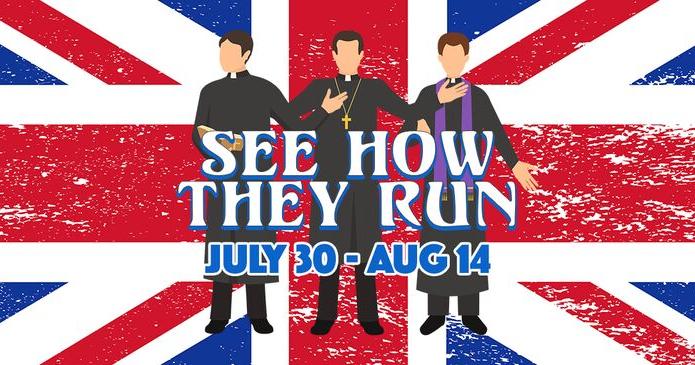 COMMUNITY THEATER
ANGLOPHILIA: The classic British comedy "See How They Run" will be presented from July 30 to August 30. 14 to 30 by Ninety Theatre, 880 Lafayette St., Mandeville. It features a quirky cast of characters that includes a Cockney housekeeper who watches too many American movies, an American actor couple, an "old maid" having her first drink, and hombres posing as clergy. Tickets on sale now between $11 and $19, with discounts for seniors and military personnel. Written by Philip King; directed by Jason Leader, assisted by Nino Bonura Sr. See 30byninety.com/show.
MUSICAL: The performance "Twisted", the untold story of a royal vizier, is presented until July 30 at the Slidell Little Theater for adults only, aged 17 and over. The musical parodies Disney's 1992 film "Aladdin" – as well as the Disney company – by telling the story from Ja'far's point of view. Tickets are $20 and are on sale now at www.slidelllittletheatre.org. The theater is located at 2024 Nellie Drive in Slidell.
THEY ARE BACK!: "Return to the Chapel/Come and Get Your Love" takes us back to Betty, Ginger, Maria and Margo on their ongoing journey to find true love, break into Vietnam, survive loss and learn the value of lasting friendship. This fun and uplifting jukebox musical features 70s tunes and visions of disco. A vocal powerhouse at the Cutting Edge Theater, 767 Robert Blvd., in Slidell. Six shows, every Friday and Saturday at 8 p.m., until August 6.
"O-Z": How do you change up a beloved classic story? If you're Tommy Jamerson, you're writing a youth play designed to feature a young cast, as well as entertain kids of all ages. This is a unique, fast-paced retelling of L. Frank Baum's "Wizard of Oz" playing at the Playmakers Theater in Covington over three weekends between July 30 and August 14. Titled "Choose Your Own Oz," the delivery process for this Baum's beloved story is hustled so that audiences become the playwright and can change everything – from the style and color of Dorothy's shoes to the species of her. little dog, Toto. Directed by Lee Dukes. Shows at 2 p.m. and 7 p.m.; visit the website at playmakers-theatre-05.webself.net. The theater is located at 19106 Playmakers Road in Covington.
ESPECIALLY FOR CHILDREN
SKATERS: Attend a Slidell Skatepark Design meeting on August 3 at 6 p.m. in the Slidell Auditorium at 2056 Second St. For more information, contact Slidellskatepark@cityofslidell.org.
SOCCER: The first TOPSoccer camp will take place on August 6 from 9:30 a.m. to 11:30 a.m. at Fritchie Park Gym. This is free for children born between 2005 and 2019. Register online at https://system.gotsport.com/programs/5477G6292.
A GUMBO OF EVENTS
RAFFLE: The Rotary Club of Northlake-Mandeville is selling Big Game raffle tickets to raise money for local charities. A $20 ticket offers more than 40 chances to win tickets to sporting events, including the LSU-Alabama contest and other SEC games; Games of saints; Zurich Open pass; golf quartets; restaurant gift certificates; dinner theater tickets; jewelry; gift baskets; a ride in an authentic World War II PT-17 Stearman aircraft, and more. The draw is August 25. Buy your tickets online at afflecreator.com/pages/30553/2022-rotary-big-game-raffle or contact Tom Quinn at (985) 789-2316 or tom@tomquinn.net to handle check or cash sales.
TO ENCOUNTER: A business-to-business networking session on July 28 from 8:30 a.m. to 9:30 a.m. at the Covington office of the St. Tammany Chamber, 610 Hollycrest Blvd. No charge for chamber members to attend and give a one to two minute presentation about their businesses, then can network with each other. Mandatory registration at StTammanyChamber.org.
A POP-UP: The St. Tammany Chamber Northshore Young Professionals Committee will host an after-work networking/social event at Fidelity Bank, 2201 NUS 190, Covington on July 28 from 4:30-6:30 p.m. Ages 40 and under are invited to this free event to network and enjoy spinach and artichoke dip, slices of smoked chicken breast, Caesar salad, beer and white wine. Registration requested at StTammanyChamber.org
GALA: St. Anselm's Catholic Church of Madisonville will hold its 14th annual gala at the Castine Center on July 30. The patronal feast, hosted by Gallagher's, begins at 6 p.m., with general admission at 7 p.m. Live music and buffet dinner by several restaurants. There will be silent, live auctions and a raffle for a 2022 GMC Acadia.
BREAKFAST: The Slidell Noon Lions Club has resumed its "Last Saturday of the Month" pancake breakfast from 8 a.m. to 11 a.m. and will serve them again on July 30. Enjoy pancakes, sausages and drinks for $6 at Lions Den, corner of Cleveland Avenue and Carey Street. Proceeds are donated to Leader Dogs for the Blind, Louisiana Lions Summer Camp for Children with Disabilities and local organizations. Bingo follows at 11:30 a.m.
CHRISTOIS WOOD: The last days of an exhibition of 53 multimedia works by 25 regional artists at Christwood's Atrium Gallery end on July 30. The exhibition includes works by artists Jan Arrigo, Errol Barron, Harriet Blum, Andrew Boyd, Gerald Cannon, Emery Clark, Sandra Russell Clark, Margaret Crosby, Adrian Deckbar, Alan Flattman, Carol Hallock, Peggy Hesse, Marcia Holmes, Mary Helen Mason, Catherine Mayer, Mary Monk, Jan Munson, Josephine Sacabo, Billy Solitario, Sarah Sparkman-Boyd, Kathleen Trapolin, Peg Usner and Sue Zaunbrecher.
BOOK THE DATES
SLEEPLESS NIGHT: On August 13, White Linen & Lagniappe will take place from 6-9 p.m. at Olde Towne Slidell. Free entry for three hours of shopping, dining, live music and lagniappe.
HOLD NUTS: The second annual Great American Legion Banana Split Celebration in Covington to raise funds for the Northshore Foodbank will be held August 20 in two shifts, first from 1-3 p.m. and again from 5-8 p.m. at the Robert H. Burns Post. Legion Hall #16, 20131 Ronald Reagan Highway. Tickets are $5 and food donations will also be accepted at the event. Dine in to enjoy the entertainment and prizes or pick up and take homemade banana splits. Call (985) 892-0677 for tickets, to make reservations or for additional information.
GAMES: Our friend's closet will be sponsoring a fundraising bunco tournament on August 19 at Pinewood Country Club, 405 Country Club Blvd., in Slidell. Get advance tickets for $25 or $35 at the door. Must be 18 or older. Doors open at 6 p.m.; games start at 7 p.m. In addition to the bunco, there will be a raffle, light catering and a cash bar.
TEE UP: The Chalmette High School Alumni Association is hosting its annual golf tournament on August 20 at the Oak Harbor Golf Course in Slidell. The fundraiser was renamed the Paul Granberry Memorial Golf Tournament in honor of the tournament's longtime president. Registration begins at 11:30 a.m. with a 1 p.m. departure. The cost per player is $100. Food and drink provided. To register or get more information, contact David Fernandez at dfernandez@sbpsb.org or (504) 818-8935. All proceeds will directly benefit the students of Chalmette High School.