9 lessons from the most-watched sermon of all time | Opinion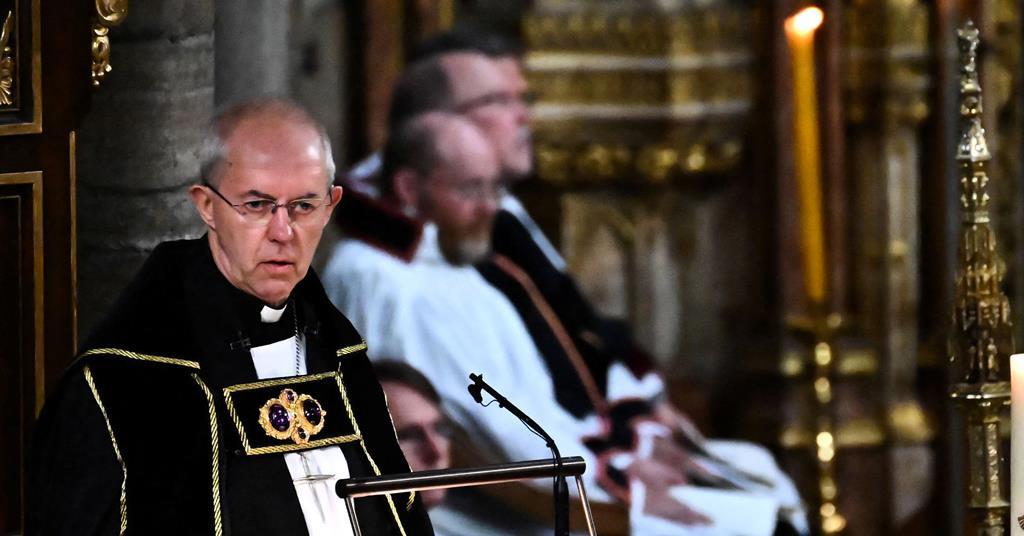 When Justin Welby became Archbishop of Canterbury, I wonder if the thought crossed his mind that he might one day preach at the funeral of the longest reigning monarch in the UK? Enough to make the safest evangelist tremble.
It has been said wryly that a traditional Church of England sermon should be "delivered in the tone of a very shy person asking the way to the station". I'm grateful Welby was far from that. Measured, warm and direct, there was much to learn from this preacher.
Here are nine lessons that I have found helpful in reflecting on Welby's words:
1) It was shamelessly about Jesus
Watching the TV footage as people arrived for the funeral, I heard a TV commentator say, "Today it's all about Her Majesty, nothing else matters…"
I almost choked on my toast! Had correspondents taken the time to look at Her Majesty's carefully crafted Order of Service, it should have been clear how much the Queen would have disagreed! The funeral and incarceration were steeped in scripture, with rich hymns and Christian readings that again and again proclaimed the good news of Jesus Christ.
And Welby followed suit – not that he needed much persuading. I'm so grateful that he didn't hesitate to keep the focus of this Christian funeral on the uniqueness of Jesus Christ, with six powerful references to Jesus giving the sermon an inevitable focus.
He quoted the passage from the Gospel of John that new Prime Minister Liz Truss had just read, gently explaining that Christianity was not on religious moralism, but rather a response to a person: "Jesus, who does not tell his disciples How? 'Or' What to follow, but who follow – said: "I am the way, the truth and the life".
It would have been easier to talk about a vague sense of life after death, but with compassion and courage, Welby launched into it.
Moments later, he distinguishes Christianity from all other religions by describing the divinity of Christ and making explicit reference to his saving death: "Christ – God himself – said that he 'did not come to be served but to serve and give his life a ransom for many." Notably, this verse had not appeared in the service readings, and Welby went beyond that, stating that Jesus came to serve by dying in our place.
2) He started in prayer and dependence
It would have been easy to rush straight to the Queen, but did you notice how the Archbishop started with a word of prayer? Earlier in the week, a reporter asked Welby how he was feeling. Nervous about having the world's media analyzing his every word perhaps? He gently explained that God works through our weakness and here he was incarnated – with a recognition that the preached word is a ministry of the Holy Spirit. A simple: "Come Holy Spirit, fill us with the balm of your healing love. Amen."
We were not there for a simple tribute. God was at work – and I have no doubt that across the world and throughout the day God answered that prayer – and will continue to do so in the days and weeks to come.
3) He captured the Queen's personality beautifully
On such royal occasions it is traditional not to have a separate eulogy, but the preacher is expected to take some time to describe the person. But what can be said that hasn't already been said in the last ten days of 24/7 media coverage?
With a few choice words, Welby captured a sense of the Queen that went beyond the formality and royalty of the occasion: "She was joyous, present to so many, touching a multitude of lives." In doing so, he spoke for many and, I believe, won their hearing.
4) He helped those closest to the Queen in their loss
There were high expectations for this sermon, presented as the evangelistic opportunity of a lifetime. But in our desire to hear the gospel communicated to billions of people, there was a danger that those who wept "in the room" would be forgotten.
Showing his heart as a pastor, Welby acknowledged that, despite the Queen's public role, there was also a family, grieving in unique and difficult circumstances: "We pray especially for his whole family, grieving like every family during of a funeral…[yet] under the brightest spotlight…. may God heal their grief, may the void left in their lives be marked with memories of joy and life.
5) He identified with millions in grief and frailty
Covid-19 has undoubtedly left its indelible mark on our lives – not least through those whose lives have been caught up in this pandemic. Welby acknowledged that, in this way, the Royal Family was like "so many families around the world who themselves have lost someone recently".
In our grief for the Queen, many of us will have reawakened the emotions of other losses, recent or not. Welby gave us all permission to recognize it.
6) He connected with cultural sentiment to illustrate the gospel
In April 2020, at the start of Britain's first lockdown, the Queen gave an extraordinary national broadcast, ending with a quote from 'We'll meet again' by Dame Vera Lynn. Recognizing the gift of a preacher when he saw one, Welby referenced the song's hope, using it fondly to unveil the gospel: "Christian hope means a certain expectation of something that does not hasn't been seen yet. Christ rose from the dead and offers life to all – abundant life now and life with God in eternity.
I'm so grateful that he didn't hesitate to keep the spotlight at this Christian funeral on the uniqueness of Jesus.
7) He did not avoid God's judgment and invited a response
When Welby closed, there was no blurry slowdown. In preaching terms, he skillfully "landed the plane", bravely looking up at another throne: "We will be all face the merciful judgment of God," he said. "We box all share the hope of the Queen who, in life and death, inspired her servant leadership.
These words have been carefully chosen, which Christians will pray to give many who watch a wake-up call to the reality that one day we will each face God. Some may have hesitated to confront us with this reality. Certainly, it would have been simpler to simply speak of a vague feeling of life after death. Yet, with compassion and courage, Welby took the plunge.
Her Majesty's friendship with the famous American evangelist Billy Graham was well known. I think Graham would have been heartened by Welby's bold proclamation, as well as his delightfully worded invitation: "As the Christmas carol says, 'Where gentle souls will receive him again / Dear Christ enters.'
8) He spoke the truth of God in power
Many contrasts have already been drawn between the Queen's faithful service and the posturing and selfishness that often pass for leadership. From the start, Welby emphasized the Queen's faith in Christ as the driving force behind her humble service: "The pattern for many leaders is to be exalted in life and forgotten after death. The pattern for all who serve God – famous or obscure, respected or ignored – is that death is the door to glory."
Perhaps this opening sentence is the one our media will latch onto the most. And yes, it would certainly have been fascinating to see the camera pan across Westminster Abbey at that moment and reveal the faces of world leaders watching. Who looked at his shoes? Who squirmed? Who smiled?
But it wasn't Welby playing politics. It was him prophetically showing the beauty and goodness of Christ's way in a time when we crave leaders more like our queen.
9) Less is more, more or less
Watching the sermon again afterwards, I was amazed to realize that it was only five and a half minutes long. That's less time than I spend scrolling my phone down the toilet on average! Welby only spoke 502 words and didn't miss a single one.
There is always more than you can say. But part of the "magic" is knowing when less is more. Everyone remembers when a preacher speaks too long – and that means they don't remember what they actually said. In a funeral service intentionally designed by the Queen to "not be too long", Welby had it all figured out.
I pray that one day in eternity there may be a conversation between the Archbishop, the Queen and those who came to faith upon hearing "this sermon" at "this funeral". Maybe it could look something like this:
"Thank you Madam for choosing Justin Welby. I might not be here without him. He showed me Jesus.
"Yeah, he did pretty well, didn't he?"