7 powerful lessons from the war in Ukraine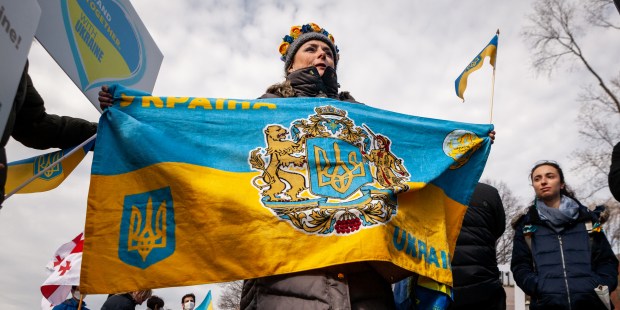 It may be a modern-day war, but the lessons of the conflict remain the same and must always be remembered.
More than a month ago, it was unimaginable that the major cities of Ukraine would be decimated by bombs, that millions of families would be separated from each other and that people from all over the world would welcome refugees into their homes. . Surely not in 2022?
And recent figures from Reuters estimate that thousands of lives were lostmore than 10 million people have been displaced and billions of dollars of damage has been caused to buildings and infrastructure in this Eastern European country.
Yet here we are, more than a month into the conflict, and we've learned a lot and thought about issues we've never had to consider before. These are issues and lessons we can reflect on, pray and remember:
1
People inherently want to help
The response to the conflict has been impressive. From donations pouring in, from people getting into their supply-laden cars and driving thousands of miles to help refugees, to thousands of kind-hearted people opening their doors to house displaced Ukrainian families.
It's tragic how a war can bring out the best in us, but it's also reassuring to see that so many people choose compassion and generosity.
2
Children are our shining light
It's horrifying to see some of the footage coming out of Ukraine, especially to see families injured or killed as they try to escape. It is also painful to see children saying goodbye to their fathers who are left to fight, without knowing if they will ever see them again.
However, among these sad stories, it was heartwarming to see some truly amazing children showing incredible strength and gratitude, like the little girl who sang so well in her bunker, then went on to sing bravely in front of her. a crowd of thousands in charity. concert.
They are the beacon of hope needed in dark times and a reminder of what people are fighting for.
3
The Church always intervenes in times of need
A non-religious aid worker friend who has served for decades in conflict-ridden countries, including Sudan and Afghanistan, told me that whenever there is a war or a natural disaster, the first people on the scene, regardless of the potential danger, are religious or Catholic charities. It's something that has always amazed her. And that has certainly been the case during this war – from the outstanding work of Caritas to our own editor, Fr Patrick Briscoe, who traveled to Poland to lend his support.
The Church is also dedicated to bringing peace and ending war: the moving videos of hundreds of people praying the rosary on their knees, or rosaries recited around the world, and the recent decision to consecrate the Immaculate Heart of Marie to Russia and Ukraine. How wonderful that the Christian faith brings with it such a powerful arsenal of peaceful weapons that millions of people around the world can use!
4
love always comes first
We've covered a few reports of people wanting to get married before joining the frontline. The desire to unite before God during such fear and uncertainty proved more important than having the perfect wedding with the must-have dress. It is this love and commitment that not only unites a couple, but gives them the strength to face difficult times together.
5
We must look further
This war has raised many questions about support for countries in crisis. Ukraine's obvious support of the most powerful countries in the world has many people wondering why wars in other war-torn countries, such as Syria, Ethiopia and Yemen, have resulted in so many fewer of global public outcry.
People tend to care more when they themselves feel threatened or when it's something they can relate to. While it's probably human nature, it makes us think we need to make a concerted effort to see everyone as brothers and sisters and look at situations that are less familiar to us to see how we can actively help.
6
We should always stand up for what's right
Without going into the whole history and complex politics of Russian-Ukrainian relations, the Ukrainians have shown tremendous resilience and courage, and it has come at a high cost.
The valuable lesson they taught their children and the rest of the world is that you should always stand up for what is right. And this happened both in Ukraine and in Russia. So many Russian citizens bravely took to the streets to protest the war, saying it was not in their name, and in doing so they risked imprisonment.
7
There are always innocent people on both sides of the conflict
Unfortunately, the decision of a leader reflects on the whole of his nation. This has led to a lot of hatred towards ordinary Russians who have had no say in the war and can live in fear of speaking out.
To make matters worse, the heavy economic sanctions imposed on Russia are causing hardship for ordinary Russian citizens, people who may have loved ones sent to fight in Ukraine or who may be worried about friends and family living in Ukraine.
This is the typical scenario of a war, everyone loses. Let us remember that they are innocent on both sides and pray for all those caught up in the conflict and all its consequences.