10 Disney Songs That Will Get Stuck In Your Head, According To Reddit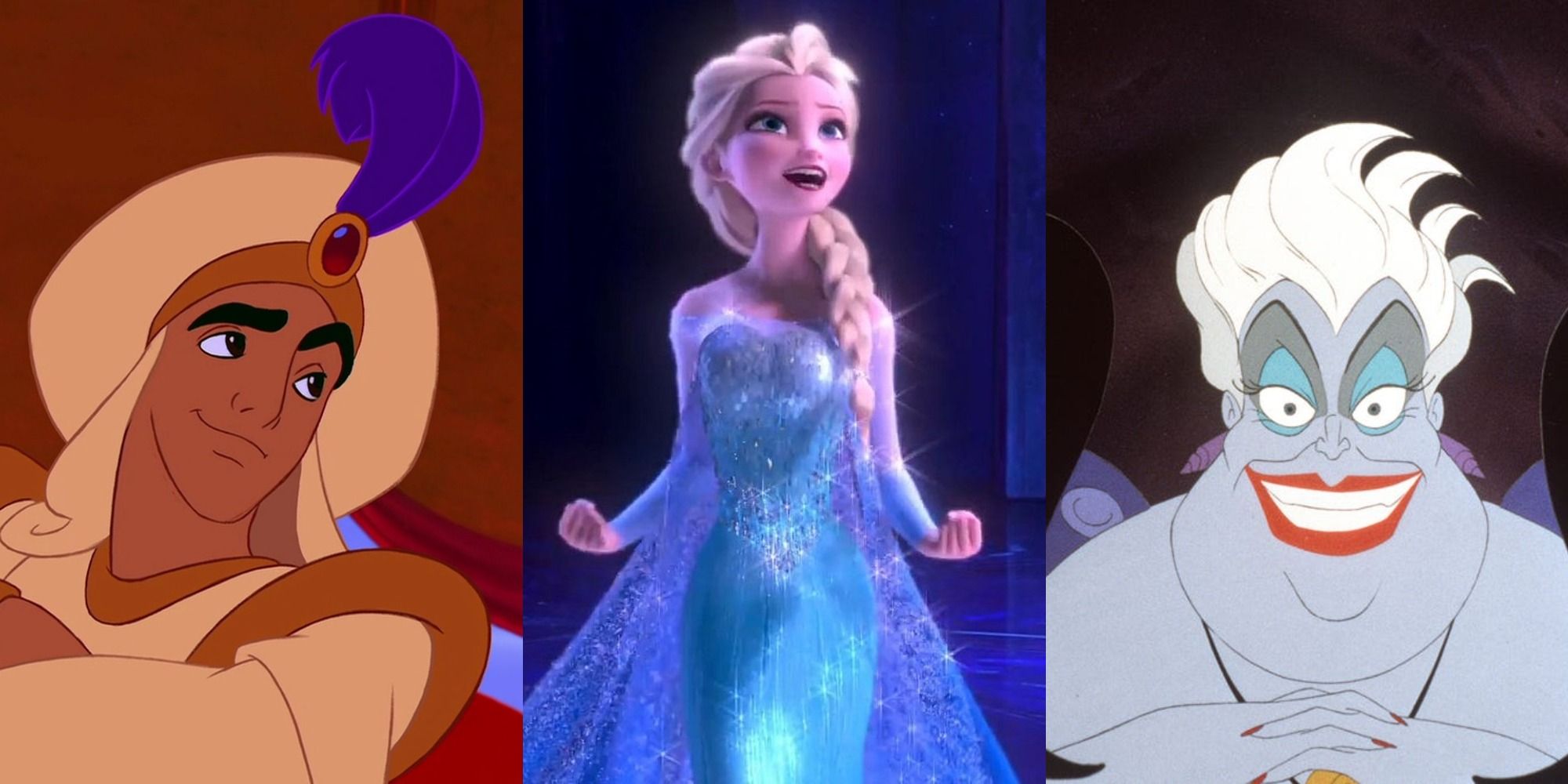 Love 'em, hate 'em, or just tolerate 'em, Disney songs have saturated the airwaves since Snow White's first onscreen waltz in the '30s. by Disney tend to linger long after the credits roll, and Reddit users can certainly attest to that time and time again.
RELATED: 10 Best Disney Love Songs Not Sung By The Main Leads
Whether it's catchy tunes from the Disney Rennaisance era like The little Mermaid"Poor Unfortunate Souls" or the essential earworm that is "We Don't Talk About Bruno" by EncantoReddit users cite them as the Disney songs that will get stuck in your head after just one listen.
I will make a man out of you (Mulan)
"Let's get down to business" are the only five words someone needs to immediately think of this song from Mulane, resulting in a full comment chain and even an entire article dedicated to it. Reddit user u/AwfulFrank describes it as "arguably the greatest Disney song of all time…", a bold statement, of course. While many would argue with that statement, the song is a powerful motivator.
It's a great theme for a workout montage, gym session, or just a morning jog, and there's no denying its eye-catching nature. Simply put, the song is easily crafted to begin a task at hand with an uplifting bang.
The Fishes (The Little Mermaid)
Some might call this song The little Mermaid a predecessor of The beauty and the Beast"Be Our Guest" opening bars are certainly similar, but others might call it delightfully catchy. When asked "which Disney song is annoying and catchy?" u/Hugh_manateerian admits that the song that always sticks in their minds, which they "try desperately to delete", is "Pisces". To be fair, it's definitely a lot more repetitive than something like "Part of Your World".
RELATED: 10 Disney Songs Only Diehard Fans Have Heard
While not as evil as Ursula's "Poor Unfortunate Souls," Chef Louis' song about chopping and mutilating fish for a seafood dinner is surprisingly graphic for such a delicious tune. Its lyrics and repetitive melody certainly help it bounce into viewers' heads.
Poor Unfortunate Souls (The Little Mermaid)
Next to Frollo's evil "Hellfire," there are few Disney villain song titles that sound as wicked as Atlantica's resident sea witch's "Poor Unfortunate Souls." It has insidious lyrics and a tango rhythm that is sure to impress the listener's ear. Several positive notes can be said about this number, but u/heterodoxia gives a full explanation of why it works so well in painting what they call "a detailed character portrait of Ursula".
Composer Alan Menken really puts his musical theater expertise to work on this one, because it's practically written for someone performing in a stage production. From the lyrics to the introduction by the animators and Ursula's voice actor Pat Carol, this is truly a well-crafted character-driven number that's sure to get stuck in any fan's head.
When will my life begin (Tangled)
On Disney's own Subreddit, countless fans have performed the ritual of creating a playlist of their favorite Disney songs. While there are certainly a few repetitive standards like "I Wanna Be Like You" and the ever-infamous "It's A Small World," u/GarlicBreddit makes a great point about Rapunzel's song "I Want" in Tangled"When will my life begin."
RELATED: 10 Best Disney Movie Songs, According To Reddit
Described by the user as "just addicting, and definitely sounds like something a teenage girl would sing along to," it's no surprise that many fans find it to be an earworm. With the delicious acoustic composition and the communicative refrains, it is practically created to be an ideal composition to launch. Once again, Alan Menken returns to flex his musical skills to score another number in the viewer's head.
Prince Ali (Aladdin)
For many longtime Disney fans, the name "Prince Ali (mighty is he) Ali Ababwa" is not said but sung. Alongside "Friend Like Me," it's Robin Williams' second big, iconic Genie number that shows just how magical and extravagant he can be. Described by u/grubas as having "one of the greatest Disney song lyrics of all time".
Not only does the number build Aladdin's princely reputation before he even steps through the palace gates, but it inspires entire chains of Reddit comments. The rhythm, lyrics and progression of the melody help anchor the number further in the mind of the listener. On a music theory level, it mixes the right mix of elements that keep it circulating long after its inception.
Zero to Hero (Hercules)
The iconic Hercules theme song performed by the muses in Hercules was postulated on Reddit as one of the best-written songs in Disney history, and that's not an unfair assessment. Once again, Alan Menken comes out with another infectious songwriting that shows off his songwriting genius and reminds fans why he has so many Disney movies under his belt.
RELATED: The Best Song From Disney's 10 Best Animated Musicals On IMDb
U/Grimsrasatoas describes the lyrics as "hilarious and full of puns" and explains why and how Menken makes the song work in his message, highlighting several positives. The gospel-inspired number about Hercules and his quest to become a true hero is one that many Disney fans constantly have on their minds, and it's easy to see why.
Let it go
Before being dethroned by a more recent hit, "Let It Go" held the title of one of Disney's most infamously repetitive songs. Love it or hate it, Arendelle's resident Ice Queen act became a hit seemingly overnight. But there might actually be compelling evidence as to why it's so well written.
As u/jchazu pointed out, the number is determined both by its composition and by how it "deviates from the traditional verse-chorus-verse structure found in many Disney songs." Couple that with its liberating message and liberating motives from societal and personal shackles, and it's a recipe for one of the studio's most memorable musical moments.
I2I (A goofy movie)
A wacky movie can be described as a movie so dated it's classic. This colorful '90s piece was definitely a product of its time, and it came equipped with an absolutely stellar soundtrack. Perhaps his most defining musical characteristic, however, was his hybrid of pop stars like Prince and Michael Jackson, Powerline.
RELATED: 10 Disney Songs Nominated For An Oscar
Across various threads on Reddit, the song "I2I" is touted as one of the catchiest and most overlooked musical numbers in a Disney movie, but u/dmcnelly puts it best by pointing out how "the soundtrack was absolutely amazing and it's a crime it's so overlooked." With the recent resurgence of '90s nostalgia, the song has slowly returned to the public eye for Disney fans young and old.
Why Should I Care (Oliver and company)
Olivier and company is easily one of the most forgotten Disney animated movies in their library, but it had some serious musical talent in its cast list. With performances from Bette Midler, Huey Lewis and Billy Joel, it was perhaps one of the studio's most starring features of the 80s. And like many films of the era, it came with a theme song who became the king of the soundtrack.
The film may not be the most memorable, but Billy Joel's "Why Should I Care" is a catchy standout, and this Reddit commenter string certainly agrees, especially u/trestortugas who observe "Oliver and Company is the s*** and "Why should I worry is awesome!" It could be the musical talent of the Piano Man himself or it could be the catchy chorus of "woo-hoo" again and again, but it's an overlooked classic that still occasionally crops up in fans' heads today.
We don't talk about Bruno (Encanto)
For a character the public is told not to discuss, fans will find page after page after page of Reddit posts all about Bruno from Encanto and the hit song "We Don't Talk About Bruno". There are even entire threads on Reddit talking about his strange success. There are so many factors that contributed to the track's popularity, from its composition to its life on social media, but it ended up dethroning Elsa's "Let It Go" as Disney's most played song.
With a status most Disney songs could only dream of, "We Don't Talk About Bruno" has lingered in the collective consciousness for months. U/nicolioli_x describes it and part of the audience's experience with, "My first thought? Yeah, that's good, but nothing special about that particular song compared to other Disney songs. Then, I immediately had the melody stuck in my head…" Leave it to Lin-Manuel Miranda to leave such a lasting impression.
NEXT: 10 Best Disney Sidekick Songs
Cruise's Mission: Impossible Requests Prove How Much Movies Need Him
About the Author