10 Disney Motivational Songs to Add to Your Morning Playlist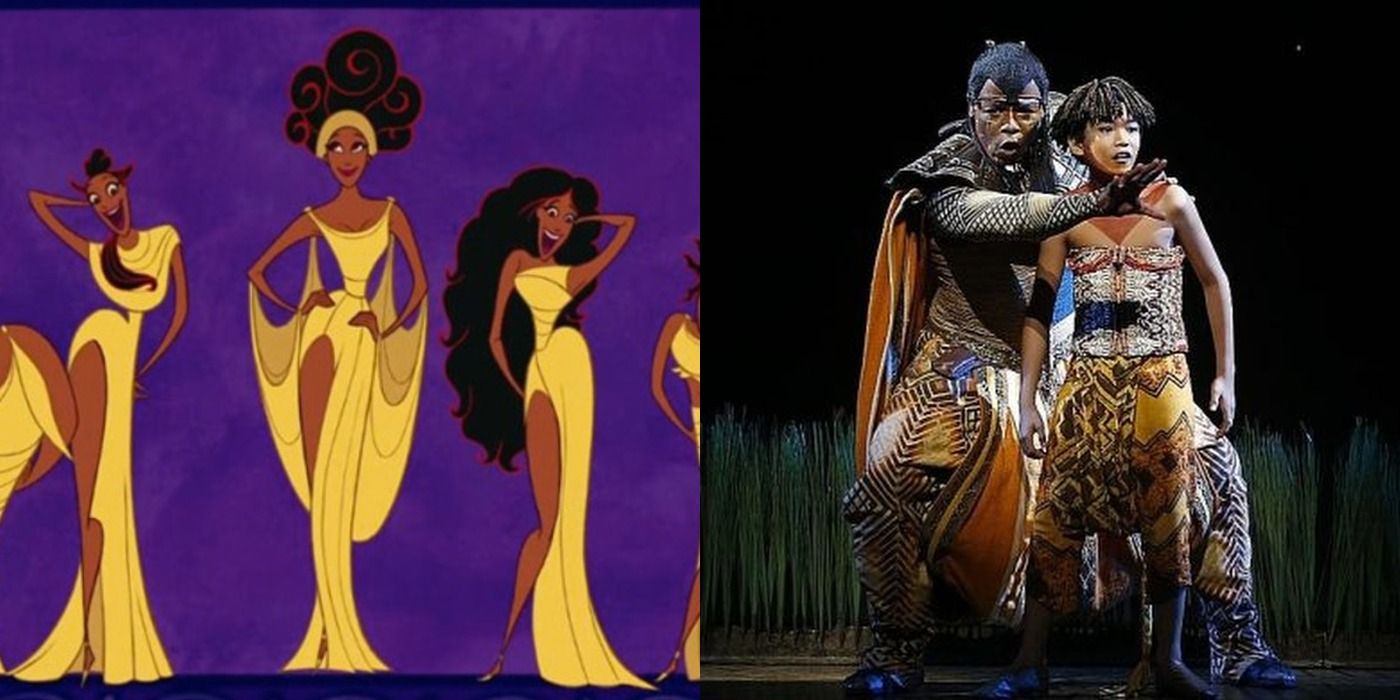 In very little exaggeration, Disney has a song or musical number for any occasion. Whether a character is in love, happy, sad, or embarking on a grand and glorious adventure, chances are there's a vibrant, expressive melody ready to be sung at any moment.
RELATED: 10 Best Disney Love Songs Not Sung By The Main Leads
As fun as it is to live in a Disney movie among their litany of beloved characters, not everyone can suddenly break into song in the blink of an eye. Luckily for fans, the House of Mouse has more than enough stimulating musical numbers to help ignite their sparks and get their own adventures off to a good start.
Let It Go (Frozen)
Love it or hate it, there's no denying that the infamous "Let It Go" has some serious motivational merit. While it's certainly one of the most overplayed and overused songs the studio has ever created, it's still a musically fabulous composition.
Not only is it Elsa's title song, as well as the movie's big hit, but it's a very expressive number that goes against the usual Disney Princess standards. It's a song about autonomy, self-esteem and self-acceptance in the face of social norms. It's not just a princess' "I want" song, but the one that says "I'm enough".
When will my life begin (Tangled)
With this composition by Alan Menken, Rapunzel declares herself the ultimate morning person, anyone who can manage a full list of hobbies before 7:15 certainly deserves the title. It may seem like an overly forgiving princess number at first, but the melody, lyrics and positive attitude combine to create a very intoxicating and smile-inducing number.
RELATED: 10 Disney Songs Only Diehard Fans Have Heard
Not everyone likes waking up early in the morning, but a little Disney magic can go a long way. If they're not sucked in by Mandy Moore's lyrics and performance as Rapunzel, the music itself can definitely help start the day.
They live in you / He lives in you (The Lion King)
The spiritual symbolism of The Lion King is present in the film, but all the more present in the play. There's a certain scriptural flavor to Mufasa's heartfelt message to Simba after the encounter in the elephant graveyard, and the lyrics of "They live in you / He lives in you" make for some seriously mystical pep talk.
Everyone needs a Mufasa in their life, someone who offers fatherly wisdom to steer them in the right direction. The song is a message of turning to a higher power for a sense of direction, an activity many do on both their best and worst days. Simply put, sometimes it's about looking at the larger scheme of things.
A spoonful of sugar (Mary Poppins)
Mary Poppins said it best. "In every job that needs to be done, there is an element of fun. You find the fun and the click, the job is play." Whether it's tidying up the bedroom, going to work, school or running errands, a positive outlook can make all the difference.
RELATED: 10 Best Disney Movie Songs, According To Reddit
One thing everyone has to learn at some point in their life is that sometimes someone has to do something that they would really rather not do. Although a positive attitude towards the situation may not make things "come as easy as pie", a change in perspective can have beneficial effects.
I'm almost there (The Princess and the Frog)
A Disney Princess who is also a workaholic might seem like a contradictory mix of elements, but that describes Tiana as a T. Her dream is not a prince and a distant castle, but running her own business and building his own success. The rise and grind life is not easy, but this song easily reflects that finish line when the goal is almost reached.
It might be running a business or getting to the weekend after a long, strenuous work week, but everyone has been in that "almost there" mindset. This song serves to give listeners an extra boost of optimism to get to this final leg of the journey.
I can't let you throw yourself away (Toy Story 4)
As strange as a Randy Newman gospel song about a spork with a semi-deathwish might sound, the lyrics of this strange composition are filled with a message of affirmation that some people just need to hear. In a time of pandemics, political and social discourse, and more, it's sometimes necessary to remember to carry on.
RELATED: The Best Song From Disney's 10 Best Animated Musicals On IMDb
While the average Disney fan might not be going through an existential crisis like Forky, everyone has days when they feel like trash. Newman's song is one that acts as a surge of positive energy to keep the listener going, promising that there is always something to look forward to.
There (The Hunchback of Notre-Dame)
Perspective is everything, as the saying goes. For someone who's spent their entire life cooped up in a tower, a day walking the streets of Paris could rival a trip to Disneyland, and Quasimodo makes that clear in this upbeat interpretation. Everyone has been able to want something outside of their individual circle, and it's usually something in the proverbial "out there".
Disney has often written a message about how life is one big adventure, and that's clearly what Quasi is trying to do in his statement. Adding this uplifting musical number can give a listener the boost they need to get out there and face the day and whatever else may come their way.
Zero to Hero (Hercules)
Some mornings mean hitting the gym, and there's perhaps no better album for a Disney fan's workout than the Hercules soundtrack. The film already takes some notes from Rockyso it's only natural that a fan would want to come full circle and blast songs like "Zero to Hero" while they hit the treadmill or speedbag.
RELATED: 10 Disney Songs Nominated For An Oscar
Determination is certainly the name of the game in this musical montage of rags to riches, and listeners can't help but get carried away by the Muses' rich performance as they take on their own hydras, gorgons and monsters. They may not be built like Hercules, but they sure can feel like him at the end of their own workout with this track.
Try Everything (Zootopia)
If there's one modern Disney song everyone should start their day with, it's "Try Everything" by Zootopia. This pop number performed by Gazelle/Shakira checks all the necessary boxes for an iconic Disney song, and it's in no way ashamed of it.
It features a catchy beat and inspiring lyrics, a memorable melody, and a positive message that's more about getting out there and trying than winning or losing. The spirit of never saying die is something very Disney, but the glaring point of getting up and trying again and again is a motif more people need to hear. Simply put, this is top motivational material no matter the time of day.
I will make a man out of you (Mulan)
"I'll Make a Man Out of You" is a song that needs a little introduction. The first line of "Let's get serious…" is enough to prepare a legion of fans to defeat the Huns without a second thought. Perhaps the most memorable song from Mulana, the track is great for a kung fu practice montage or just getting out of bed in the morning.
It's a song that can ignite a fire in the listener, triggering a quick reaction to face the day ahead. While most Disney fans won't have to cross swords with Shan-Yu, a little taste of warrior spirit can help them overcome just about anything if applied correctly.
NEXT: 10 Best Disney Sidekick Songs
Gwen Stacy's Ghost Added to No Way Home's MJ Rescue in Emotional Art
About the Author