10 Current AEW Entrance Theme Songs That Don't Fit The Wrestler At All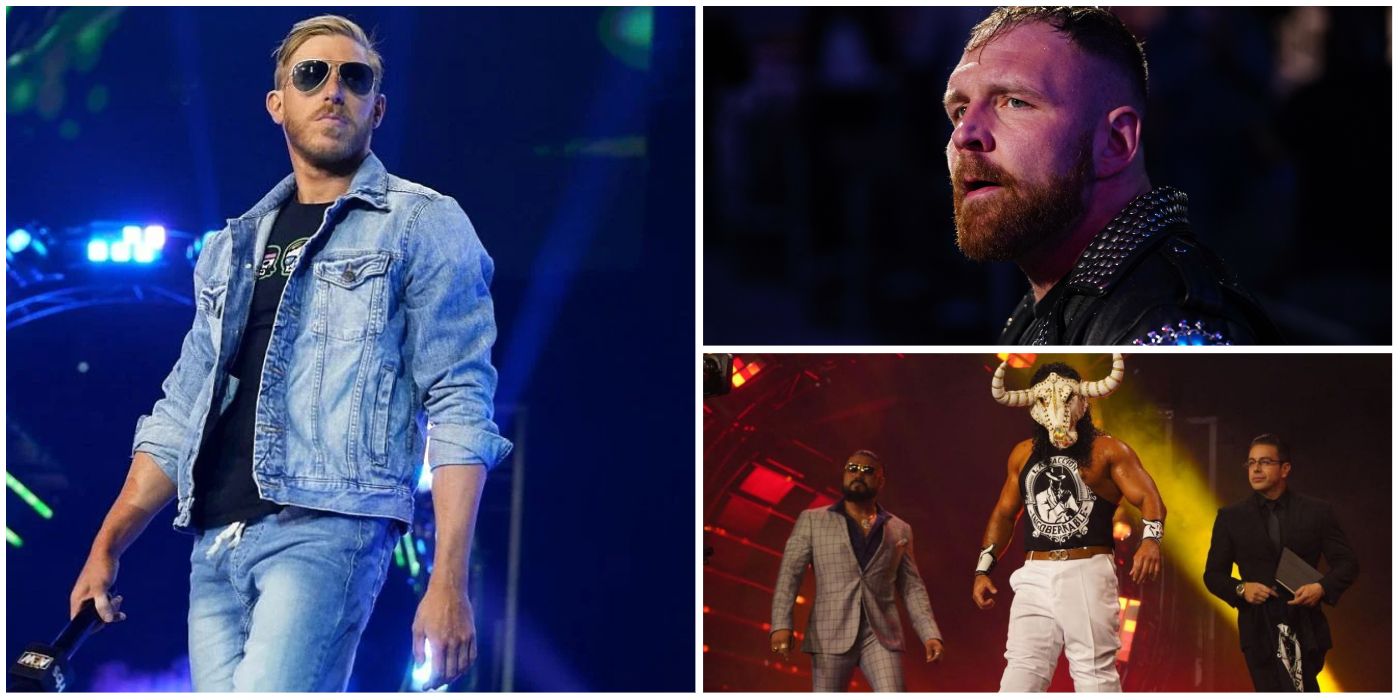 AEW features a ton of emerging talent in the wrestling world. Along with the many ways the company innovated what wrestling TV could be, AEW also introduced some awesome entrance themes like Judas by Chris Jericho to the masses.
RELATED: 10 AEW Gadgets That Are Going Nowhere
While some wrestlers on AEW's active roster are currently using the best theme songs of their careers, there are also plenty whose entrance theme music feels quite out of place. That doesn't mean their theme is bad. It's just that some don't match the gimmick or persona the superstar is supposed to present to the audience. This listing will review 10 AEW entrance themes that don't match their wrestler at all.
10/10

Orange Cassidy – "Jane"
Orange Cassidy is meant to come across as a selfless, almost smug wrestler. His gimmick works for the most part and the way Cassidy was able to innovate his in-ring performances to match his gimmick was great.
He recently changed his entrance theme song and the current one, Joan by Jefferson Starship, just doesn't do it justice. Instead of presenting him as someone who is "arrogant", it starts with a fanatical piano that just doesn't match the denim Cassidy wears in the ring. Yeah, it's a song he's used before, and it's a great song, but not for Cassidy.
9/10

Daniel Garcia – "The Crimson Extinction"
Garcia has been given a huge platform many times and only time will tell if he will continue to get big wins like the one he scored over Brian Danielson.
RELATED: Every Major Wrestling Promotion's Most Legendary Feud
Despite his success, he struggles to find an identity among the full AEW roster and his entrance theme does him no favors. Instead of leaning into the Dragon Slayer aspect or the "great wrestler" aspect of his character, his current theme song could belong to any jobber.
8/10

Toni Storm – "Watch More"
Toni Storm is a terrific AEW talent. She used a ton of tailored songs that helped appeal to her fun approach as a wrestler. His current song, Watch moredon't do this for her.
It seems better to help him train than to prepare the fans for his entrance into the ring. Whenever a wrestling theme song rips off a hit song, it usually doesn't work in favor of the female wrestler and her cheap scam of Barracuda is an example.
7/10

Jake Hager – "I Hurt Them"
Jake Hager's current entrance song is meant to introduce someone who is an extremely aggressive MMA fighter since that's Hager's thing in AEW. Although Hager dresses up the role, he certainly doesn't respect this gimmick in AEW and it makes his song feel out of place.
For the most part, Hager doesn't even talk much when he's in AEW. It leaves this theme song in your face, I hurt them, to an absolutely silent wrestler. The dichotomy is too big and does not correspond to Hager at all.
6/10

Claudio Castagnoli – "Uppercut Swingphony"
Claudio has been a great acquisition for AEW. Although he had a random (quick) run as ROH Champion, he brings a lot to the table and has the potential to one day have a shot at the AEW Championship.
Her current song, on the other hand, sounds like something out of a Christmas commercial. Instead of introducing that big brooding man that is Claudio, the second Uppercut Swingphony starts playing, it looks like a Hallmark Christmas movie montage is right behind it.
5/10

Rush – "Bull Whip"
Rush struggles in the ring. He might not be without talent, but he's constantly paired up with some of the best wrestlers, and he often stands out as someone who's a bit green for the platform given to him.
Its current entrance theme song sounds like a generic rock song. It's supposed to introduce Rush as a "bull of a man", but instead it seems to be more suited to a SmackDown Vs. Raw soundtrack instead of a green wrestler like Rush.
4/10

Wheeler Yuta – "Born in Battle"
Yuta has a ton of potential to become a major AEW star one day. His current mic skills leave a lot to be desired, but as a wrestler he is definitely above average. His entrance music is nothing special and that's the biggest problem with that.
Instead of using a song that helps him get more pop for his lack of personality, Yuta uses a song that's even more generic than him. While it might seem like the two go together on paper, it actually works to Yuta's detriment in practice.
3/10

Pac – "Out of Time"
Pac is another wrestler who seems to have a completely separate identity from his entrance song. There's a lot of mystery surrounding Pac as a person in AEW and it actually works in his favor.
RELATED: The Demon's Mask & 9 More Of The Most Horrifying Looks In Wrestling History
Instead of using a theme that would enhance the mystery or create some kind of mystery vibe, Out of time is just a generic song that does nothing for Pac when he arrives in the ring. It could be swapped with any wrestler without a gimmick, and it would work. That's why he doesn't serve Pac who has a decently established personality.
2/10

Christian Cage – "Take Over"
Christian Cage's entrance music isn't bad, it just doesn't seem to suit him. His heel turn has helped Christian stay fresh on AEW television, but every time his theme song drops, it feels like a masked wrestler is about to enter the ring.
There's nothing remotely hooker about it and while it seems like a nod to his WWE entrance music, overall it doesn't serve Christian in any major way.
1/10

Jon Moxley – "Wild Thing"
people love the song wild thing. It's a fun song. It's definitely an easy way to get the audience involved in Moxley's entrance. That being said, this is not a song that sells the Jon Moxley that AEW fans know and love. Mox takes a serious approach to the way he wrestles, and his approach has helped him overcome the majority of AEW fans.
Instead of having a theme as gritty as him, Moxley uses a song that suits WWE's Aaliyah better than AEW's Jon Moxley.