Mahbubul Khalid songs light up Christmas cheer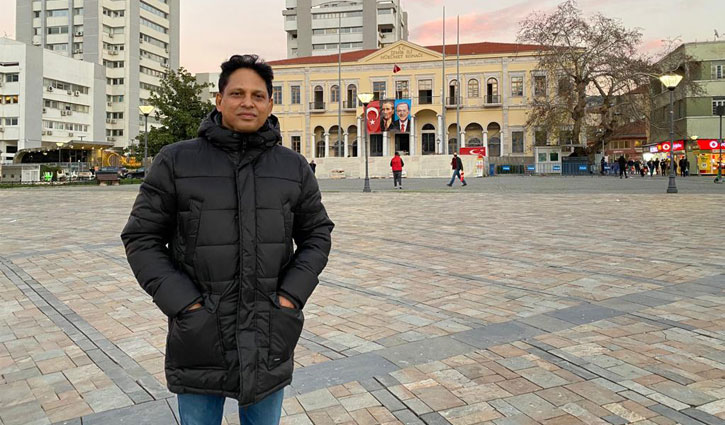 Christmas, the biggest holiday for Christians to commemorate the birth of Jesus Christ, is celebrated today (December 25) across the world. It is both a sacred religious holiday and a worldwide cultural and commercial phenomenon.
Over 2,000 years ago, Jesus, also known as Jesus of Nazareth or Jesus Christ, was born in Bethlehem, in accordance with Messianic prophecies. Jesus is the central figure of Christianity, the greatest religion in the world. He was a first century Jewish preacher and religious leader. Most Christians believe that he is the embodiment of God the Son and of the expected Messiah (Christ), prophesied in the Hebrew Bible.
Although the month and date of Jesus' birth is unknown, the early 4th century church set the date for December 25 and it has become a religious and cultural celebration among billions of people around the world.
Festive activities include exchanging gifts, singing Christmas carols, attending church services and prayers, going to parties, visiting relatives, wearing new dresses, and more.
Christmas is a special time when children receive gifts from family, friends and from Santa Claus or Santa Claus. Christmas cards are also handed out or sent out before Christmas Day. People exchange Christmas greetings and messages through social media.
Songs are an integral part of Christmas. Christians around the world sing Christmas carols in praise of Jesus Christ that brighten their joy at the center of the holiday.
The famous Bangladeshi poet, lyricist and composer Mahbubul Khalid wrote two songs centered on Christmas. The songs describe the meaning of the holiday and brighten up the joy of Christmas. Mahbubul Khalid's Christmas songs titled "Borodin Borodin, Shuvo Borodin" and "Ajke Borodin" have received a lot of appreciation.
Young composer Atikur Rahman Roman composed the music for 'Borodin Borodin, Shuvo Borodin' in which Putul returned his voice.
The late composer Ahmed Imtiaz Bulbul tuned the other Christmas song written by Mahbubul Khalid 'Ajke Borodin' while Mehedi Hasan and Saran gave their voices.
The songs were published on the website www.khalidsangeet.com. In addition, the Christmas song 'Borodin Borodin, Shuvo Borodin' was also released on YouTube.
Notable, the poems and songs written by Mahbubul Khalid contain religious and social festivals of different religions. He writes and composes songs for all mankind without distinction of race, religion or caste. For him, music is not for any race or religion, music is for everyone. His songs and poems are rich with a message of love and humanity.
Apart from Christmas, Mahbubul Khalid also wrote songs on various Muslim religious holidays including Ramadan, Eid-ul-Fitr, Eid-ul-Azha, Eid-e-Miladunnabi, Shab-e-Qadr, Shab-e- Meraj, Shab-e -Barat, Hajj etc. He also wrote songs on other religious festivals such as Durga Puja, Mahalaya, Lord Krishna and Holi of Hinduism, Buddha Purnima of Buddhism and so on. These songs written by Mahbubul Khalid clearly show the perspectives and meanings of the respective days and festivals.