Lots of activities to adore this Valentine's Day weekend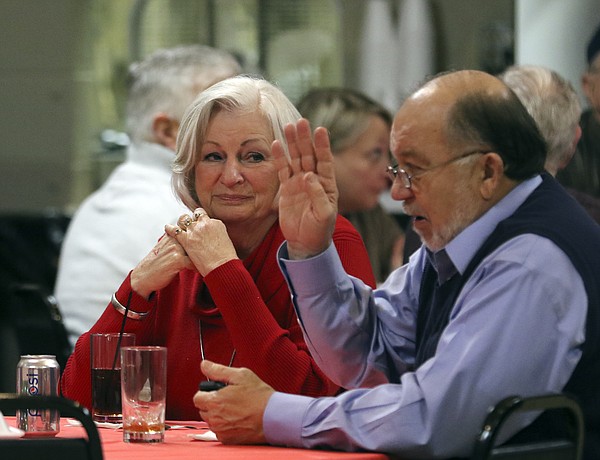 Get ready to feel the love this weekend with a slew of Valentine's Day themed events in the capital.
Here's a look at some of the events in the area. If you know of something we missed, add it to News Tribune's online calendar at www.newstribune.com/go/.
• Valen-Teen Party: Building Community Bridges shows its love for all young people with a teen party from 7-11 p.m. Friday at 213 E. Ashley St. The event serves as a fundraiser for new uniforms for the Royal Tigerettes Dance team. Admission is $5 per teen, and a small meal and snacks will be provided. Fundraising continues Sunday evening as BCB offers a Parents' Night: For $10, drop your kids off at the Ashley Street branch where there will be plenty of activities and snacks.
• Let's Dance: The Let's Dance Club! is back at the Capital Ritz Banquet & Dance Center, 2716 Plaza Drive, and is hosting a Valentine's Day celebration on Friday. The dance, featuring Faded Youth, begins at 7:30 p.m. There is no charge for members; general admission for non-members is $10.
• Sweet as Candy Fundraiser: Muttz to Miracles Rescue and Rehabilitation Center will host a Valentine's Day themed craft and bake sale from 10 a.m. to 4:30 p.m. Saturday at First Christian Church, 327 E. Capitol Ave. will benefit from future purchases of land and equipment for the animal rescue mission.
• Valentine Pet Pics: Premium Pets-Natural Pet Market is hosting a Valentine's Day photoshoot for your pets at 10 a.m. Saturday, featuring a pink heart backdrop and kissing booth prop from Anita's Pet Portraits. The store is located at 1005 Big Horn Drive. Advance reservations are required at calendly.com/premumpets/valentine-pet-pics; photo packages start at $20 and include printed images.
• Dad Daughter Date/Mother Son Date: The Backdrop selfie studio, 207 E. High St., is planning a father-daughter event from 11 a.m. to 12:30 p.m. Saturday, then a mother-son date from 1- 2: 30:30 p.m. in honor of Valentine's Day. Both are complete with access to all photo backgrounds, props and lights; a selfie challenge; Valentine's Day Crafts; and hot chocolate and cookies from Alibi Cookies. Tickets are $35 for a father and daughter, and an additional daughter can be added for $10. Buy your tickets at www.thebackdropjcmo.com/.
• Hollywood Nights: A fundraiser for the Red Slipper Warrior Project, Saturday's event kicks off at 5:30 pm with a happy hour sponsored by Diamond Pet Foods at the Capital Bluffs Event Center, 1616 Oil Well Road. Johnny Graham and Revel Catering will provide dinner at 6:30 p.m., and entertainment by the Red Slipper Warrior Band and a cast of other area singers will begin at 7:30 p.m. A silent auction is also planned. The event is black tie optional. The non-profit Red Slipper Warrior Project aims to help women and girls become warriors in their fight against cancer. For more information, visit the Hollywood Nights Facebook Event.
• Valentine's Day Dinner and Dance: The American Legion, 1423 Tanner Bridge Road, is hosting a Valentine's Day themed event on Saturday. Happy hour starts at 6 p.m. with dinner at 7 a.m. and the dance that follows. A raffle will also be organised. Tickets are $30 per person or $60 per couple. Visit http://post5.com/ for more details.
• Starlight Memories Band: Hors d'oeuvres, live music and dancing take place Saturday at the Windstone Entertainment Center, 2425 Industrial Drive. The event begins at 7 p.m. with classic rock styles from the Starlight Memories Band. Hors d'oeuvres will be served throughout the evening and a cash bar is available. Tickets are $20; contact Charles Stone at Windstone for details or to reserve tickets in advance, 636-2850.
• A Night with the King: between regular performances of "Elvis, the Musical!" at Capital City Productions, 719 Wicker Lane, the King performs a special Valentine's Day "Love Me Tender" concert at 7:30 p.m. Monday. Elvis Presley, played by famed impersonator and actor Ted Torres Martin, will perform all of the King's most treasured love songs from the 1950s to 1970s. Tickets are $25 for the concert and can be purchased at www.ccpjc.org. No dinner will be served with this show, but the concession stand will be open and attendees are welcome to bring their own drinks.