Lessons from Our Lady on Ministry to LGBT Students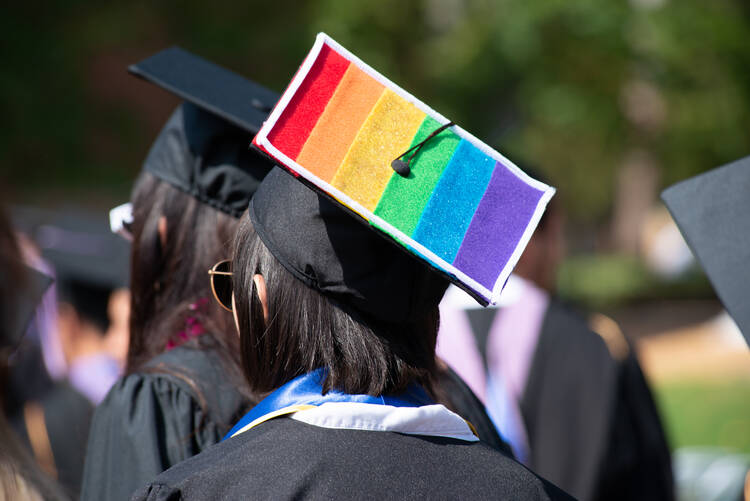 Some recent controversies at the University of Notre Dame, where I work as residence rector, lead me to share some thoughts on moral disagreement in the setting of a Catholic university. Allow me two stories from my ministry at Notre Dame over the years, both involving gay students.
Casual indifference to language and inattention to the experiences and dignity of others can be terribly harmful. We had to do better.
A few years ago, the Student Affairs Division invited someone to speak to staff members about his experience as a gay student at Notre Dame. The young man was poised, confident and eloquent. He told us how lonely he was growing up and experiencing same-sex attraction in a small town in the Midwest, and how he came to Notre Dame hoping to find a larger, more sophisticated community. in which to know and know each other. his way in the world. What he found that first weekend, he told us, was the worst weekend of his life: in a place he had hoped would be friendly and hospitable, the students didn't hesitate to call anything out of the ordinary 'gay', and any guy. acting in any way out of line was subjected to various anti-gay slurs.
This was eye-opening for many of us. Another Rector and I have decided to create a training session for all of our Orientation Weekend staff to alert them to the danger this story has highlighted: the occasional indifference to language and inattention to the experiences and dignity of others could be terribly, culpably harmful. We had to do better.
Around the same time, a freshman stopped by one morning for coffee and asked me about life. He wanted to know how to handle a situation in which his significant other (whom he referred to in gender-neutral terms) was not ready to be physically intimate.
"What I'm saying is it's hard to be gay and Catholic, dad," he finally said.
"What I'm saying is it's hard to be gay and Catholic, Father."
"Well, I can understand that. But maybe let's slow down, I replied. "So you've decided that the church is wrong about whether you can have sex with a member of the same sex. OK, so when should you have sex with someone? You've only been here a few weeks. We have attractive, well-adjusted seniors, male and female, straight and gay, who haven't had sex yet. They are fine! Everything will be alright. My advice is don't worry about having sex until you understand not only what you think is wrong, but also what you think is right. I think the church is right, but we can keep talking and you are welcome here despite our disagreement.
This student and I maintained a very good relationship for the rest of our time on campus together, and he wrote me a touching farewell note about our walk together in faith and life here. He did this despite my teaching from the church which was recommended to him, and despite his rejection (as far as I know). I had and have a very high opinion of him.
"I think the church is right, but we can keep talking and you are welcome here despite our disagreement."
These two anecdotes have loomed large in my mind as the pages of our campus newspapers have been filled with hate speech and bigotry because the editor of The Irish Rover, Mary Frances Myler, write a column in which she called on Our Lady for more clarity on her position regarding church teaching and human sexuality. She wrote from a perspective endorsing this teaching.
As far as I can tell, Ms. Myler said nothing contrary to the dignity of LGBT students, and she certainly seemed to embrace "the recognition that students who experience same-sex attraction are human beings created in the image of God and loved immeasurably by him." Yet his Rover column was lambasted as "hate speechspecifically in a letter from a student published in another campus newspaper, The Observer.
I asked some students what they found hateful or bigoted about the Rover column. One replied that Mrs. Myler "doesn't think [L.G.B.T. students] should have sex. Well, true. So teaches the church, and so sustains some intelligent and talented gay Christian thinkers and writers like Eve Tushnet and Wesley Hill. They are neither hateful nor self-hating. Moral disagreement is a fact of life, and in a particular university we must learn to live with it in love.
[Related: "Conversion therapy is still happening in Catholic spaces—and its effects on L.G.B.T. people can be devastating," by Eve Tushnet]
The church's teaching on human sexuality is quite simple: sex is a powerful dimension of the human person ordained to procreation and the union of husband and wife, and expressions that purposely separate sex from his nature are immoral. It is a difficult lesson! Many (but not all) straight people and many (but not all) gay people reject it. But conforming to what "most people" think is an empty and inadequate way to form a moral opinion. We must first find and serve God in the tangle of our minds and ponder conscience and moral truth for ourselves. And we will not be unanimous in our conclusions.
Too often, many church members have seemed to pay close attention to gay sex, ignoring the rigorous demands that chastity places on all of us, gay and straight. For many LGBT people, it's a stiff arm from the church, a sign of unwelcome, and has led to heartbreaking weekends like the one the Notre Dame student shared with our Student Affairs group. We can and must do better to lovingly welcome every son and daughter of God we meet and walk with them toward the truth together.
But we can also challenge each other without thinking that a disagreement, even on very important things, is always an expression of moral failure, bigotry or hatred.
At the end of the day, I find that few people make their decisions about sex based solely on what I said or thought. It's very understandable. When they ask my opinion, it is probably because they want a presentation of the teaching of the Church by someone they trust, and because they also believe that dialogue and mutual support are possible. But to build and maintain such relationships, we need to fear each other much less and trust each other – and God – much more.